Mir: "Miller's was a very dangerous action"
Dardo to the Australian: "Apparently he has gotten angry, because I suppose he does not like to see that he is not performing as expected of him."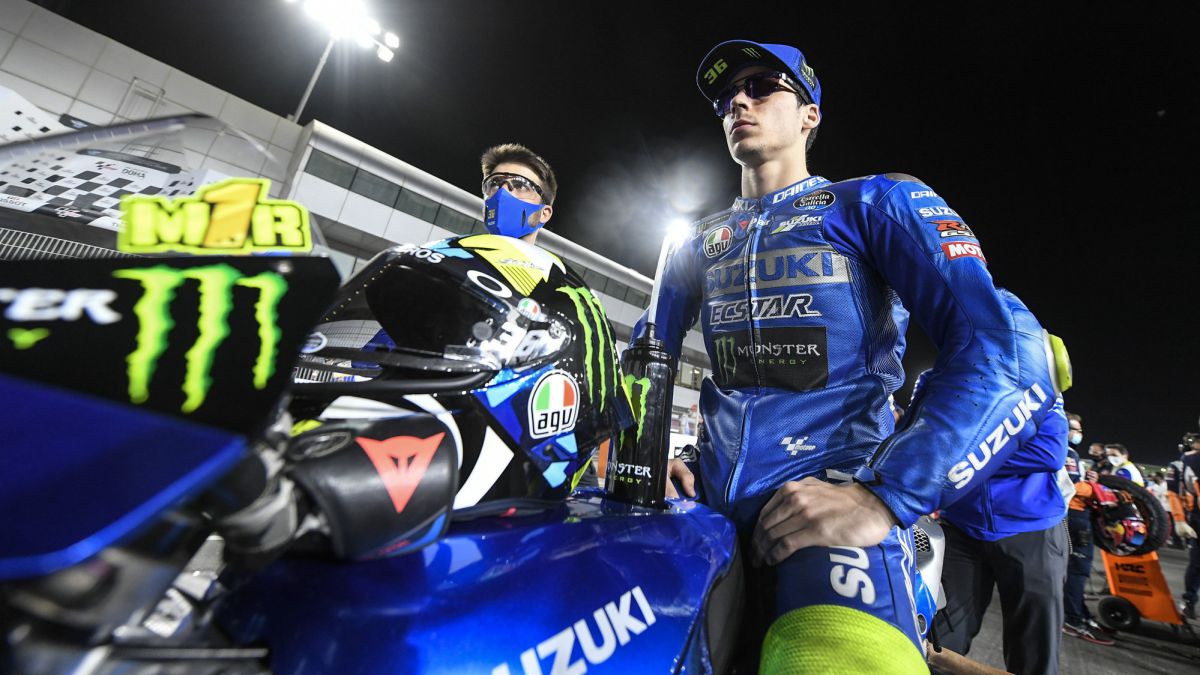 Joan Mir's version of what happened between Jack Miller and him has nothing to do with what the Australian said. This is how the champion expressed himself after finishing seventh in the Doha GP.
-What happened to Miller?
-What happened with Jack is that at turn 10 I passed him. We have not touched, but we have been very close and I have made him change his line a bit. It was a bit of an overtaking at the limit, it is true, and I have stuck my leg out to apologize, because normally these overtaking are at the limit and this is what happens. Then apparently he got angry, because I suppose he does not like to see that he is not performing as expected of him and in the last corner I slipped a bit, and when I returned, it was not that I was thrown towards the middle of the track . I've been sticking to the left, which we all do when we sneak around that corner. There is an equal action that can be compared to Aleix and me. Aleix sneaked in, he came back on the left side, I saw him and I approached him, but I did not go to touch him or create a situation that was followed by quite a few motorcycles. I do not want to turn on, judge for yourself. At Suzuki we will take what we consider to be the most successful so that this situation does not repeat itself and that's it.
-Miller says he had been knocked three times.
-What have I touched him three times? Well, explain to me the three times that I have touched him ... At the beginning of the race you have to position yourself and at the entrance to Turn 6 the front wheel has dislodged, I had to pull straight and Fabio had to lift the bike , but I have not touched with Fabio. It was just a first-round action. It was not the best decision to overtake there either, but they are career sets. They don't pass me alone either, if they have to pass me by touching me, they overtake me by touching me. Jack will have taken it with me and seen that situation to perhaps touch me, and that situation has to be judged. It cannot be repeated, it has been a very dangerous action. It was on the straight, riders were coming from behind and I don't even want to think about it. It has been very on the edge, well, passing the limits. If you have to call us Race Direction, which I hope you do, they will judge and decide. But my opinion is clear.
-How does what happened make you feel?
-It does not make me feel in any way. It pisses me off, but that's it. We are in a race and there are times when the decisions that we can make in the heat of the moment can go beyond the legality. I'd like to talk to Jack and see what he could think of. He's upset because he says I've touched him three times, tell me when. I have seen a maneuver in 10, but I have practically not coincided with it anymore. I overtook it in the first laps and that's it. There is no outrage, there is anger and that's it.
-What do you think of the attitude of Race Direction?
-We have now finished the race, it is normal that it may take a while to call us. We'll see what happens. Here there is no champion, no champion team, no disrespect, or anything. It has been an action outside the legality and that's it. You don't think: "watch out, this guy did second last year." Here for everyone the last race is what counts and that's it.
-How was the reunion with Miller on the last lap?
-After seeing that maneuver, you don't really know where it's going to come out. He was slower, he covered me a lot in the last laps and I overtook him in the best possible way, maintaining a meter and a half and without him being scared, to see if he will think again that I will touch him ... In the last laps I was stopping a lot, but it's very difficult with this bike to be able to defend ourselves and more today. We have to see what could have happened, because it is not normal. Last week we were doing well, in this race we were not doing so well and everything is the same.
-Balance of these races?
-It is positive. I have been competitive in both races. In the first one we suffer a lot from the motor, that's what there is, and in this second, what hasn't happened to me, may God come and explain it to me. It has been like that, there has been nothing in my favor, the bike possibly did not respond to me at all today and I have given everything I had and more. I have played many times, I had to come from behind, more or less I had the race quite controlled until that happened to me with Jack and I was saving tires to attack at that moment, but then two more Ducati, the Yamaha and many pilots. I couldn't do more.
-How was the race until the incident?
-At that time I was performing well and controlling the race properly, but without the sensations of last week. He was not able to overtake anyone on the straight, any motorcycle. What's more, I was wasting a lot of time. I don't know what could have happened, we have to see it. The team has seen it, it is seen, but we do not know what problem has happened. I would not have fought for victory today, but I would have been very close to the podium, for sure. I could have fought, I am convinced, if the Miller thing did not happen. It has been a maneuver that has crossed the line of legality.
-How do you face what is coming?
-I face them with enough desire. after two races in Qatar we are looking forward to changing tracks now. The balance is not negative, we have been competitive at all times and it is the objective. This last race has happened to us a bit of everything, but it does not end here. Now comes Europe, more normal races and last year we were always strong. We will see how far we can go.
Photos from as.com