Mercedes prepares for 2022 and warns Hamilton
Wolff assures that the next renewal of his champion will have to take place as soon as possible. Meanwhile, the team makes changes to its structure.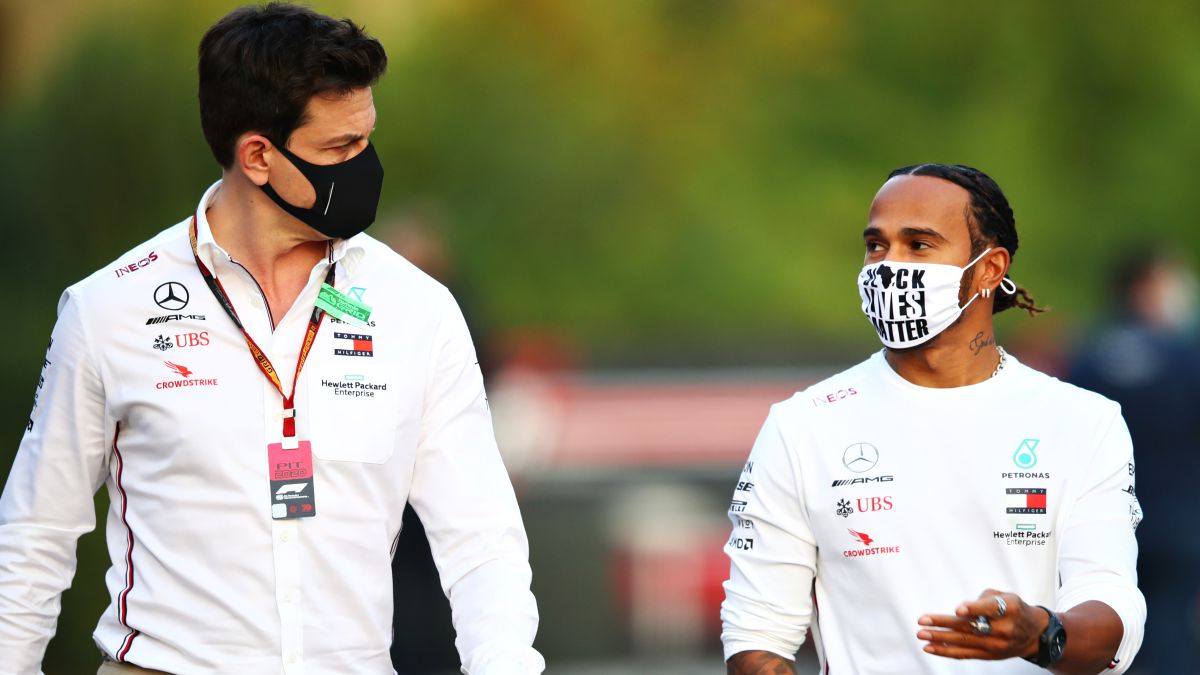 The renewal of Lewis Hamilton's contract with Mercedes became the endless soap opera of the winter in Formula 1. A first delay due to the contagion of COVID-19 from the British and the differences in the agreement between the parties then led the signing until February of this year, just over a month before the start of the World Cup.
A situation that the German team wants to avoid repeating at all costs, especially considering that their great champion only has a contract for this season and they must also ratify the continuity of their teammate, Valtteri Bottas. This was made very clear by the CEO and team director, Toto Wolff, in a statement on the official championship website, "We don't want to wait until January to confirm the two drivers. Valtteri renewed over the summer and that should be normal. It is what gives the pilot peace of mind and allows him to focus on his work. "
The Austrian is confident of maintaining his lineup in the future and considers Hamilton's permanence more than likely: "I hope Lewis continues with us, we have had a long and very successful journey together. He has been a Mercedes driver since karting, he has not played a racing weekend in F1 without having a Mercedes engine, so the logical thing is that the story continues ".
However, Wolff is aware of the conditions for the 2022 season and therefore stresses the importance of reaching an agreement as soon as possible: "Next year there are a lot of balls in the air and we always try to do the best for the team at long-term, while offering the utmost loyalty to our pilots. "And that's why their objective for the negotiations is so clear: "We want Lewis and Valtteri to continue, but the discussions are obviously not going to take place in January." It will be necessary to see if their wishes come true, the continuity in the Hamilton competition does not seem as guaranteed as Wolff transmits and the shadow of George Russell continues to be, for both drivers, very long ... 444 444Changes in its structure
On the other hand, Mercedes announced this Friday that, as of July 1, 2021, James Allison will begin to develop the position of executive technical director (CTO). In this role, Allison will focus her energy on helping the team meet the strategic challenges of the next generation of single-seaters, as well as ensuring that the various departments at Brackley and Brixworth meet all of their demands.At the same time, Mike Elliott will fill Allison's current position as Technical Director, completing a rise within the German organizational chart that began nine years ago when he joined Mercedes as head of aerodynamics after his stints at Renault and McLaren.
"Since joining Mercedes in 2017, James has been an exceptional technical leader for our team and has made an enormous contribution to our performance - combining great passion and determination with detailed experience and exceptional moral character. A while ago We knew his time as Technical Director would come to an end this year and I am delighted to have been able to shape this new role to keep him within our family. Effective succession planning has been one of our team's strengths, so I am pleased to announce Mike in his new role as technical director. We met in early 2013, when I joined the team, and have spent many hours talking about the team and its evolution since then. Elliot has evolved so far to give the step up and become a technical director, "says Toto Wolff.
"I have had a wonderful four and a half years and it has been a special privilege to lead the team's technical effort in that time. It is a great pleasure to be replaced by Mike, an exceptional engineer. We will benefit from the freshness that he will bring to the position and I look forward to it. to be able to continue being useful in a new sphere of activity in my position as CTO, supporting Toto with the main strategic challenges that we face in the future ", expands James Allison.
"These are great shoes to wear and I am delighted that we can draw on James' experience in his new role as CTO. On a personal level, it is an incredible opportunity to become the technical director of a team like Mercedes and I have to thank Toto and our company that trusts me, "concludes Mike Elliott.
Photos from as.com