McNulty dresses up as a leader and Izaguirre takes the stage
Great stage for the American, who leads the Jumbo leader by 23 seconds in the general classification. Pello Bilbao fought Ion in a close sprint in Hondarribia.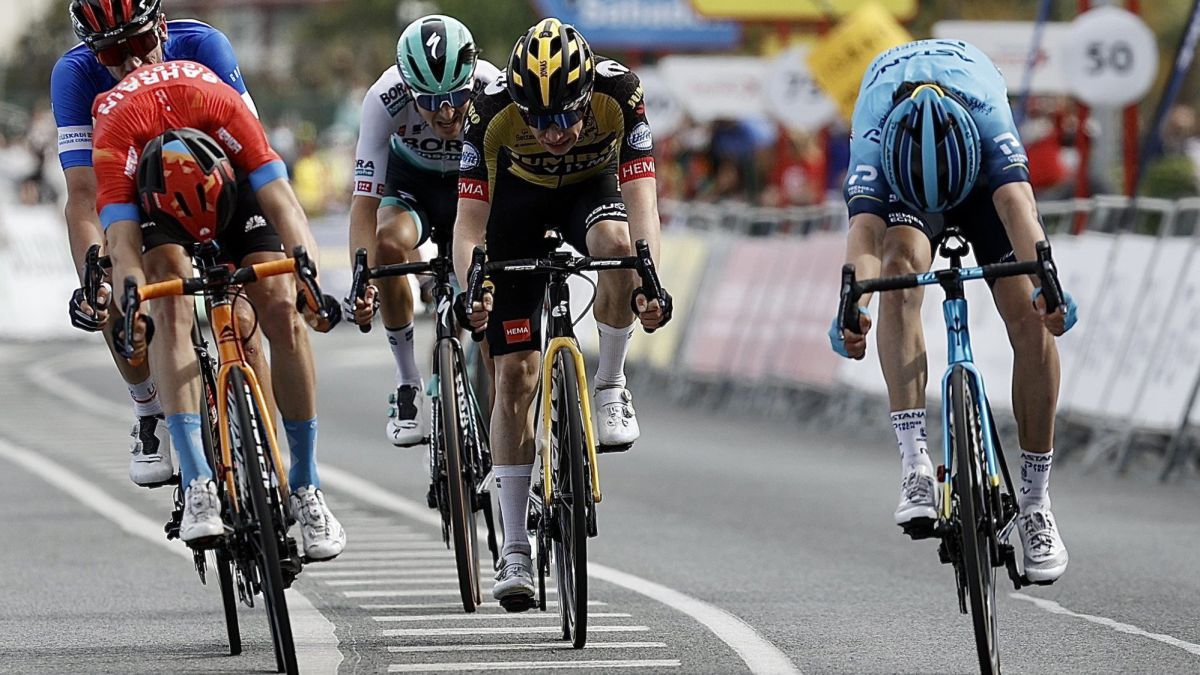 The Tour of the Basque Country does not disappoint this year. It goes from high to high. This time the Roglic-Pogacar hand-in-hand has been parked and two Basques, Izaguirre and Bilbao, have taken over. In the Hondarribia sprint, the first one, which defends the yellow of 2019 in the round, was launched earlier, had a very good inertia and the Biscayan came back. The kidney blow smiled at the Astana runner, who took the bad thorn out of the clock on the first day. Images had to be reviewed to award a winner. It looked like a Real Sociedad-Athletic now that the soccer derby is so fashionable, with two defenders in the colors of each team. They stared at the ground and stretched the bike as if it had springy arms. For a little more than one tubular I won the Ormaiztegi one. Even Pello congratulated him after crossing the finish line. A few minutes of uncertainty, with Ion thoughtful with members of his team and the news: victory. The Bahrain cyclist, champion of Spain against the clock, approached him and they merged in a hug. The home runners are showing their faces. Aranburu and Fraile did it in the second stage. Astana arrived virgin of triumphs to Euskadi this year and the Kazakhstan squad already has two in store. Bilbao was clear about the strategy: he was not going to make an effort to close holes, he did it once and no more. Then he got into the wheel of Izaguirre because he knew he would be the protagonist, and he almost sang bingo. Both were part of a group of six riders that included McNulty, who took the lead by leaving Roglic and Pogacar behind, 49 seconds behind. He was third and in the finish line spider four as a bonus, so he dresses in yellow with 23 seconds ahead of Roglic, who must ally with his alter ego Pogacar to move the race in Arrate on Saturday and move this hierarchy.
It was a miscalculation of Roglic and his team, which he let go ahead without taking responsibility, no matter how much it took Vingegaard there and that limited his bites. A failure that can cost La Itzulia. He hesitated, he did not take responsibility and he is surely regretting it. The Jumbo played his cards very badly. Everything was blown up in Erlaitz. Landa was finally seen, with a test attack, filtering runners. As someone who does not want the thing, McNulty is always there, like 'the old woman in the curtain', attentive to everything that is cooked in the race. He went for the one in Murgia. His 30 seconds overall should be enough credit for people to notice him, but he seems transparent to Slovenian power. Colombian Chaves also did well. Then McNulty tried to escape, while a string of lost cyclists left behind: Aru, Aranburiu, Schachmann, Mas, Caparaz, Higuita ...
McNulty and Landa hit it off and went ahead, while Chaves applied himself making the rubber. Landa pedaled with their classic agonizing gestures, snorting, no one to trust, it is his stamp that he is fresh. Vingegaard, another of the protagonists of the day and sixth overall, was working behind. The Jumbo was wondering what to do. In the last meters of ascent everything broke and a group of 16 cyclists was formed, from which six later broke off. Roglic was at the tail of the main platoon, while the difference stabilized in 20 seconds. McNulty was the leader with ten kilometers to go, with the 30 seconds difference already filed. Vingegaard, Izaguirre, Chaves, Bilbao and Buchmam accompanied him in search of Hondarribia. The Slovenian bosses had an alibi for not leaving, Pogacar took McNulty and Roglic, Vingegaard, but that could cost them ruin. The Jumbo leader, two-time Itzulia champion, is used to controlling the races a bit on his own, but this time he missed the compass. If you trust the Subida a Arrate, it is more famous than seconds for its slopes. Carthy was shooting in the main group. Valverde was also seen, he stretched the lot to 11 km to finish, at a Moto GP speed of 86 for hours.Below, at the entrance to the beautiful coastal port of Gipuzkoa, Gaudu also struck his ax, but based on these harms, without organizing themselves, the platoon leaders were not going to abort the escape. In fact, it ended up succeeding. Roglic controls the races, he was leading a teammate but he did not calculate well. Chaves launched a hard attack at 700 meters to finish, which curled the rest. But Izaguirre and Bilbao were playing at home.
Before all this, the longest stage in the Basque Country was shortened by the way the cyclists fly, driven by an intense south wind, in the first two hours, at more than 49 kilometers per hour. For Download and Alkiza there was tute. In this last port a getaway was formed with Cepeda, Martin, O'Connor, and Juanpe López. The platoon was on a truce and distanced itself to three minutes. After Lezo, there were movements in Jaizkibel. Half of the four stayed. And López released O'Connor on the descent and 37 km, he was absorbed. Beans were subsequently played among the 50 in front.
CLASSIFICATIONS.
Stage
1. ION IZAGIRRE (ESP / Astana Premier Tech) 4: 17: 07.
2. PELLO BILBAO (ESP / Bahrain-Victorious) mt
. Brandon McNulty (USA / UAE-Team Emirates) mt
4. Jonas Vingegaard (DIN / Team Jumbo-Visma) mt
5. Emanuel Buchmann (ALE / BORA-Hansgrohe) mt
General
1. Brandon McNulty (USA / UAE-Team Emirates) 12: 25: 21.
2. Primoz Roglic (SVN / Team Jumbo-Visma) to 23.
. Jonas Vingegaard (DIN / Team Jumbo-Visma) 28.
4. PELLO BILBAO (ESP / Bahrain-Victorious) 36.
5. Tadej Pogacar (SVN / UAE-Team Emirates) 43.
... // ...
8. ALEJANDRO VALVERDE (ESP / Movistar Team) 1: 13.
9. ION IZAGIRRE (ESP / Astana Premier Tech) 1: 15.
10. MIKEL LANDA (ESP / Bahrain-Victorious) 1: 23.
Photos from as.com