Mateu Lahoz will whistle the Classic
The Valencian braid will whistle this Saturday at the Di Stéfano stadium for his sixth Madrid-Barça of his career. From the VAR, Soto Grado will help you.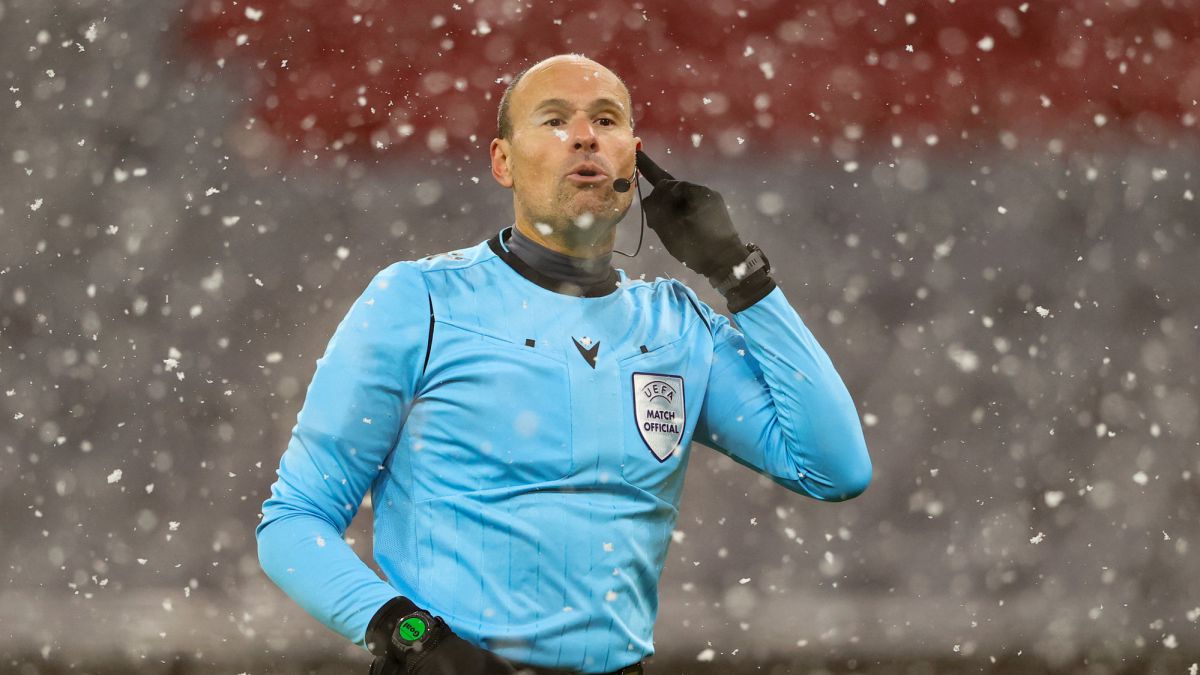 Real Madrid and Barcelona already know the referee of the Classic this Saturday (9:00 p.m., in Valdebebas). It is about the Valencian Mateu Lahoz; that will be helped from the VAR by Soto Grado. A match that is heated by the latest controversies of the teams and mutual accusations of refereeing aid. An unusual designation, since Mateu comes from whistling last day in the League (Alavés-Celta) and this Wednesday in the Champions League (Bayern-PSG), which means that the Classic will be his third consecutive game, without rest and without going through VAR.
The Valencian braid is the best valued Spanish internationally. He was chosen to be in the last World Cup and acted as fourth official in the 2019 Champions final. In addition, according to El Larguero, Mateu is the favorite to whistle the final of the European Cup this year if no Spaniard arrives. This will not be his first Clásico, as he has whistled five. It debuted in the second leg of the 2013 Super Cup, which Madrid won 2-1; it would also whistle the 2014 Cup final that the whites would win 1-2; the first Liga Clásico that was whistled was 2-1 in favor of Barcelona in 2015; They were tied at one in the first leg of the 2019 Cup semifinals and Madrid would win 2-0 in the last Clásico called by Mateu, on matchday 26 of last season.
This season Mateu has only whistled Zidane's men once and it was in the Madrid derby on the first round. The Whites won 2-0. Barcelona, on the other hand, has done it on three occasions: in the Barça victories against Osasuna (4-0) and Athletic (2-1), but also in the defeat of the first leg of the Copa del Rey semifinals against the Seville (2-0) .
Referees of the 30th round of Primera
Huesca - Elche (Friday, 21:00)
Field: Alberola Rojas
VAR: Sánchez Martínez
Getafe - Cádiz (Saturday, 14:00)
Country: De Burgos Bengoetxea
VAR: González González
Athletic - Alavés (Saturday, 16:15)
Field: Melero López
VAR: Figueroa Vázquez
Eibar - Levante (Saturday, 18:30)
Field: Estrada Fernández
VAR: González Fuertes
Real Madrid - Barcelona (Saturday, 21:00)
Field: Mateu Lahoz
VAR: Soto Grado
Villarreal - Osasuna (Sunday, 14:00)
Country: Munuera Montero
VAR: Lamb Vega
Valencia - Real Sociedad (Sunday, 16:15)
Field: Pizarro Gómez
VAR: Díaz de Mera Escuderos
Valladolid - Granada (Sunday, 18:30)
Field: Cerro Grande
VAR: Medié Jiménez
Betis - Atlético (Sunday, 21:00)
Field: Cuadra Fernández
VAR: Iglesias Villanueva
Celta - Sevilla (Monday, 21:00)
Field: Hernández Hernández
VAR: Jaime Latre
Photos from as.com