Martín: "I know a little bit about losing the second at the end"
"If it hadn't been Zarco, I would have entered the last corner without hesitation, but he has a different role in the team, fighting for the World Cup, and I don't," he says.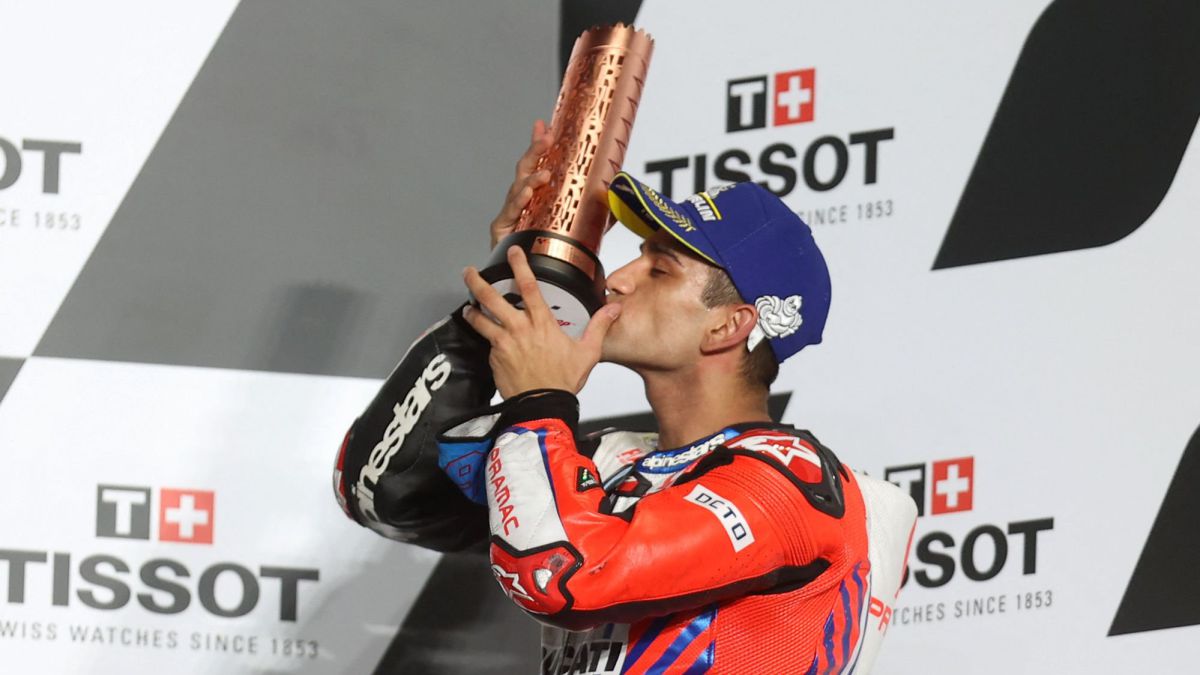 Spectacular weekend for Jorge Martín, with pole position and third place in the Doha GP. Not bad for a rookie, but he wanted more, at least second place.
-What taste in your mouth does this career leave you?
-Very happy. I know a bit by little for having lost that second position in the last lap. It makes me a bit angry, but I would have more than signed to have finished third today. I think I've had a very mature race and weekend, always working alone and trying to create my riding style. We have made a big step forward. I tried the bike for the first time a month ago, or even less, and being third on the podium, in my second MotoGP race, is something unique.
-How did you feel leading?
-Leading 18 laps has been very difficult. On the one hand, it was good for me, since I have done my rhythm and I have been managing my wheels. If I felt any noise that they were going to overtake me, I would brake late so that they would not overtake me, because I wanted to control the race. I am also happy for the team because this relationship that Johann and I have was not necessary. They needed a young driver with a lot of enthusiasm and they look very happy and happy and that is transmitted in the end. I dedicate this third position to Fausto Gresini, because surely he is watching us from above and in the end it has been very important in my career. I want it to be for him.
-Has everything in the race gone according to plan?
-It is clear that in the end I have seen myself first and in some moments I have thought 'be careful that you can fight for victory', but when Fabio happened to me I saw that he had a plus and even so I managed to endure him. I did one lap behind him, but I saw that it was very difficult to win and I tried to keep second place to get at least 20 points, although it is clear that that is not my goal. It is also clear that if it had not been Johann he would have entered the last corner without hesitation, but in the end he has a different role in the team, he is in a position where he has to fight for the World Cup and I do not. I closed the gap to have the podium assured and on the straight I tried to pass him, but he also has a Ducati and it was very difficult. Happy because I think I have had a great race, leading many laps and wanting to continue learning, because it is clear that when we go to circuits like Portimao or Jerez, where I have not ridden with a MotoGP, I will go a bit in tow And there will be circuits where it goes well and others where not so much, but in the end, everything that comes up to the middle of the season will be good because we have to do laps and then we will think about other things.
-What was missing to win?
-I have not missed anything. I have laps to go and a bit of speed at the end of the race, but I have held the pace and a few tenths between all the laps and that is something brutal. Everything I have proposed I have done. Happy with my style, improving every day and I don't know the time I've done in the race, but I'm sure I have improved ten or twelve seconds compared to last weekend. It's amazing how much I've improved and it's just the beginning. There are no limits, it is my second race and it means that I can continue to grow in the following races.

Photos from as.com