Martín: "Much better to win in Moto2 than a pole in MotoGP"
"My goal here is not to win," says the poleman, adding: "A top six would be a very, very good thing, and above all, to reduce the distance at the end with the head of the race."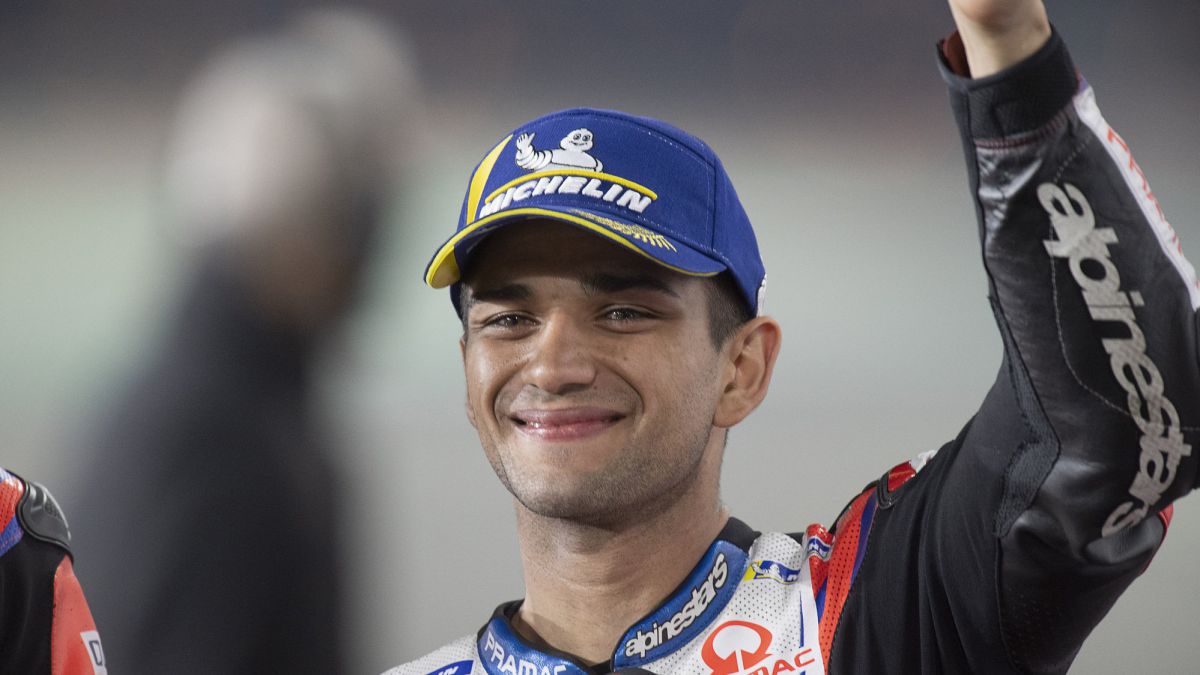 Prudence with a view to the race despite having achieved pole position in the Doha GP in MotoGP. That's how smart Jorge Martín is, a rookie who took only two attempts to climb to the top of the grid, and with a very annoying wind during Q2. He is set to finish in the top six as a goal, but anyone trusts him by seeing how he spends them ... This is what he said on TV and at the press conference.
-Congratulations. What can you say?
-It is very beast, it is very beast. The improvement I'm making is incredible. I don't have to say anything, the times show it and right now I'm trying to focus on myself. I don't watch times and I don't focus on position or something. Yesterday the goal was to get into Q2, but today I didn't expect to get pole and, when I saw that I was first, I said "host ...". It was not such a good lap. It was a difficult timed test because I was with Pecco and I didn't want to shoot and I thought I had to shoot because my wheels were going to get cold. There was no point in pulling him, but in the end I had no choice because he did not want to pull and did not know how much time was left. There was a fair lap and I did a great lap, without making any mistakes. I have tried to go to the limit but taking the steps I had to take forward.
-Did you know that this lap would be pole?
-When I passed 53.1 I thought it was safe first, because I had seen 53.3 and I thought it was the 'target'. So I thought I was first, but I saw that I was not on the panel in the top three and I thought 'don't screw me'. I even went out onto the gravel, because when I braked it was already very late, and when I saw that my number was up I freaked out. I was next to Aleix, who congratulated me first. And also Maverick. They are friends of mine and they have helped me a lot since I was in Moto3 and I am finally here, so they too have their two cents. It was amazing.
-What can you expect tomorrow after the departure you did last weekend? He was fourteenth and fourth, and now he will not have anyone in front of him.
-Well, I hope to get there first. I will try it because otherwise I would be losing that small advantage that I have of going in front and that allows me to control the tire management a little more, because you do not have to follow anyone. That is why I will try to make a good start to try to save the first laps, but it is clear that in the rhythm I have three or four tenths left to win. My goal is not to win tomorrow, that is obvious, and what I will do is try to save and if Maverick and Zarco pass me then try to hit them to see how far they can take me. I think that if I do a 'top six' it would be something very, very good, and above all, reduce the distance at the end with the head of the race.
-Top six being cautious?
-No, no, I see a lot of strong riders, Mir who starts behind but he is on the pace to make the podium. In the end all these riders will arrive and I hope to stay there in the little group and see what happens in the end.
-Compare the importance of this pole to his victories in Moto2 and Moto3.
-You are asking me to compare a victory with a pole, and that is difficult, because winning is something different, the most you can do in a GP and also the best possible result for your work. This is just a pole. The first in MotoGP is something different too, but it is much better to win in Moto2 or Moto3 than to make a pole in MotoGP.
Photos from as.com