Malaga dreams of the playoff and leaves Albacete in the UVI
Two goals from Yanis and Caye Quintana gave Málaga victory against a sinking Albacete. Sergio Pellicer's men dream of the playoff.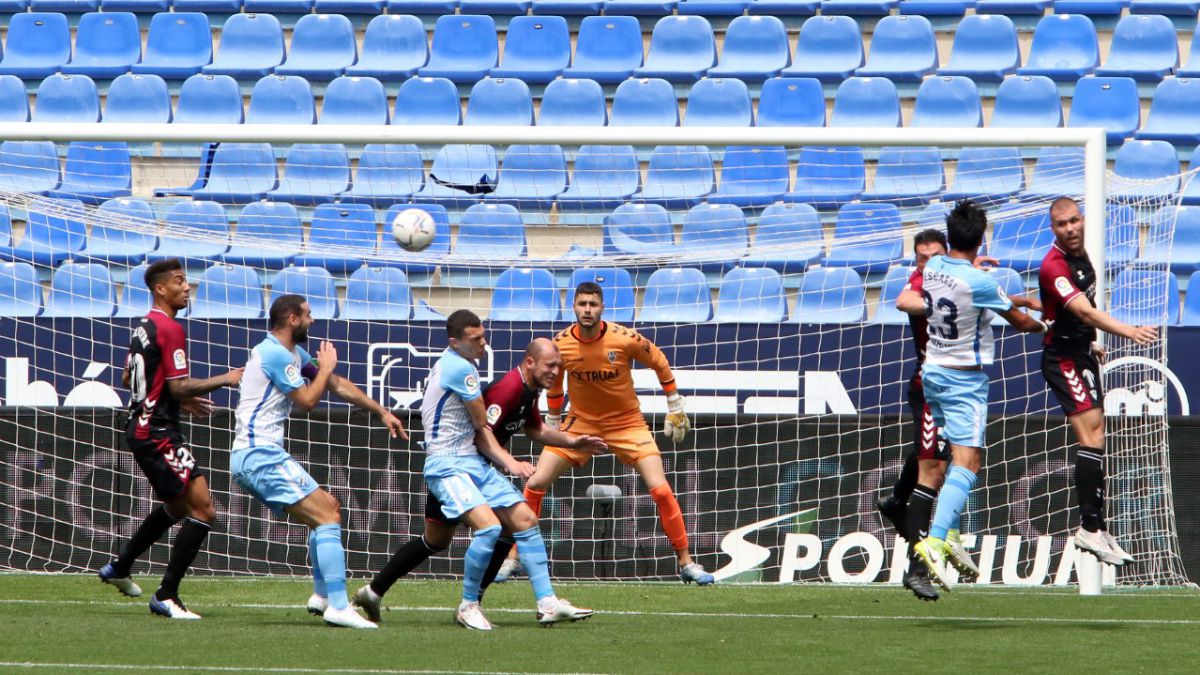 Málaga, in its calmest game of the season, got rid of an Albacete that walks without brakes to Second B. Sergio Pellicer's men played in a practical and serious way and did not give any option to a rival who came in need of win or win to escape from a deepening well. With 48 points, the goal of permanence is virtually assured and Málaga can afford to dream of something else; the promotion playoff, something unthinkable at the beginning of the season with the lowest salary limit in professional football, 2,964 million euros. It is clear that life without Al Thani can be wonderful.
The game starts crooked for Albacete. On the one hand Tomeu Nadal, one of the best goalkeepers in the category, leaves the line-up because he feels unwell. In his place, Bernabé makes his debut. The La Mancha, in a very complicated situation, goes wrong and penalizes him by conceding 1-0 at 22 '. A bitten shot by Ale Benítez becomes an assist for Yanis who is alone but in the right position because Boyomo undoes the offside. The Franco-Algerian deflects with the tip of the boot far from the reach of the Albacete goalkeeper. It is his fifth goal.
Albacete tries to leave and just four minutes later Juan Soriano makes a handball save, with his foot in a point-blank shot from Alfredo Ortuño, who was offside. Good as a warning. It is difficult to understand that this team is bottom with an Ortuño-Zozulia forward. Or players like Fuster, Silvestre, Dani Torres and company, appetizing for any team.
With the score in favor, Málaga strengthens its defensive work. It is a team that suffers more than necessary in this regard and when defending set pieces. Álvaro Jiménez created some problems for David Lombán. With Menéndez's men in attack, the referee decrees the intermission.
El Alba needed new ideas because time is running out. It is true that the mere presence of Ortuño created confusion in the rear. He is a footballer with good technique, slow movements and very good positioning. His best season was with Cádiz where he scored 19 goals. Juande had to multiply so as not to give any bellows.
Málaga had forgotten to shoot on goal from 1-0 but waited for their chance to double their lead. And this came in an exceptional backlash. Cristian Rodríguez throws a huge long pass from the front of the Malaguista area to Jairo, who quickly assists Caye Quntana who, in the race, scores 2-0. His second goal in the league that he needed to breathe this forward who does everything else very well.
Pellicer's team manages its advantage by closing spaces to Albacete's heavyweights. The coach gives entry to Scepovic and Joaquín Muñoz for Caye Quintana and Yanis, the authors of the goals. Again Alba was entrusted to the set piece as a partial remedy. And this includes Fran García's long throw-ins. In his day, the former technician of the well-remembered 'Queso Mecánico', Benito Floro, reflected on the importance of this manual strategy.
In the festival of changes of 79 'highlights the departure of Zozulia. The Ukrainian was quite dispersed and barely had a chance that Juan Soriano threw him. It has not been fine for a long time.The men from La Mancha, desperate, seek to shorten the gap and have their chance with a shot from Alberto Benito that goes wide. Malaga slows down their football in order to keep the clock ticking. A classic stratagem that is seasoned with the belated change of rigor. In this case, Alexander for Jairo, a player who begins to resemble that genius for whom Sevilla paid Racing three million euros. This is how the game ended with a Malaga that is in a situation as idyllic as it was once unthinkable. Unfortunately Albacete is still in the queue and with less and less life expectancy.
Photos from as.com