Both trios of midfielders have passed the throne. They have dominated in Europe and in Spain. The Barcelona marked style in the triumph. In Madrid, more heterogeneous.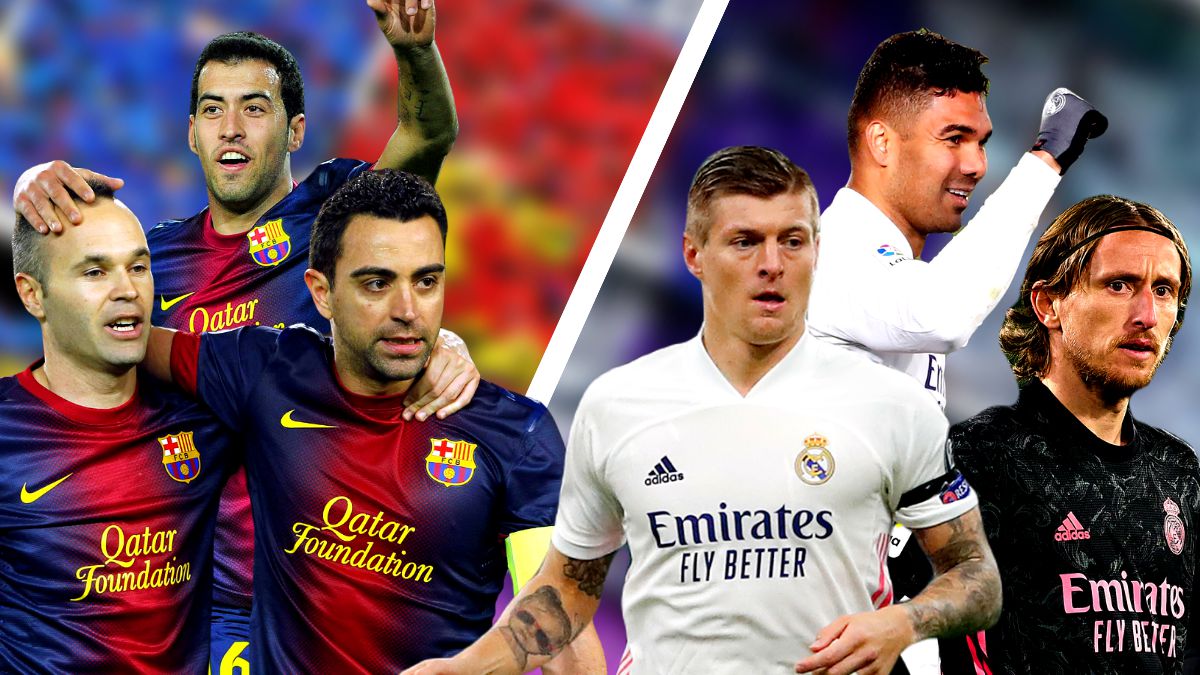 Football is decided in the areas, but everything happens through the center of the field. Each coach has his interpretation of what to do or not do in that area that always ends up being decisive. The exact point where the most complete play, destroyers who need to have art and artists who need to be able to destroy. Where all the elements of football come together to travel from one area to another.
The list of couples, trios or quartets that have sublimated 'midfield' would not fit in a single article, but focusing on the recent era of Spanish football there are two bands that have divided the national scene in the last decade: Busquets, Xavi and Iniesta and that of Casemiro, Modric and Kroos. Real Madrid and Barcelona, face to face, once again.
The longevity of both and the triumphal cycle at the national and club level justify opening a debate almost unthinkable years ago. Barcelona: style, foundations and culture
The legacy of Busquets, Xavi and Iniesta playing together is unquestionable. A quick glance at his record shows a World Cup, two Euro Cups, countless Leagues, several Champions, King's Cups ... A sextet and a triplet with them as absolute protagonists and in charge of feeding Messi's talent, which defined industrial rhythm all that these three generated behind his back.
Player by player, all consider themselves to have been the best in their position for years and depending on where you ask, even in history. Busquets, the player who would like to be Vicente del Bosque if life gave him a second chance, never had, a priori, the physique that could be expected from a five but he understood football in a unique way. With titanic stamina, each recovery is pure intuition and tactical 'know-how'. With the ball, always decisive in the first pass, excellent in the exit and with turns capable of despairing his pair. In addition, he always handled himself well in other football. He shone in the trivot of Barcelona and also adapted perfectly to Xabi Alonso and his double pivot in the world champion team.
Xavi is for many the best midfielder there was and will be. Luis Aragonés and Guardiola generated their ecosystem for him and he dedicated himself to reigning by passing the ball. Without him the success of culé and of the National Team cannot be understood, as they continue to look for a new specimen that can replicate their game. It sounded for the Ballon d'Or and gave sufficient reasons, but Leo surpassed them. A unique player whose return to the bench is already valued.
Iniesta is the most versatile of the three. An elegant football with quality for absolutely everything you could ask for with the ball. Interestingly, despite a calm character and with little taste for being in the spotlight, he always had that gift to shine in decisive moments. Without being a scorer, he left two for history: Stamford Bridge and 'El Gol de Iniesta', which after reading this has just evoked perfectly in his head. Along with the one from Terrasa, you can consider two footballers who have sublimated the basics when it comes to passing, controlling and dribbling.
His way of playing and winning went further, setting a trend in the world of football during its best years (many tried to play their way) and permeating the culture forever. From the Farmhouse to History.
Real Madrid: a legendary trio
Casemiro, Kroos and Modric. For years they insisted on the BBC, but the best trio turned out to play behind the backs of these three, who appeared practically by chance with the arrival of Zinedine Zidane.
In his early stages in Madrid, Kroos did not quite fit in as a defensive midfielder, as a gap was sought for Modric, James and Isco ahead of him. Ancelotti tried to bring out his most destructive side, but the German was not that player. Benítez gave Casemiro the opportunity and Zidane confirmed him.
The Brazilian has become over the years and European victories a benchmark in his position. A remarkable physique allows him to cover the entire field as well as being a connoisseur of all the arts of defense. He also manages well in other football, like Busquets, and is capable of appearing with important goals that place him this year among the best scorers for whites. A defensive leader.
Toni Kroos is the brain. Despite a notable downturn after the World Cup in Russia, the German has been regular and is raising his level this season. It practically borders on perfection. He manages the long pass, the short pass and has even lavished himself with some 'pass to the net', a very Iniesta goal, recalling his times as a midfielder at Bayern. As if that were not enough, he also handles well on set pieces. He has already left a lot and it still seems that his best games are yet to come.
It may be surprising, but Luka Modric is the only one of the six who has the Ballon d'Or in his record. Arrived in Madrid at the express request of Jose Mourinho, the Croatian has gone from being a great midfielder to one of the best midfielders in this game. The 10 gives oxygen while driving and sees passes that few see. A Balkan leader who "plays like a Brazilian" and who has taken the whites and his team to unexpected heights. He would enter the debate of the best in his position and few would put him in trouble.
The three have been immovable since the arrival of Zidane and key to achieving repeated European and national success. With a less homogeneous style than the Barcelona average, they have inherited the throne of the best midfield in the world since Xavi and Iniesta left Camp Nou. Now, the debate opens and both fight for the absolute government of the center of the field. Nothing that some did not do and others continue to do every weekend.
Photos from as.com