Ivanovic complains: "It is illogical that there is no unified schedule"
Ponsarnau said that many of his players "are not at their best" and that there are some who are "frustrated" as has been seen.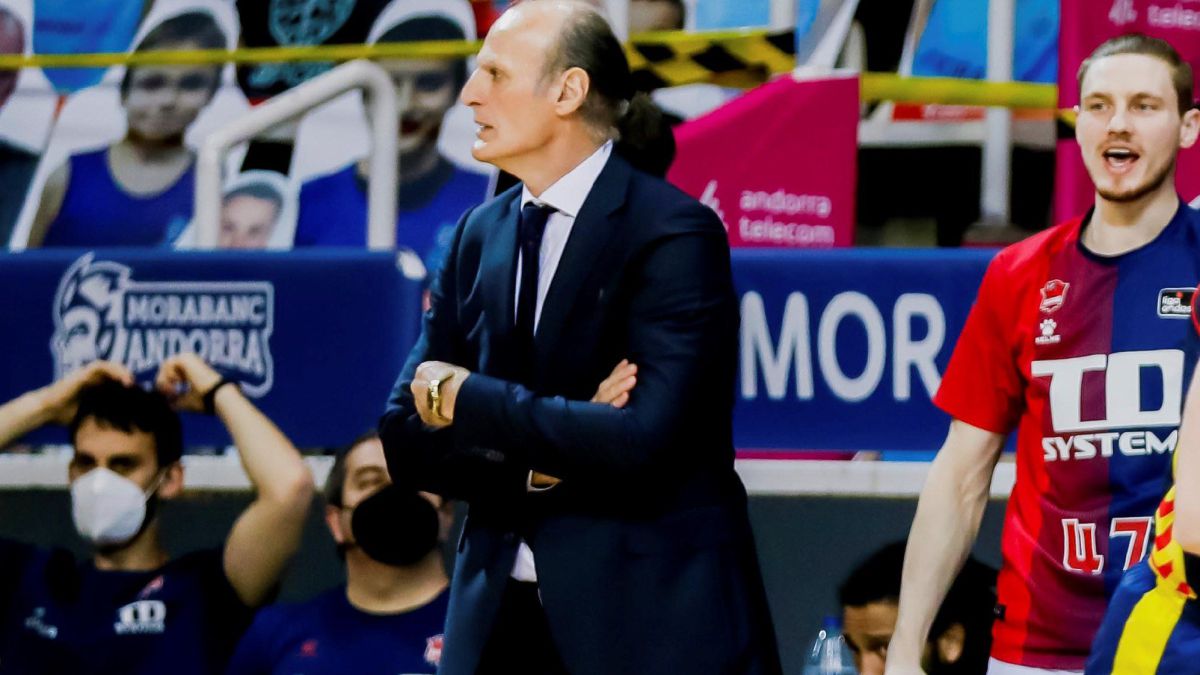 The TD Systems Baskonia coach, Dusko Ivanovic, considers it "illogical" that there is no unified schedule on the last day of the Euroleague and that the regular phase "had to end earlier", as it will run until next Monday with Zenit- Panathinaikos, while he has asked his players to "maintain patience to fight during the 40 minutes" of the match against Valencia Basket.
"It is illogical that there is no unified schedule on the last day. It had to end everything before. The Euroleague has also done something illogical by taking a decision and then changing it during the season (set the Zenit-Panathinaikos for April 12). They are two things that are not logical during a season, "Ivanovic complained to the press.
Regarding the keys to winning in a decisive game at La Fonteta, he pointed out that they go through "maintaining patience to fight during the 40 minutes, without giving up or thinking at any time that you have won it." "The players are aware that we must win and we are only thinking about our game. Then, since we do not depend on us at least we will do everything that depends on us," he summarized, satisfied with the performance of his team in the 33 previous days
"As we have said from the beginning of this Euroleague, we are going to fight until the last moment and when this last game comes, I hope that until the last moment we can have a chance to win. I am happy with my players. We could have been better in some games , but also losing others, and in the end I think we are where we deserve. It's what we wanted and now we'll see. " valued.
Regarding the physical condition of his squad, the Balkan explained that until the last minute they will not know if they can count on Pierra Henry, who is dragging a sprained ankle. "He has a whole day to recover and it will be doubtful. Surely he wants to play, but we will see if he can or cannot. It all depends on his condition and if he is not well we are not going to force him. We are going to prepare the game as if not. play and if he plays, he will help us, "he said. In addition, he warned that Valencia Basket has "a lot of offensive talent." "They showed it in the last game, that they beat us easily by 20 because we allowed them to play well. Watching this game everyone is aware of what we have to do to win. He has a lot of talent in attack and everyone can score. , but we have already beaten them and we must try again, "he encouraged. Ponsarnau: "It would be a disappointment not to pass"
Valencia Basket coach, Jaume Ponsarnau, said for his part that if they finally fail to qualify among the eight best in the Euroleague in this regular phase that is about to end, it will be a disappointment even if they value positively his season in the competition. "To end up getting 18 or 19 victories is to be very satisfied, but if this does not lead to qualification we will be disappointed because it was a challenge that goes beyond the team, that of belonging to a club that grows by leaps and bounds. there will be disappointment regardless of whether the season is satisfactory, "he said at a press conference.
Valencia's options are to win against TD Systems Baskonia this Thursday and that either Real Madrid or Zenit Saint Petersburg lose one of the games they must play. Before this situation, the coach pointed out that the clash against the Basque team is "a final" and that it will mark "without any doubt" the work done so far by the team, "I, personally, dedicate myself to this with the illusion of playing Matches as important as this one. In this Euroleague we have been able to beat everyone except Barça and Baskonia, "he recalled. "There remains one last effort that is tomorrow against a team that is playing very well, with a lot of energy and that is clearly better than us. A team that, with the load of minutes that it takes, is to admire the level of play they are showing , his passion and his intention, "he added.
The Catalan coach pointed out that Baskonia's game "starts from defense and from there they pick up the rhythm of the game, running a lot, playing brave and shooting a game". "It is a team that loses few balls, steals many and rebounds very well. Despite playing at the limit, they are whistled for few fouls and that helps the rhythm of the game to be theirs. We are going to try to match the rhythm of the game to ours and let the energy be ours, "he said.
But Ponsarnau said that many of his players "are not at their best" and that there are some of them who are "frustrated" as has been seen in recent games. "To play a game with this pressure, some players do not feel up to it. Regardless of that, you have to give everything. It is key to forget about the individual feelings of each one and give our one hundred percent, which is not the same against Baskonia. enough ", assumed Ponsarnau, who confirmed that he will recover Martin Hermannsson.
Photos from as.com