Iván Azón gives Zaragoza half a stay
Almería, to whom the VAR annulled a Robertone goal for offside, practically says goodbye to their direct promotion aspirations.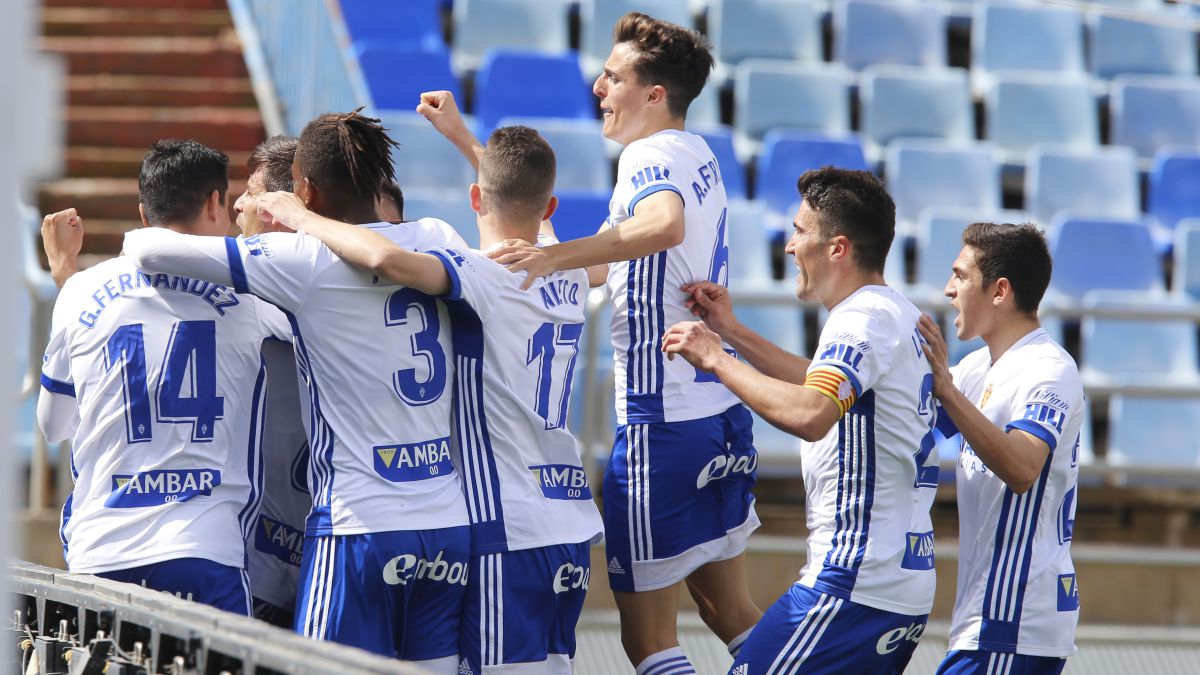 Iván Azón, providential one more game, gave Real Zaragoza half a stay with a goal ten minutes from the end against Almería that says goodbye to their direct promotion aspirations. The Aragonese youth, who, surprisingly, JIM continues to reduce to a revulsive role, emerged as the great protagonist of an afternoon also marked by the goal that the VAR annulled Robertone in 61 'and once again demonstrated that his performance and opportunism are far above Vuckic, Álex Alegría or Toro Fernández. Zaragoza suffered a great deal to win, but knew how to take advantage of their two scoring chances as never before to take a giant step towards salvation.
Juan Ignacio Martínez continued in the 'revolutionary phase' and left Eguaras and Bermejo out of the eleven for the benefit of Francho and Sanabria, apart from the forced change of French for Peybernes, while José Gomes introduced up to four new features in the Almería line-up, with relief included in the goal: Makaridze, Cuenca, Petrovic and Brian Rodríguez replaced Fernando, Ivanildo, Morlanes and Corpas, the second and third, sanctioned.
Zaragoza immediately found what they wanted the most, a goal advantage, a goal that gave them serenity and space to play against. In his second consecutive game as a starter, Adrián emerged as a quick protagonist. He had vindicated himself on the eve after seven months of irrelevance with a forceful - "I want to be an important player in this last stretch of the course. I did not come to Zaragoza to hang out" -, and after nine minutes he showed that he has not lost a the apex of his condition as a arrived, when heading to the cage, free of all marks, a precise center of Zapater from the left.
Almeria, who began undecided, had a hard time digesting the 1-0 and until about half an hour did not put Zaragoza in danger, forcing Cristian Álvarez to a providential intervention with a shot from Robertone. Precisely, the Argentine would not take long to tie, when heading next to the far post a faulty clearance from Tejero, after a send from the right of Balliu. The Hispanic-Albanian side, very active, punished Zaragoza's left wing until halftime, which in the entire first half gave up the ball - just 35% possession - and limited himself to protecting himself in front of his area.
Almería moved their bench after the intermission, relieving Samu, with a card, for Carvalho and, above all, took a step forward against an increasingly dangerously locked Zaragoza, unable to make three consecutive passes or cross the divide. José Gomes put even more meat on the grill with the entries of Corpas and Fran Villalba and was about to obtain an immediate prize with a goal from Robertone from 20 meters, which ended up canceling the VAR for offside before Villalba. An action that will bring controversy all week.
JIM played too long with fire while his team was unraveling and only with the scare in his body due to the goal disallowed against Robertone was encouraged to make changes: first Iván Azón and Chavarría for Toro Fernández, on another afternoon of absence, and Adrián, and then Eguaras by a blurred Zapater. Zaragoza managed to balance its confusion somewhat, although it did not finish propping up its center of the field and continued to go through moments of trouble, such as a shot from Sadiq in the 76th minute that went out, and another from the recently left Juan Villar who crashed in the post.
But the faith of Iván Azón knows no limits and in an isolated counterattack action, Tejero crossed to the far post, Nieto touched the center and the very young Zaragoza forward hit the net with the winning goal. A goal that is worth half a tenure and that should end once and for all the open debate on his ownership, whatever Juan Ignacio Martínez puts it.

Photos from as.com