Interview with Pedro Acosta, the new star of the moment, leader of Moto3 in his World Championship debut with a second place and a victory, starting from the pit lane.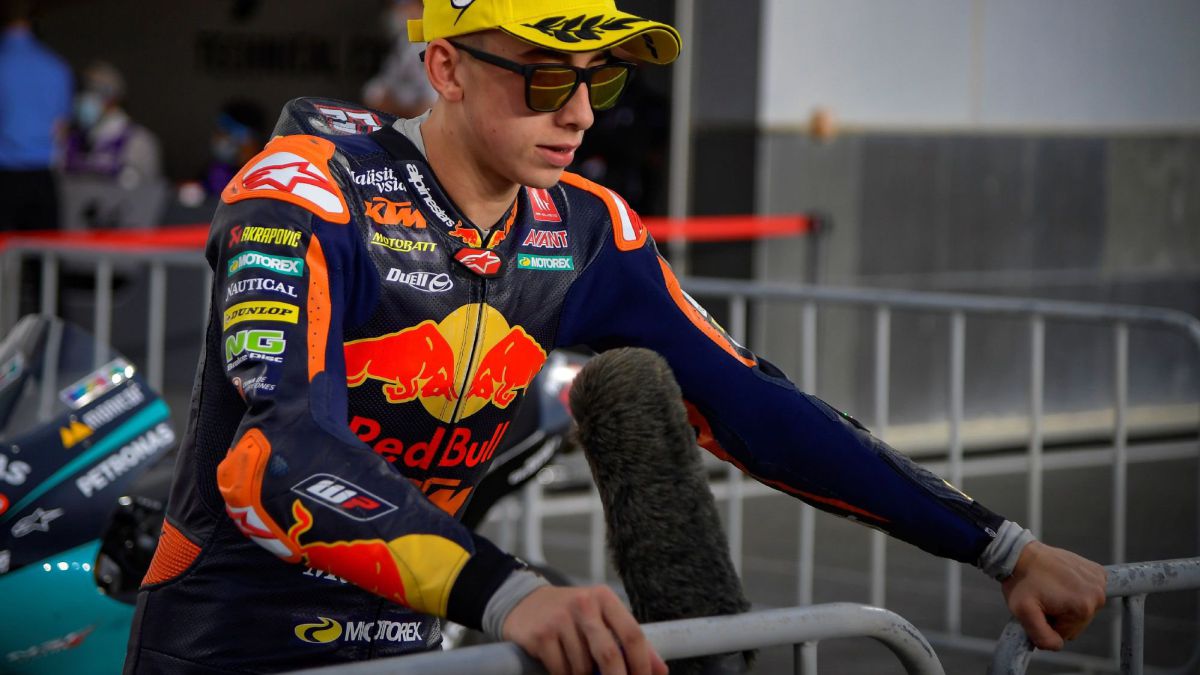 With you, Pedro Acosta, the new rising star of the Motorcycle World Championship. At 16 years old, the Shark of Mazarrón, a nickname he receives for his place of origin and being the son of a fisherman, is the leader of Moto3 in his world championship debut with a second place and a victory, this one coming from the pit lane.
-I am fascinated. Me and many ...
-Thank you, thank you.
-I was extremely impressed that he reached the first free practice of the Qatar GP, the first of his life in the World Championship, and was able to set the best time, even in sunlight and slower. How is he so insolent and irreverent?
-Well, I think having three days of testing at that circuit helped a lot, but also having the equipment I have, because from the first day they helped me a lot. The adaptation to the team was very good from the beginning and I think this is what it has to do with professionals and geniuses.
-Who exactly is he calling geniuses?
-I consider my team that way, the whole team, from the mechanics to my teammate, and when I say geniuses I mean the team's telemetry, Rubén (Moreno); to my coach, Albo (Alberto Iotti); to my two mechanics, Santi (Del Canto) and Adai (Cortés), who have done a very good job.
-If they are geniuses, what is a pilot who in his first two races has a second and a first in the World Championship?
-I am a pilot at the end. Spending three weeks of testing in Qatar and having a whole week of racing has helped, but in the end what I am is a driver.
-But a very good pilot ...
-That will be seen.
-Winning from the pit lane in his second race is something that I have not seen Márquez or Lorenzo or Stoner do. Pedrosa did, but already being in MotoGP. What can you say?
-Well, this is for all the work that has been done in winter and for working with the people I work with.
-I see you keep your feet on the ground. I'm going to give you a Kevin Schwantz test. Do you think you are more of a fan of 34 than I am?
-I am not sure, but I consider myself fantastic about Kevin. Let's leave it there.
-Why are you a fan of Kevin Schwantz? When he won the World Cup in 1993, you weren't even a project of your parents, because you were born in 2004.
-My father had a Suzuki with which he went to the circuit, an AK7, and he had it painted in the colors of Pepsi. That's where it all started, from him showing me videos of the time when he went to watch the races and he showed me videos of his.
-What did you like the most about Kevin?
-He was pure spectacle. Today everything is based almost on social networks or on television and he was already pure spectacle before, because he was a very good pilot, but he also knew what people liked.
-I heard you say that Kevin and his rivals were real pilots. Why?
-I have a CBR600 and, when they let me try R1 and modern motorcycles, it is because that in the end is not a motorcycle ... In Moto3 and Moto2 it is one hundred percent pilot, but in MotoGP a part of the riding is based in understanding the electronics of the motorcycle. That was not the case in Schwantz's time.
-Why Schwantz and not Rainey if the Californian won three titles and the Texan only one?
-Kevin was what most entered my eyes for the show he gave. I think it was in Suzuka 89 the race that he did that was pure spectacle. I'm from Kevin on the show he gave.
-It convinces me. What is your favorite career?
-I would say Hockenheim 91, the one with the braking with Rainey. The style he had was that. I think he did not win so many World Cups because of that philosophy that he had as a front door or a hospital, but that made him what he is. It was win or die, like war.
-You are passing the exam in 34 with tuition. Is that Kevin's philosophy yours too?
-For now I have always carried that philosophy ahead. My goal at the beginning of the year before was to be the driver who won the most races in the year, but two or three years ago I started to really hurt myself, becoming unconscious and things like that, I have had to leave that philosophy a little more sideways. But I still think that the beginning and end of the year are the opportune moments to use that philosophy.
-Do you know that he has a very famous phrase in which he says that 'When I see God I know that it is time to stop?
-Yes. I knew her.
-Did you see God in the race on Sunday, did he leave the pit lane on the 23rd to overtake so many drivers?
-I am a pilot who has never moved by references and I am a pilot who instinctively brakes and instinctively opens gas. I think I do apply it a bit.
-Schwantz won just one title for Rainey's three but won 25 500cc races for the Californian's 24. What does that data tell you?
-Rainey was a more modern rider, who knew how to think more about the bike and the goal was to win the World Championship. Each driver has his own way of seeing racing.
-Y to finish with Schwantz. Do you know that he sent you a message through AS before the race hallucinating with his second place the previous Sunday?
-As soon as the race finished I saw messages like Márquez's and, when I took off my suit and Moto2 finished, I saw all the messages from all the top class riders who had written me. It was a great support.
-Who wrote to you?
-Quartararo, Viñales and people like that who come from below and have not had everything since they were little. That speaks a lot about a person.
-Which pilot generates the most admiration for this World Cup?
-I come from the FIM CEV and the Rookies Cup, where everything is very cold and each rider goes his own way. Here I notice that there is more pineapple among people and I have not seen any bad face with me yet. That is what has surprised me the most. I really wanted to race in the World Championship to see if Binder (the Moto3 one) was as Binder as they said, to see if he was as aggressive as they said, but the truth is that for now I have not had any problem with him and I don't know why do people complain about him?
-And what is your current idol?
-I like Iker Lecuona, but more because of the relationship of friends, and I cannot say one that I pay attention to, because I take from each one what can help me improve.
-Did you know that your debut with second and first has already been done by a partner on the grid before?
-Yes, Fenati.
-What has to be done so that it does not happen to him like him and does not remain stagnant?
-I think the most important thing is going to be to keep your feet on the ground and work like we have done all winter. That has been a big part of why I am here. And Fenati continues to have the same level as when he started, but social networks or the MotoGP show I think he has done a lot of damage from what happened in Moto2. It has the same level, but now it is more careful.
-Does he look like someone?
-I am not sure. I'm Pedro Acosta and that's it.
-What did you feel as soon as you crossed the finish line?
-All the hours of work I put in in the winter came to mind. Last year I stopped studying and focused on being a one hundred percent pilot, when I knew I was going to go to the World Cup. All work pays off.
-Can you be a champion the first year?
-Marquez did.
-Yes, but in MotoGP, not in his first year in the World Championship, in 125cc…
-Sure, sure. Dreaming is free and you have to believe. The three days of testing here have helped us. In Europe there will be circuits that I know and that may be better or worse for us, but the important thing will be to save the furniture where it costs us more.
-So, can you be a champion the first year?
-Possible is, because there is always possibility.
-He talks a lot about his father. What about his mother? How is your relationship with them?
-My father is called Pedro and my mother Mercedes. The relationship with them is good and I live with them when I was 16 years old. My mother was not very amused at first, because how do you get your six-year-old son to race on motorcycles. In the end, my father took me to test and I'm here for him. He gave me the typical Chinese motorcycle that you buy in bike stores and I started with five and a little years, but in speed I started at six.
-How many injuries in these ten years?
-I have had two serious injuries, an operation of a humerus and a tibia, but I have had some fall at the beginning of the year because I wanted to go to win and remain unconscious. It's part of the game.
-Thank you and I hope there are many more interviews.
-OK and thank you very much.
Photos from as.com