Hard corrective from Ndoye and Coosur Betis to Acunsa GBC
The Andalusian team dominates the Basque from the first quarter, who stares at the LEB. Great game for the pivot: 23 points and 7 rebounds for a PIR of 33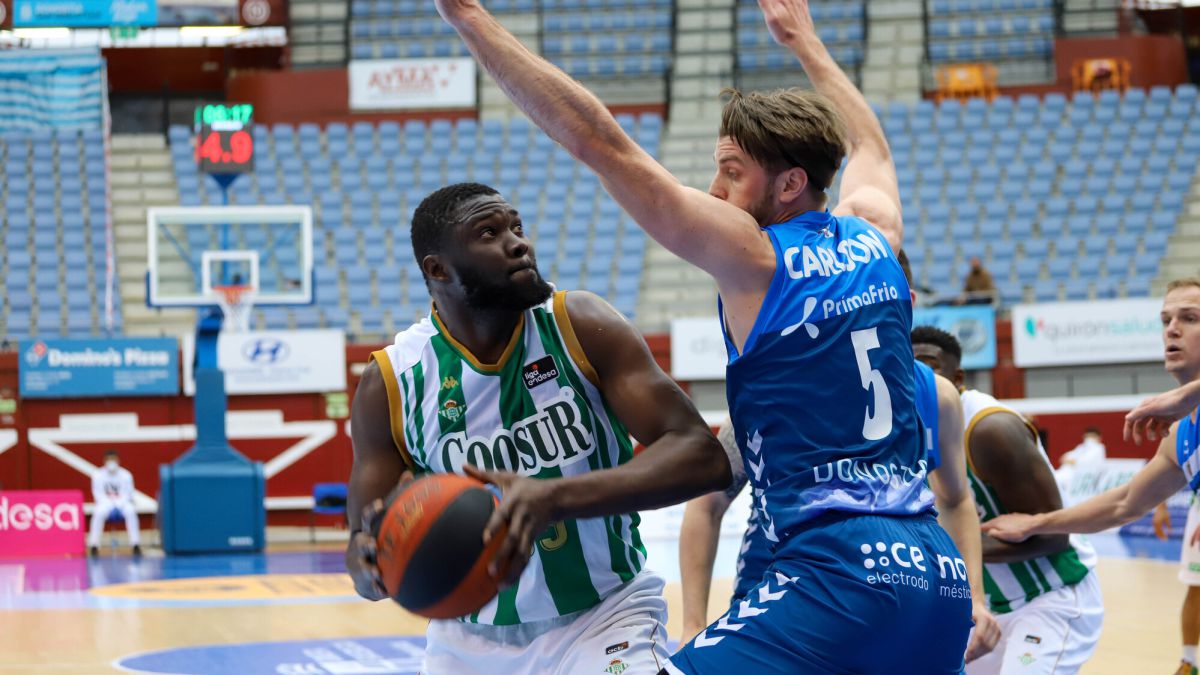 The Coosur Real Betis suffered less than it expected to achieve a wide victory (68-91) fundamental to its interests of continuing in the Endesa League, while almost evicting an Acunsa Gipuzkoa Basket from the top category that did not measure up from the initial jump.
The Sevillians came psyched up for the battle that a local team was going to raise that desperately fights to elude their destiny, the demotion in which they have been involved after occupying positions of danger all season and Betis began like a gale.
The Feldeine-Ndoye connection worked in a first quarter in which the Andalusians broke the game with 7-16 and began to add differences against an apathetic Basque team that did not seem to be aware that this was one of the last trains they could take.
The first set, with a GBC disappearing in attack, left the game very on track in favor of Coosur, which had been uncovered with an offensive barrage although in a final GBC arreón, with a triple almost on Dee's horn, he left the game removable (17-27) .
That basket by the American gave impetus to his team, which reached 2 points in the blink of an eye (25-27), so that the beticos took the batteries and resumed the task, again with the success Feldeine, although Dee was beginning to be a problem for his interests with 10 points almost in a row.
Betis again squeezed the arm of Ndoye and Feldeine, great numbers for the American escort at halftime, and again hit a San Sebastian team that was leaving for dressing rooms 12 below and few options to be able to turn around this momentous clash.
The team of Joan Plaza did not stop stepping on the accelerator in the second half, they were the key minutes and these were for a concentrated Betis that continued to amass income in the third quarter to get 21 up with Randle's free throws, leaving virtually settled the game with the last quarter remaining (46-67) .
Marcelo Nicola's men would lower their arms in the last quarter because there was nothing to do anymore, Betis played to like themselves without making blood and obtained a placid victory that nobody thought the day before that it would be so simple.

Photos from as.com