Girona strips Ponfe and focuses his gaze on the playoff
The rojiblancos, superiors, placed seventh in the table after goals from Stuani, Samu Saiz and Bustos. Yuri signs the final 3-1 in 91 '.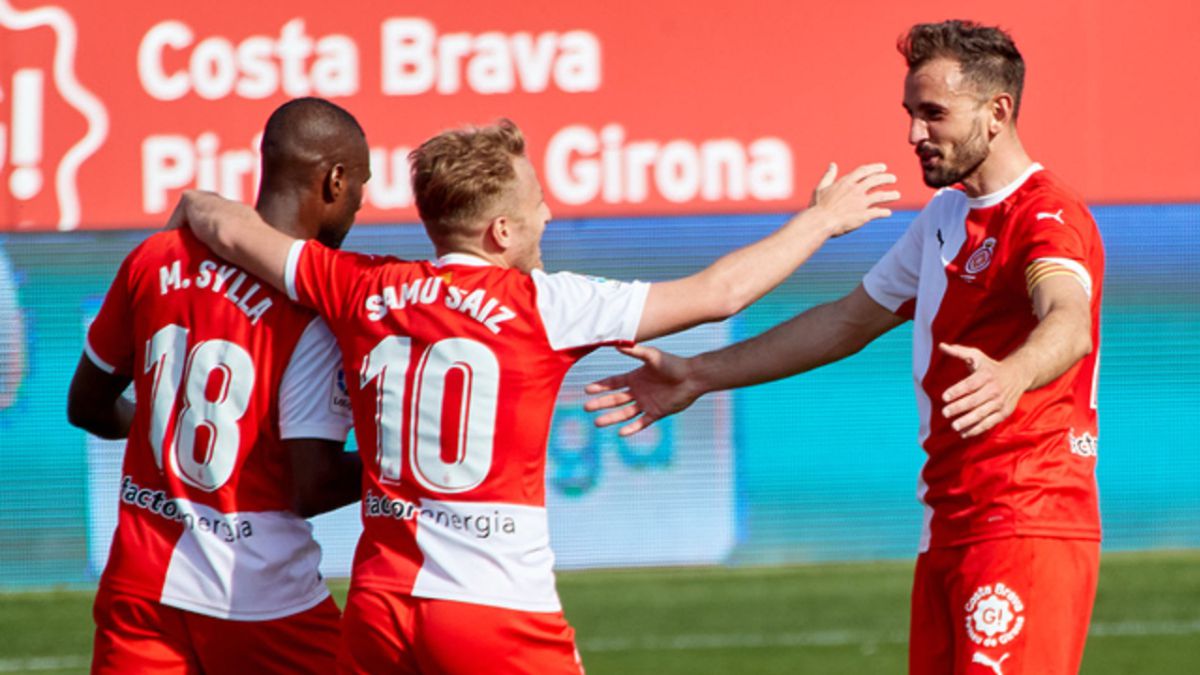 This Girona is alive and ready to fight in the fight for the playoff promotion to First Division. The rojiblancos seem to have shaken off their indolence and show a competitive gene that makes them fly towards the end of the course. Francisco, who has moved his team to perfection during this week of three games, has managed to add to the cause his trident, Stuani, Sylla and Samu Saiz, and they were in charge of unstitching and unhinging a Ponferradina without answer. The goals of Stuani, Samu Saiz and Bustos catapulted the Girona towards seventh place and allow them to continue stalking Rayo Vallecano, sixth place.
Girona and Ponferradina gave a showy duel and it was found from the beginning that neither could speculate because the train that goes to the playoff has acquired a dizzying speed. There were phases with an exchange of blows, but the clearest chance was undoubtedly at 22 ', Franquesa. Sylla put the ball at the far post and Paris Adot annoyed the left-handed winger just enough for his shot to go high. It was a serious warning, but it did not intimidate a Ponferradina who, with Valcarce, seemed difficult to contain. While the Bercians trusted everything to the extreme and the attacks of Doncel and Juergen, had a good chance in 41 ', the Girona team had a trident that, at this rate, can beat anyone. And if you add to this an error in the withdrawal, there is no doubt: goal. It was in the addition of the first half and while Samu Saiz excelled in driving and passing, Sylla did it in running into space and Stuani in the shot inside the area. The Uruguayan does not need too much to score and it showed.
The 1-0 was a moral blow for Ponferradina and after the break, despite the appearance of Yuri, it faded. In addition, the Girona trident did not stop because when it smells blood, it bites. And, in 51 ', it was 2-0. Gumbau made a great action and was capped off by Samu Saiz with a great shot from outside the area. Of course, his celebration was bitter because he was injured when hitting the ball and Francisco changed him. As the minutes passed, despite the fact that Yuri crashed the ball into the post in 67 ', the rojiblancos continued to dominate the duel and, after a Stuani header to the crossbar, Nahuel Bustos made it 3-0 in 84'. The Argentine lifted a great weight from his shoulders because he was finally able to make his debut as a scorer in the League. But it was not the last of the game because Yuri, in 91 ', made the final 3-1 of a duel with a clear red-and-white color.
Photos from as.com