Garitano: "We will fight until the math gives us"
The coach admits the mental wear and tear from his head chase. On the anger of Gomes after Almería - Leganés. "There we can educate"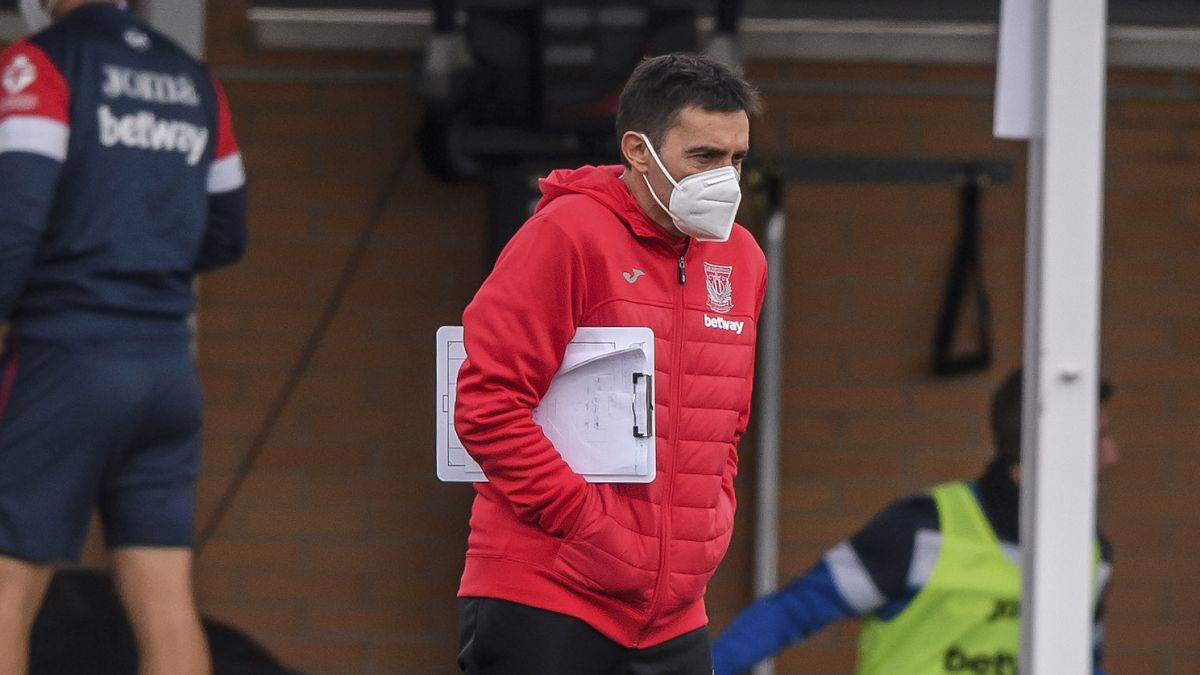 Asier Garitano, Leganés coach, has admitted in the press conference prior to the visit to Mallorca of the extensive physical and mental exhaustion that the persecution of the teams at the top of the table is causing for his team. A long-distance race for which the Bergara coach sets a date: "We will see if in May we can continue to opt for direct promotion. We will fight until the math gives us, "he commented.
Garitano has also complimented Mallorca and described the defeat of his next rival against Fuenlabrada (4-1) as almost anecdotal shortly after reflecting on the anger of his counterpart at Almería, José Gomes, in the press room, when he charged in an angry way against the referee's performance: "The coaches there we have to calm down. We can educate or teach people a little. "
Do you think the win in Fuenlabrada will affect Mallorca?
Surely they did not like it, a wide defeat to a team that does not usually score goals. Let's see if we put them in difficulties and that defeat can make it difficult for them. They are being a good team. In Fuenlabrada in that first part it weighed them down, but they are a team that fits little.
What is Mallorca's strong point?
Balance is your virtue. They fit little. The other day four fit, which is not normal. They have experience, speed. It is a well worked team. It will require a great effort from us. Let's see if we're ready.
Has Risk earned the right to continue playing?
We have two profiles of goalkeepers, both he and Pichu have many games, a lot of experience. They know how to be. Also, Riesgo had a good day. From the first play, the tranquility of that good intervention grew. It is what we expect from the goalkeepers we have.
How about the Mallorca season?
It seems to me that he is having a sensational season. It is not easy to adapt to Second after descending. They got up there really fast. They have been there among the best two, always among the first two. Luis García has promotion experience and is a good coach, who does things well. They have balance. Their moments will pass, like now, but if you look at their numbers during the season.
What casualties are there?
Lasure, Silva, Tarín, Miquel, Rubén Pérez is sanctioned… I think he is already… [He did not mention Eraso, who is also injured]
Do the victories of Sporting and Almería put pressure?
We are thinking of ourselves, of reducing those above. We were like that the other day against Almería. We will go to Mallorca with the same intention. We'll see in May, when April ends, if we have a choice of something. The idea is to cut back. We have a direct rival who is better. We will make the evaluations later.
Will withdrawals condition the system? Will you use three control panels again?
It is clear ... we had to see the conditions, the rival, who makes Almería a team much faster than us. We also wanted to protect Kenneth [Omeruo], who was in trouble. But the game in Mallorca has nothing to do with that of Almería. We will see if the choice is correct or not. We are going with the intention of doing things very well there.
Will it be necessary to get the 33 remaining points in play for direct promotion?
I do not know if all, but many yes, it is clear. The teams that are ahead are showing that they are the strongest in Segunda. Your score is high. The demand for those who have to cut is great. Both physical and mental. That wears out a lot, but we are on that path. We will continue until mathematics tells us that we have no choice.
Have you ever had to bite your tongue to avoid having a reaction like the Almería coach last Saturday?
I don't know if the reaction ... maybe it's a bit more outward than what he thinks ... it's part of all this ... I'm quite slow about that. It has touched me. We would also have lost in 90 if we didn't draw that game. But my reaction would be different. That annoys a lot, of course, but you have to be careful in the statements and how you say things. Coaches there can educate people a little.
Are there nerves in the locker room?
No, I think it's like all seasons. When everything starts, everything is happier ... but when you get to Christmas, everything changes. It always happens. The fewer games left, the more nerves there are and the more difficulties there are. Its normal. In Leganés we have that experience. We are on that road.
Photos from as.com