Fuenla becomes strong at home
The Madrid team has chained two victories in Fernando Martín (Obradoiro and Burgos) and is two victories behind Bilbao Basket, in relegation places.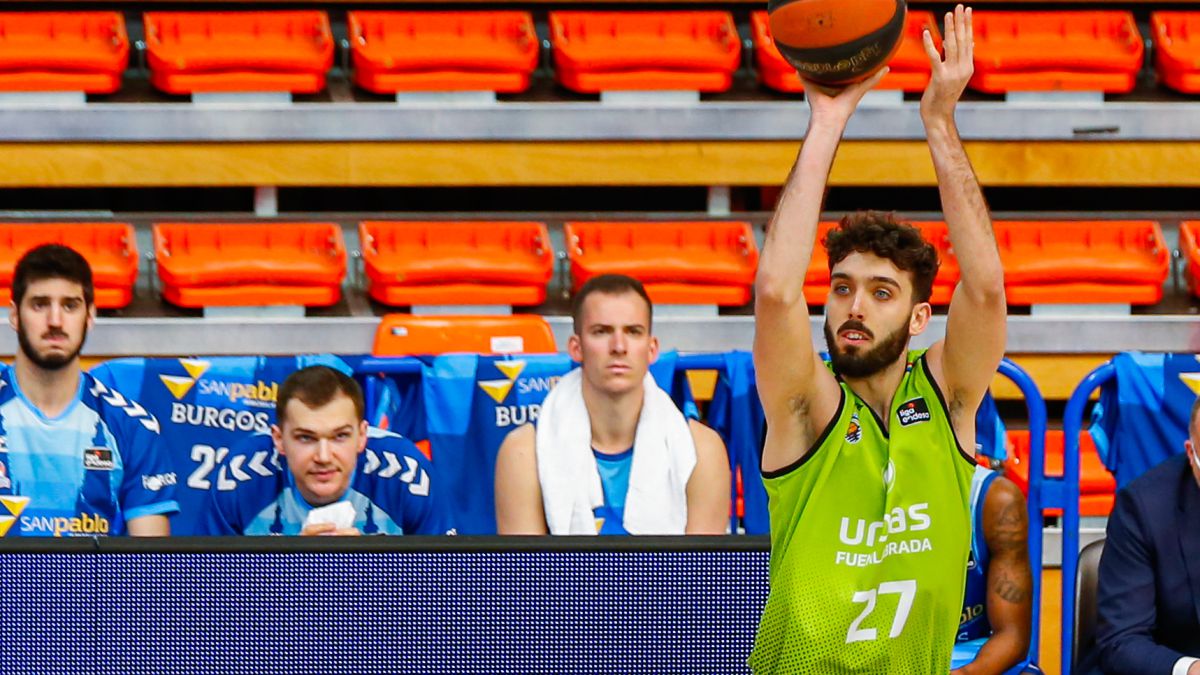 Salvation is closer for Urbas Fuenlabrada who added his second consecutive victory at home (89-83) against Hereda San Pablo Burgos, clinging to his dominance of the rebound (49-32) and a fantastic finish from Brazilian Leo Meindl ( 20 points, 12 in the fourth quarter, and 11 rebounds) .
In pre-ndemic times, the Fernando Martín Pavilion was more than a sixth player for the Madrid team, but without his fans, Urbas had not obtained the expected revenue from him. He had only four victories out of seven so far, with Josep María Raventós on the bench, when he has chained two against Obradoiro and Burgos, which give him two advantage over the danger marked by Bilbao and Gipuzkoa.
A triumph simmered for the locals, dominating under the hoops and capable of overcoming their problems in attack to impose themselves on an entire Burgos, installed in the upper zone of the Endesa League on their own merits and despite how much they have hit the pandemic, but that today he conceded his fifth defeat in six official duels -with both against Tenerife, that of Barça and that of Bosnian Igokea-, despite the 21 points of the American Thad McFadden.
Fuenlabrada started well in defense, but again stuck in attack as usual, and McFadden, with two triples without failure, put San Pablo in orbit, together with the mobility of Serbian Dejan Kravic and American Ken Horton inside (9- 14, min. 7). In two counterattacks he equaled the 'Fuenla', who was five up from the hand of the recently recovered Congolese forward Christian Eyenga, but his compatriot Jordan Sakho recovered for the 20-19 quarter final.
The local jam reached a basket by Cuban Jasiel Rivero as soon as the second started, but it ended there. Álex Urtasun and Marc García chained two triples in the race (28-21, min. 13), to start a local dominance with good defenses and bad choices in attack, which allowed Burgos to get closer and prevented Fuenlabrada from having taken a better rent at rest (33-30) .
As a result of this inability to finish the job, the third quarter was always tight, with McFadden driving the Fuenlabreña defense crazy. Urbas resisted (44-43, min. 27) thanks to his dominance of the rebound (15 to 6) and saw the light with Marc García, who scored 8 points in the last two minutes based on penetrations and a triple, and others two by Eyenga and Serbian Jovan Novak to go to the last quarter seven up (55-48) despite Rivero's resistance.
Miquel Salvo tried to pull his own, but found a tower in the American center Josh Sharma. The local defense remained tight and tense, but this time it did find a way to attack: the free throws obtained by Leo Meindl, and the triples by Marc and Novak (70-60, min. 36) .
The end became a runner-up - "We will celebrate later," shouted local coach Josep María Raventós, fearful that his team would get off-center and give life to San Pablo-, in which the locals survived thanks to free kicks, to celebrate a ninth victory that tastes like a giant step towards salvation.

Photos from as.com