Francisco: "It is time to bet on us"
The Girona coach hopes to beat Ponferradina this Saturday to dream of the playoff. It will not have Pablo Moreno, injured, or the sanctioned Monchu and Juanpe.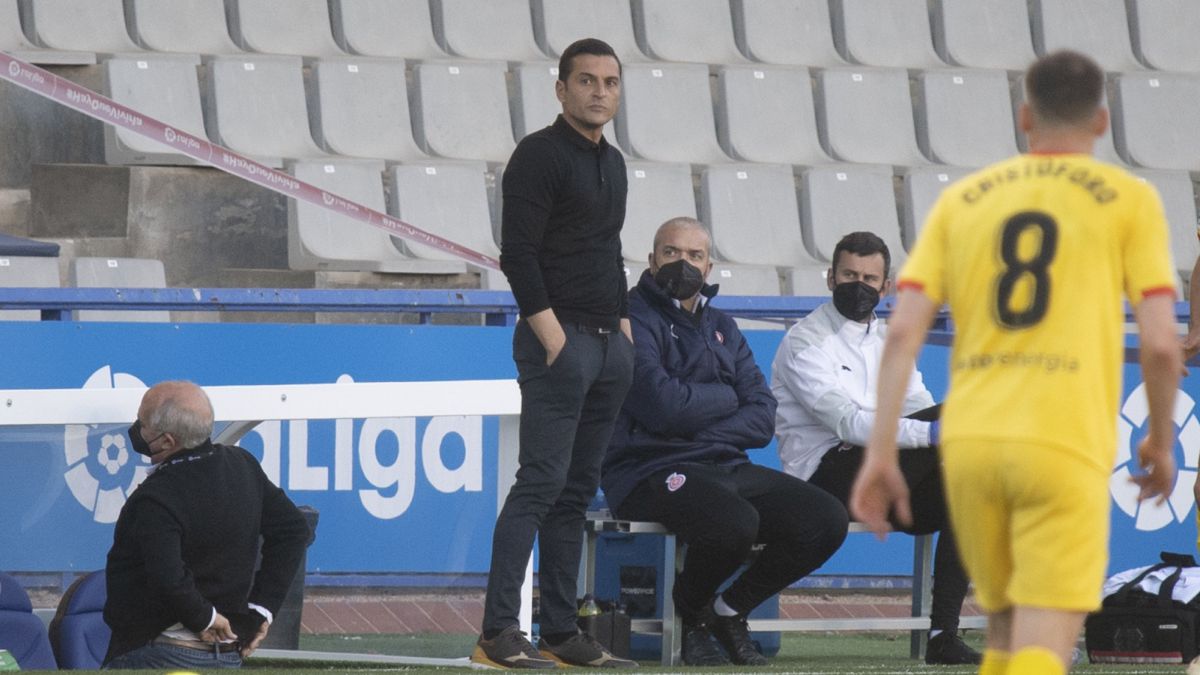 Girona plays this Saturday against Ponferradina one of those matches that are marked in red. It is a direct duel in the fight for the playoff and it is that both teams, who try to hunt down Rayo Vallecano, sixth, are separated by only two points. Francisco has offered this Friday at noon the press conference prior to the duel and was optimistic. His team has chained four games without falling (two wins and two draws) and considers that he is going through a good moment. The coach will not be able to count on Pablo Moreno, who suffers a hamstring injury in his right leg and will be out for one to two weeks, nor with the sanctioned Juanpe and Monchu
The team's game: "When the team plays well, it has a better chance of winning. We are going to try to maintain the competitive level that has led us to score quite a few points so far. We have the obligation to improve the game to have more chances to score and tomorrow we will have to try to play well, or very well, to achieve victory. We have to be smart, a very tough opponent awaits us, who is ahead in the standings and is doing things very well. "
Registrations and registrations: "Except for Juanpe and Monchu who are sanctioned and Pablo Moreno, injured, the rest are available and wanting to participate. In the last matches the line-ups have been different and whoever plays at the start will do well. "
Ponferradina: "I have treated the game as the most important because it is the next one. It is time to bet on us, finish the season well and it is the mentality of everyone. In the last month, the game has not been smooth, but it has shown its face. There is no more pressure than what we set ourselves, which is to win. It is an important game because there are fewer remaining, they are ahead and in the Second Division there is no easy game ".
Analysis of the opponent: "It is a very regular team, very difficult for them to lose, they always manage to score and are balanced on the scoreboard. It has vertical players at the top and with experience in the category. He always knows what to do and what he does he does very well. It is difficult to generate scoring chances for him, therefore we must have a fluid game, be vertical and have order and possession. "
Rayo's match against Almería: "We will watch the game because they are our next rival (Rayo) and we will analyze their game. We depend on what we do tomorrow and what others do we cannot handle. "
Stuani: "He's already training normally and he's a very important player and we need him for this final stretch. We want more every day. It is one more option for tomorrow and it is welcome that we can find the best Cristian in these matches because he is a very important piece ".
Defensive mistakes: "The other day Bernardo tries to pass the ball to Juan Carlos and it is a play that has occurred in many games and it has gone well, nothing happens. But a mistake by a defender condemns a goal. We will try to make as few mistakes as possible in the opposite field. We have to improve concentration, which I am not saying we do not have because we are being an aggressive team in the opposite field. Although it is clear that any individual failure can condemn us. We must be brave to try to win victories and that is what we are going to do until the end. "
Possible changes to the line-up and the option to repeat with three center-backs: "We will try to do our best to play well and win. We have the sanction of Monchu that will give us the option of putting another player who was not in Sabadell. People are ready, everyone is there to play. After training I am very happy because those who played in Sabadell are prepared and those who did not are even more prepared. Tomorrow, whoever comes out will do well, there is a commitment ".
Photos from as.com