The Second Division leader overwhelms, with a double by Raúl de Tomás included, a Fuenlabrada who lost all status as a 'giant killer' with the immolation of Nteka.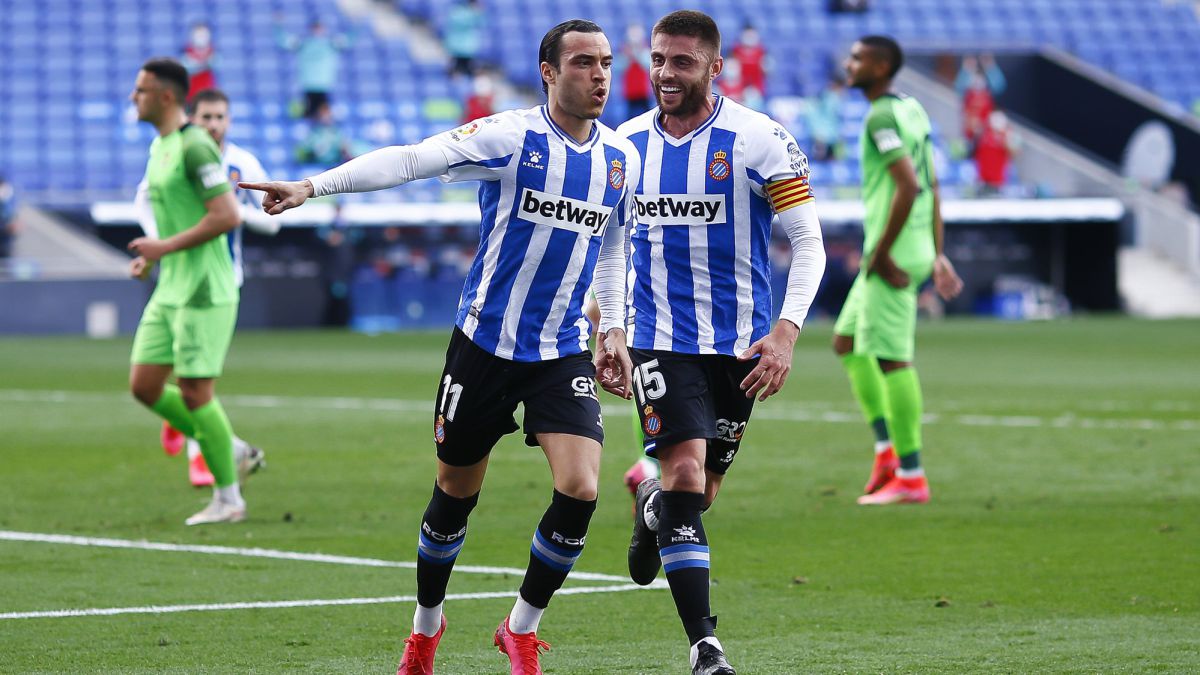 In view of such ancient traditions as football at five o'clock in the afternoon and Easter, Espanyol was in charge of recalling those afternoons in Sarrià at the RCDE Stadium, such as those that raised the parrots to the previous promotion, such as that 4-0 at Cádiz in 1994 after having thrashed in Castalia. This team led by Vicente Moreno also came from a 1-3 Castellón, who with a new 4-4-2 –Raúl de Tomás and Dimata, together– crushed a whole 'giant killer' like Fuenlabrada, who no longer wants to lose the leadership and that has put the direct back to First. Coiler.
The azulones - in which they only repeated five starters of their magnificent 4-1 against Mallorca only three days before - had to raise the white flag when Raúl de Tomás crashed a ball into the post in minute 5. But they did not want to give up. Until Nteka, at a quarter of an hour, tried to emulate his teammate Rosic by taking out a ball that could have crossed the goal line. The referee ignored it, they advised him to review it from the VAR and decreed a penalty and expulsion of the Frenchman. Espanyol's 'top scorer' did not fail, although the goal stretched well, and the game was over. Because the blue and white have given in recent days that click of going to look for the second. And the third.
Far from being resentful by the casualties of Melendo and Lluís López by COVID-19, or by the other virus, FIFA, which affected Pedrosa or Puado, Espanyol stretched. Embarba found it 2-0 after a great deep pass from David López. And if the extreme is sweet, Darder's is a big hat: the 3-0 action was manufactured by itself, which in the minutes Rubén Pulido was awarded at his own door when trying to avoid it. Meanwhile, the mischief of Melamed was contributing to the spectacle.
As a reflection of their change of fortune in just three days, Fuenlabrada saw how Pinchi, their brand new scorer against Mallorca, retired injured with a gesture on his knee that looked bad. And in the resumption, Iribas asked for the change after touching his thigh. Iban Salvador himself, right back very close to his native L'Hospitalet after his long convalescence, threatened with a break that fortunately was not.At the same time, Moreno was already placing an eye on Sunday's visit to Albacete, and beyond, by reserving Cabrera, who had seen the fifth yellow, after the break, and by giving minutes and filming after Vadillo, Wu Lei and Vargas. But, above all, to Pol Lozano, who was returning from his injury. And he did it moments after De Tomás, insatiable, took advantage of an absolute lack of understanding in the visiting area to establish the 4-0. He adds and continues in search of the 'top scorer' of Second in his return to ownership with Espanyol that has chained three goals and wants to return to First through the big door.
Photos from as.com