Diego Martínez: "Let's go for the honors"
The Granada coach wants more: "United are a giant, but we have confidence in our possibilities, in our weapons and in everything that has brought us here."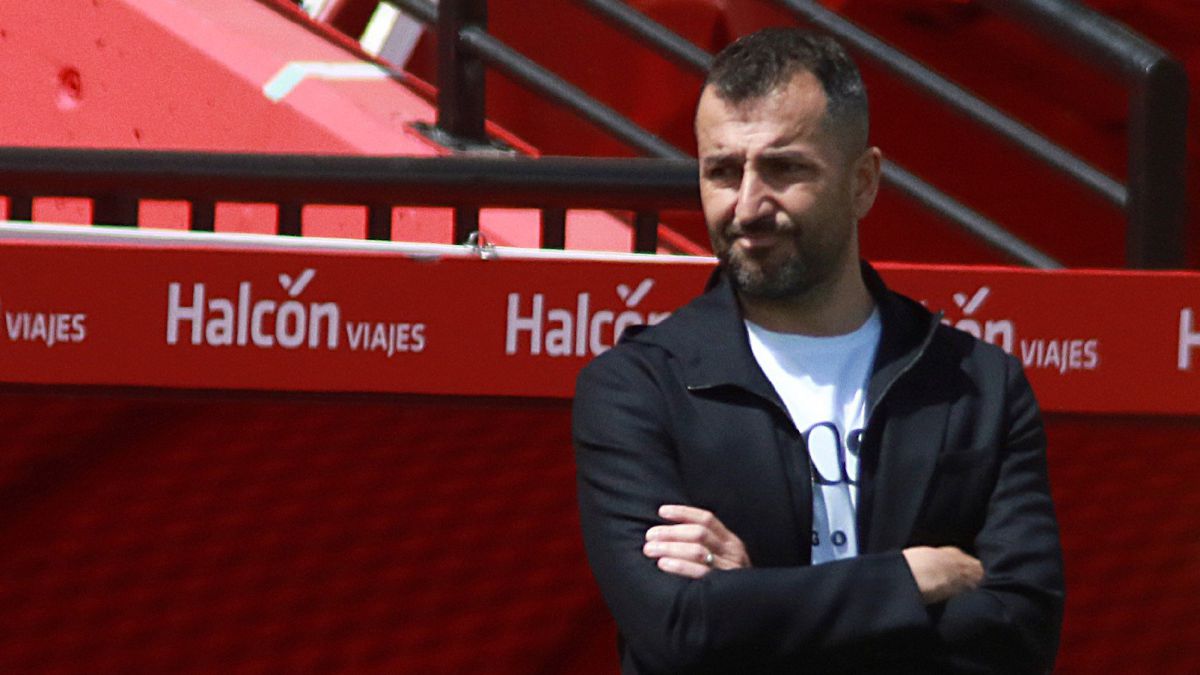 Diego Martínez has appeared on the eve of the first leg of the Europa League quarter-finals against Manchester United confident in the possibilities of Granada and in the benefits that its players can provide. The technician has ruled out Milla and Soro for the appointment. Foulquier and Neva have a difficult time and Luis Suárez, who has been training for several sessions with the group, will be a doubt until the end.
Any player ruled out for the match ?: "Right now Milla, Neyder Lozano and Soro are ruled out. The others (Milla, Neva and Luis Suárez) do not know. We cannot confuse the desire that we all have to be available with that they are in a position to compete in a top-level match. If it is not for Thursday, they are ready for Sunday and then for the other Thursday. One thing is that they train more or less and another is that they are at full capacity and with the best performance for a top-level match. "
Granada is an eternal struggle: "It is a unique moment, we must compete from our values. Having come this far is already a success, we want to savor it and the way to do it is to compete at the highest level, respecting our identity, our values and giving the best of ourselves. We have confidence in our possibilities, in our weapons and in everything that has brought us here. "
Do you see United as the favorite ?: "As we start to think about everything United has, we better not even start the game. That didn't get us here. Although we are aware that we are facing a giant in Europe, a very strong individual and collectively team, what has brought us here is to believe to the fullest in our possibilities, to make the most of ourselves, to compete as a team and at 180 minutes plus discount everything can happen . It is very difficult, but if we are talking to you here today it is because this team has made the very improbable possible ".
Tactically, where do you think the tie can be decided ?: "We must focus on what we usually do well, be a recognizable team, compete without complexes, with joy, with intensity… We have to find solutions in solidarity, in collaboration , in which the spaces in which the game is played are those that interest us. It is very exhilarating. It is a game not only special emotionally and in what it means to be in the quarterfinals of the Europa League, but also in terms of the match plan. Hopefully we are right in that perfect match to which we aspire. That we play the game we need to win. That should be our conviction and all our focus has to be there. "
Physical state of Machís and Yangel Herrera: "Darwin comes from an injury and his recovery process is different from that of Yangel, who attends a little more to the fact of being the team with the most official matches and that means that there are moments that he is not always there maybe in the matriculation of honor. He is a very important player for us and this type of game brings out the best in oneself. Sometimes you need such a demanding context to get the best that you have inside, collectively and individually and that is our aspiration, to make a perfect match. That has us excited and hopefully the success is on our side. "
Message for the fans: "His energy will be there tomorrow. Let them put on their horizontal red-and-white shirt because we are going to do our best as a team. At this time a year ago we were all confined to home and it would have been good for us to have been told that a year later we were going to be playing a quarter-final of the Europa League competing against an entire Manchester United. Let's savor the moment, this is something very important. Let's go for the honors degree knowing that what these players have already achieved is something extraordinary. That together we continue walking from the enjoyment and from the connection, that they feel identified with us ".
The lap, at Old Trafford: "Our essence as a team has a lot to do with adapting to each circumstance, our survival instinct. We can't ask for much, if we have to play at home first, we adapt and compete and do our best. From that spirit of optimizing our resources to the maximum is how we got here. These players have done something extraordinary. "
Valuation of Manchester United: "A team with a lot of hierarchy in Europe, very fast, which is also capable of being precise at high speed, with a very high pace of play. They have many players individually of a very high technical level, with an imposing physique. From there, try to give our best level and that they do not have a good day. That is the summary, simplifying everything a bit. "
Does United instill a lot of respect ?: "We have respect for all the teams. I'm not going to find out who Manchester United is. They are a giant of Europe, but if we face them in the quarterfinals it is because we have done a lot of good things to get here. We are going to play a 180-minute game plus discount and maximum confidence in our possibilities. Last year we were candidates for relegation after going up to First and we got into Europe. There is a phrase in our wardrobe that says: 'Since they didn't know it was impossible, they did it.' And we cling to that, with the utmost confidence and above all proud of those who are next to me. With these players you can go to the desert because you feel strong. You have to savor the moment because it is something that in itself already makes us grow. "
Photos from as.com