"The diagnoses of some doctors about Marc Márquez were a lack of respect"
"It seems to me that it was not correct for other doctors to enter into that discussion saying what they would have done differently," declares Carmelo Ezpeleta.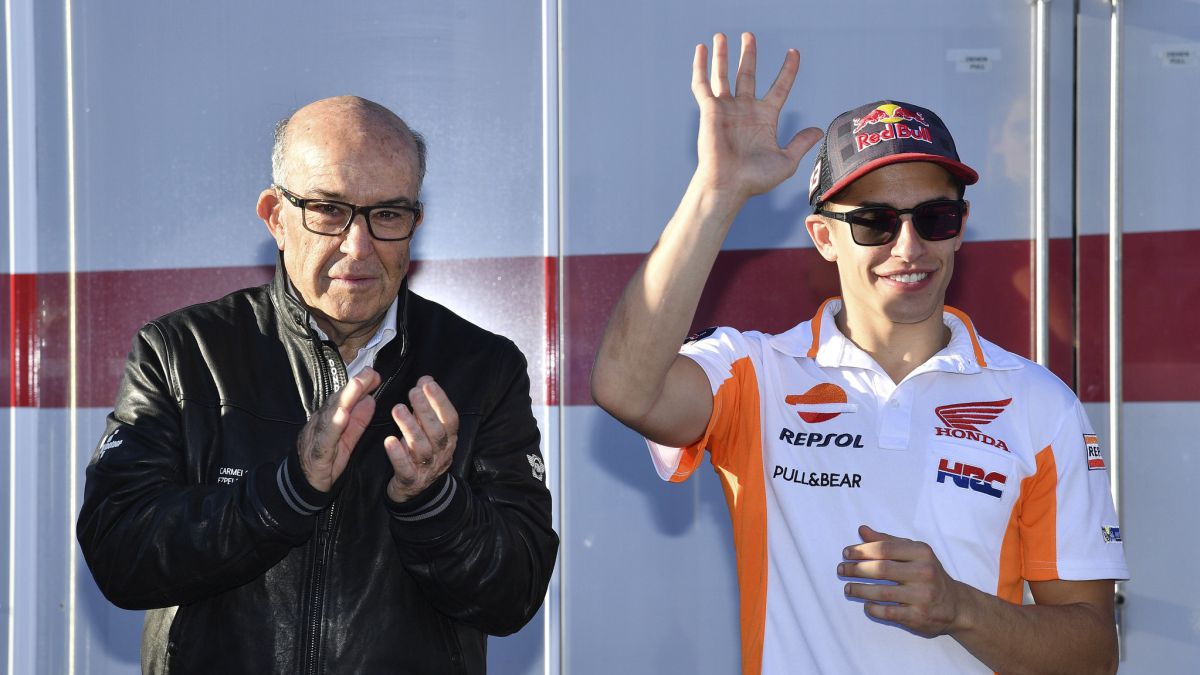 Two medical authorizations, that of the medical team led by Samuel Antuña and Ignacio Roger de Oña at the Ruber International Hospital in Madrid on Monday, April 12, which already has it, and that of Dr. Ángel Charte, a GP at the MotoGP World Championship, in addition to the Portuguese physician designated as national medical authority for the 2021 Portuguese GP three days later at the Portimao track. These are the permits that Marc Márquez must get this next week to get back on the Honda and compete in a premier class race nine months after fracturing the humerus in his right arm in a virulent crash at Turn 3 of the Jerez-Ángel Nieto .
Precisely, this last consent has been the main topic of the interview that Carmelo Ezpeleta has granted to 'GPOne'. With the precedent still in force of the approval received by the eighth champion in the Andalusia region just four days after being operated for the first time for his serious injury at the Dexeus University Hospital in Barcelona, Ezpeleta defends the work of the championship doctors stating that The regulation would have prevented Marc from riding the RC213V after performing 17 push-ups without difficulty."With what rule do you tell Marc Márquez that he couldn't run?"
"As for me, no medical errors were made in the championship. I don't know if mistakes were made or not because I'm not a doctor. There is a protocol. for these cases. It was changed after what happened in Assen in 2017. If you have had general anesthesia you cannot run until a certain time has passed. What could we do differently? When a rider does those push-ups, like Marc did, with What rule do you tell him that he can't run? He came back, passed the medical check-up and was allowed to run, it couldn't be otherwise. He did a training on Friday and then, for reasons known only to him, he decided not to continue. At home, training or opening a window, I'm not going to get into the matter, he had a problem with the board, but not in the circuit ", explains the CEO of Dorna.
The Barcelona-born leader continues his energetic defense, declaring that he considers the diagnoses that certain doctors have issued these months ago about the Márquez case to be disrespectful without having all the information on the case: "How can we change it? Should we say yes? You have surgery, can't you run for two weeks? Good, but it's not the same for an arm or a finger. Now everything is very simple: there are exercises to complete, if you can do them you run, if not, no. We try to figure out how to change it, but we can't find out how. I don't know what Marc and the doctors told each other, but it seems to me that it was not correct for other doctors to enter into that discussion saying what they would have done differently. the other side in a penalty after they have scored a goal. I see a lack of respect that some doctors gave their opinion without knowing things. They all seemed experts in titanium plates, arms ... The only thing that What I can say is that I saw the push-ups he did in front of the doctors in Jerez. So I wonder who can say that a pilot who can do that cannot race. Pilots are not normal people ".
Photos from as.com