Deck and a depleted Tavares keep Madrid alive
Whites beat Olympiacos and remain dependent on themselves, but it is not easy for them. They must win on the Fenerbahçe court in case Zenit does not fail in one of their two games.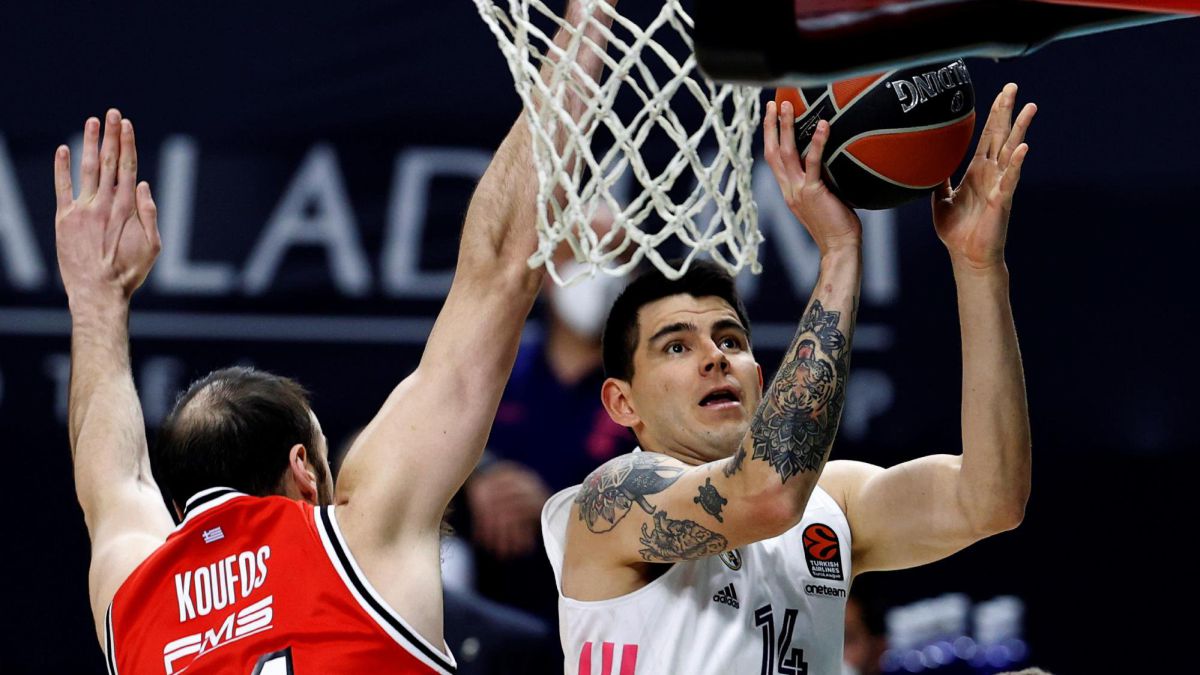 This Friday was a very strange duel, a Madrid-Olympiacos, final in recent times and now with one team playing still alive and the other already eliminated. All without an audience, although with Pablo Laso in the upper tier, away from his own due to the sanction of a game, and Chus Mateo in front. Madrid won (72-63) with a very good defense, as usual, with a fantastic deck and a meritorious work by Tavares, who, still in pain and diminished, marks differences.
Winning was the turn of Real to continue doing numbers with the calculator and aspire to play the quarterfinal playoff. The victory guarantees him to depend on himself, had he lost he could be eliminated without knowing it yet (Zenit still have two games left). The bad news is that the regular phase will close next Thursday on the court of a Fenerbahçe that is still fighting for the home court factor. If he loses in Istanbul, he may not survive to tell (it all depends on Zenit, whether he stumbles once, against Maccabi on Friday 9 or against Panthinaikos, postponed to Monday 12 April). If he wins, he will be sixth or even fifth in the event of Bayern's defeat at the Palau.
Playing for not losing or not getting eliminated early, when failure flies overhead, is more complicated than doing it for a title. Those finals are difficult to handle and Madrid was very serious from the start. From back to front, he laid the foundations in defense, until putting Olympiacos in serious trouble with his attack (37% of two and 12% in triples signed those of Bartzokas at halftime). With the ball he entrusted Deck, a cyclone in one on one, to the post and carrying everything in the race; shooting and taking fouls.
And Tavares? In the expected place, lending a hand despite the discomfort in the hip. He closed gaps in the zone, bounced off his basket, put in several hands that became recoveries and holed the simple actions without showing off in the jump. Just with that, it helped a lot. Impaired by mobility and in locks, without the usual up-down path, but very useful. Like the relay that Felipe Reyes gave him in the second quarter, who gave several images to remember face to face with Spanoulis in the continuation of the Hellenic blockade, including a stopper after a previous basket from Vassilis. Two historical Euroleague that are very close to goodbye. The white captain left Tyus out of the call (technical decision) .
The power was put by Deck, and put by Garuba, who chained amazing actions for his continuity in physical effort and showed more determination in attack. He pressed the rise of the rival ball and took some wallet from the great Printezis, the Greek buoy in the first half until Vezenkov (badly with Deck at the beginning) took center stage until he shot up (22 points) remembering his Barça past and the Classics of yesteryear. Sloukas was not seen.
El Real did not get the free shots, but the Olympiacos was a scare (he got to sign 2 of 16 of three). Tavares also warmed up and in the third period his production shot up. The gap touched 17 points (55-38) to welcome the last quarter and to lose that advantage the whites had to do many things wrong. They did not, despite the fact that Olympiacos did not hand over their weapons with only one game left to finish their course. Madrid is still alive. Let's see next week, or the next, because maybe I should wait for Zenit, to be postponed on Monday 12.
Photos from as.com