Cristiano's gesture that left a Spezia player in shock
Emmanuel Gyasi tells of the impact the Portuguese had on him: "I thought I wasn't going to get the shirt, but when I saw him waiting for me, I was shocked."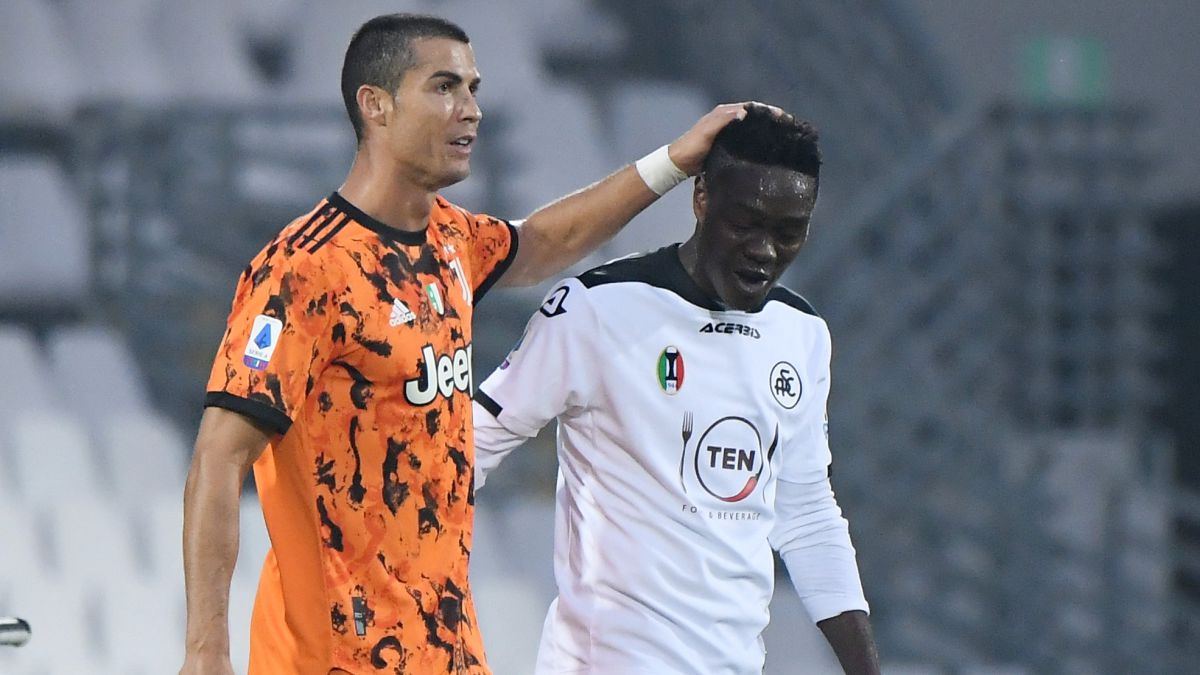 Emmanuel Gyasi, 27, will hardly forget his second match against Cristiano. The Spezia forward experienced an unexpected moment for him after his team's match against Juventus on March 2. The Ghanaian entered the dressing room without waiting for the Portuguese star to be waiting for him to give him his shirt as he could not do so in the first round match. This is how the footballer recalled in Joy Sport: "When he approached me, hugged me and asked me how I was doing, I felt very happy. During the game I remember that I was very nervous because we were playing well and the score was 0-0. ball over the crossbar and I saw him go into the tunnel just after the half-time whistle and I thought I was not going to get the shirt. But when I entered the locker room I saw him waiting for me and I was shocked. After the game we met again and we talked. He is a fantastic player and person. "
Gyasi's admiration for Cristiano led him to unsuccessfully ask for the shirt in the Serie A match played in November. The Bianconeri won 1-4 with a double from Cristiano, one of the goals from penalties. Despite the result, Gyasi lived one of his happiest days: "For me he is an idol and it was a dream come true. He is my idol and I always dreamed of one day playing in the same field as him. I never thought it would happen so soon. I remember the first game. I went to see him, we talked but unfortunately he couldn't give me the shirt ".
Four months after that match on Spezia's visit to Juventus Stadium, Gyasi was shocked after talking to his idol: "In the second match, just before starting, he came up to me and asked 'Gyasi, how are you? in shock. How is it possible that he still remembers me? I was surprised because I couldn't believe that Cristiano remembered me after so long. There are many days between games, so he may have even forgotten about that he had promised me the shirt. " However, Cristiano, who scored to close Juve's 3-0 victory, did have the Spezia footballer in his memory to surprise him.

Photos from as.com