Briatore advises Alpine to focus 100% on F1 2022
"Alonso was disappointed after the 2021 Bahrain GP, even though he knew Alpine's position was that," said the former Renault sporting director.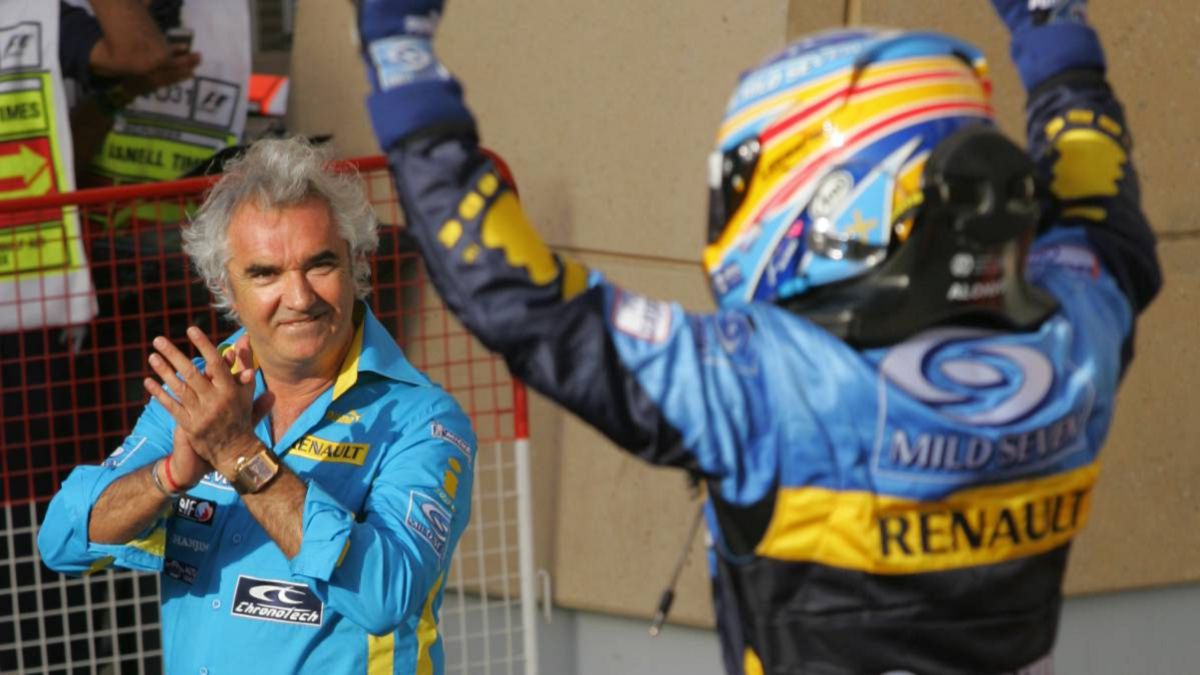 2022. This is the date that, time and again, Fernando Alonso remembers every single opportunity he has to mark the season in which he hopes to fight again for pole positions and victories in the Formula 1 World Championship with Alpine. The Asturian and the Enstone team want to take advantage of the new generation of cars that will debut next year at the Gran Circo, more simplified at the aerodynamic level, diffuser or flat bottom to improve braking, stability and cornering, to make that definitive leap quality that consolidates them definitively at the front of the grill.
An arduous challenge that would require taking a step back in 2021 to advance two in 2022, since due to the budget ceiling of 145 million dollars (123 million euros) or the limitation of tests in the wind tunnel and CFD (Dynamics of Computational Fluids) the development of the A521 would be totally paralyzed, shared by Flavio Briatore.
"Alonso was disappointed after the 2021 Bahrain F1 GP"
The Italian recommends to the Oxfordshire County technicians (United Kingdom) that they completely forget about the current car, since no matter how much improvement they introduce, it will always be between the twelfth and the fifteenth position in each race, and focus all your efforts on giving Alonso the machine he deserves in the next edition: "I spoke with Alonso on the phone. He was disappointed, even though he knew that Alpine's position was that. They must focus everything. next year, even though it was also unlucky that a piece of plastic got into the brake duct and caused it to be abandoned. Its rating and performance was higher than the value of the car. I think Renault-Alpine this year may be between twelfth and fifteenth. I hope they focus on next year to have a better car, as Fernando deserves, although working to recover when you are so far away is d difficult ".
More optimistic is Flavio with the speed of Carlos Sainz's Ferrari SF21. The Verzuolo businessman affirms in 'Adnkronos' that the Prancing Horse will fight against McLaren for being the third in discord after Mercedes and Red Bull, as well as highlighting the good atmosphere that reigns in the Scuderia since the arrival of Sainz: "Ferrari is going to fight , but it will be difficult for them to get on the podium this year if nobody fails ahead. They will fight to be the third force. There will be Mercedes, Red Bull and then Ferrari, which has taken a significant step forward from last year. And I also see that they still have room to work even more. Both Sainz and Leclerc have done a good job to date. ""The 2021 F1 World Cup will be contested by Verstappen and Hamilton"
Finally, Briatore predicts a close fight for the title between Lewis Hamilton and Max Verstappen, according to what was seen at the Sakhir circuit where, in his opinion, Red Bull committed a Strategy mistake with young Dutchman: "The 2021 Bahrain GP was a race that I think Max Verstappen could have won. Red Bull took too long to change tires, but the car is performing well. There will be more dominance on the circuits than They favor Mercedes, but Red Bull can certainly compete for the championship considering Verstappen's performance. The title will be contested by Verstappen and Hamilton. The request to return the position at the end? It was the correct decision of the team because they were given account and then received a call, it is normal. The mistake, I repeat, was not calling Verstappen to the pits earlier because he had to wear his tires and Hamilton cut him three to four tenths per lap, but it was a good show. "

Photos from as.com