Bautista: "To beat Medvedev in two sets you have to play tennis very well"
The Spanish tennis player valued his victory against the world number 2 at the Miami Masters and highlighted the success of his game in order to achieve this important victory.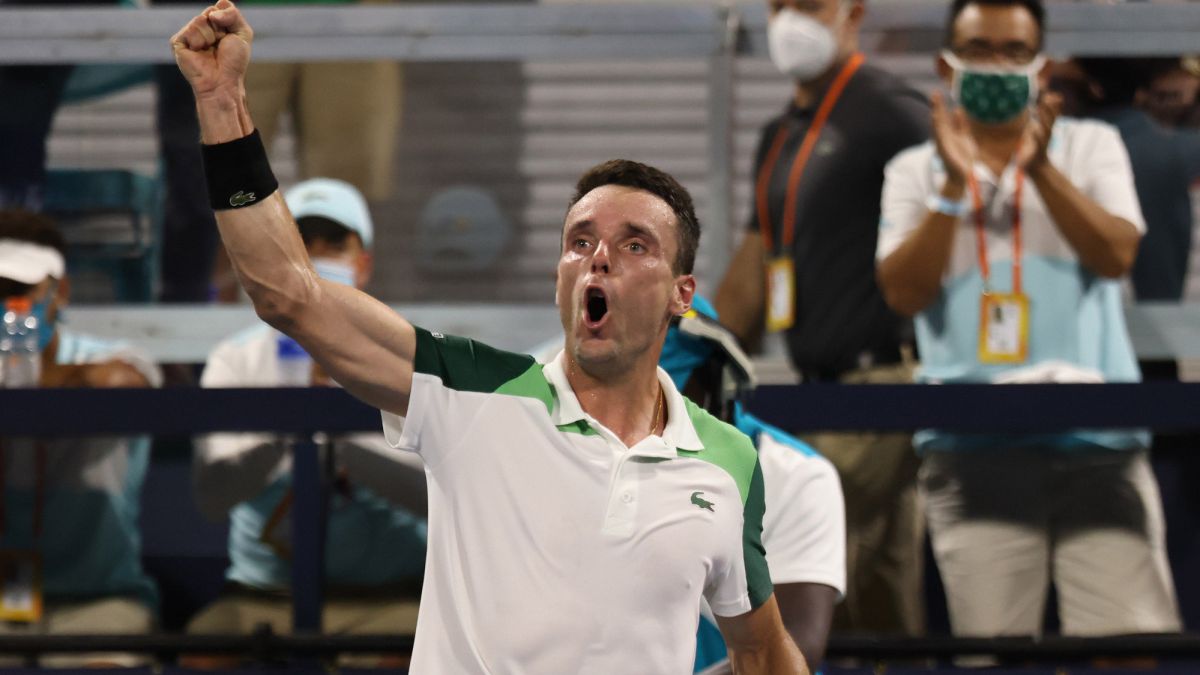 Roberto Bautista gave one of the great surprises of the day at the Masters 1,000 in Miami after defeating the Russian Daniil Medvedev, the first seed for the title, in the quarterfinals of the tournament. After his great victory, Bautista appeared at a press conference to express his feelings after the match.
Match balance: "I think I have done many things well. Beating Daniil in two sets is because I have played very good tennis and I have been very solid. I have made him work a lot. Physically I have been well on the court and it has been a great match for me "
Good start to second set: "That's my form, my game is like this. I really love playing these kinds of games and it's never easy to beat these guys, especially after such a tough set and good exchanges and good points. I started very focused in the second set. It was good for me to break so early to get ahead in the second set from the beginning. "
Medvedev's nerves: "Right now I am very focused on myself and the things that I will have to do in the next game. Of course, if he broke his racket, it was probably because he lost his nerves, he would have some pressure and that's why it would feel like this "
The keys to beat Medvedev: "It was a very complete match for me. To beat Daniil in two sets you have to play tennis very well and I think I have been solid. The key has been that I have put a lot of leftovers in him. court, I have made him work hard with his serve and also with mine. The first set was very demanding physically and mentally and I was lucky to go 6-4 and start very strong in the second. I think I was able to get back on track the match at the beginning of the second set when he was somewhat hesitant after having lost the first and luckily I was able to endure playing at a high level and close the match "
Back to the Top-10 of renking? "It's not something I have in mind. What I have in mind is to keep working hard, keep working hard, keep improving and, with that, keep enjoying games like today. In the end, it's what I love the most. full, play a good tennis on the court and enjoy the competition "
Feelings after beating a world number 2: "Winning a world number 2 is always special and beating him in two sets and at the moment in which he is in shape, it is to be happy. I work very hard and try to improve every day to play matches of a higher level and as demanding as today. I am very happy to have taken it forward and now, to rest and prepare for the next round. "Sinner, his next rival: "Despite being a youth, he is a tennis present. He is a great player, he is already among the best in the world. He beat me several weeks ago in a very tough match in Dubai. I think I'm very good form and now it's time to prepare for the semifinal match, which I think is going to be very hard too ".
Polivalence on all surfaces: "I am a player who believes that his greatest virtue is being very competitive, I am very competitive and, luckily, I have many skills to play on all surfaces and, in the end, I have very good legs, my shots They can be adapted to any type of surface. Now we are in Miami, which is a great tournament. I think I have to be happy, it has been one of the best triumphs of my career. Now it's time to rest and prepare for the next game that is going to be very demanding against a player who is very fit ".
Photos from as.com