Baby: "The moments in the hospital were the worst of my life"
The winger has left behind a serious crusader injury. His goal in Almería was the key to the triumph of a Rayo with whom he ends the contract. His desire is to continue in Vallecas and do it in First.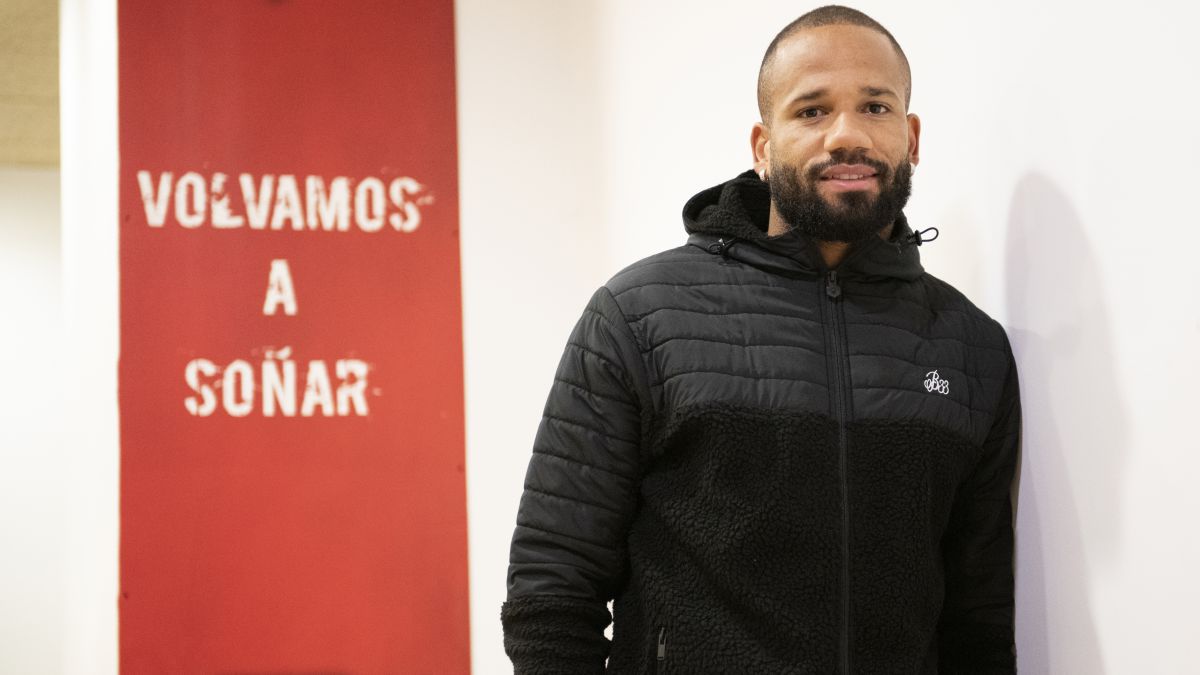 Baby is the man with the eternal smile. Looking at her, few can imagine the ordeal she has lived through for more than a year. The winger was at his best when he broke the crusader of his right knee on October 26, 2019. That's where his hell began: operations, long hospital stays, pain, sadness ... A bump that got out of hand of Dr. Beceiro and Captain Alberto, its pillars. Gradually he was recovering joy, reggaeton and its essence. Soccer also returned, the one that many already described as impossible. 'Pai', as he is nicknamed in the locker room, since only his grandmother calls him Thiago, he has returned and is collecting minutes, so many - he has three in the league, among them, the free-kick to Zaragoza - and leading role. His life has not been easy (his twin's tattoo reminds him), but he has learned from all the obstacles he has overcome. Now enjoy more each minute, each training, a path whose goal is the ascent. He trusts his teammates and in defending the Strip in First because Rayo is his home and he wants to continue. That has always been that destination to return to. Your home. One of the 'culprits' of that eternal smile ...
— He scored the winning goal in Almería and now has three in the league, are we starting to see the best Baby?
— I have had some time to adjust after the injury, in the first games I still did not feel physically well and my knee did not follow my movements. Now I am in a moment similar to before I broke. I should try to follow this path.
— Just before the breaking of the crusader, he said he felt more mature, and now?
— Very good, but I had a difficult time with this injury. My head is more mature because I had to think about many things. I didn't know if I was going to play football again, to be with my teammates, to kick the ball ... That helped me personally to make better decisions. Now I have the maturity of before and a little more.
— In this recovery process, how many times did you fear that you would not be able to return?
— They operated on me twice, they opened two more to do a mobilization or something like that and I went into the operating room a lot of times to put a catheter through my back and leg. There were times when I would go down from the room to physiotherapy in good spirits, but at the end of the day I would go up crying, sad, without wanting to listen to music, I closed myself in my world, I felt alone ... I only thought about when I would return and if I could do it. The doctors told me: 'We are not going to give up. We will do everything we know to help you, but it is difficult. ' It was a difficult few months of my life. I thought I would never play soccer again because my knee was crap.
— Have you, the man with the eternal smile, cried a lot?
— Imagine, when I was in the hospital for three weeks, I spent two weeks crying. I did it every day from pain, from impotence, from needing help for everything… I had someone waiting for me to go to the bathroom, take a shower… I don't like depending on others. In addition, I am very happy, but in the hospital I had a very big slump. I did not cut my hair or beard, I did not care ... I was in the room and did not want to talk to anyone. I didn't tell how I felt and if they asked me, I said fine. I locked myself in and had a hard time getting out.
— When does that turning point arrive?
— It was when the hospital itself began to realize that I was wrong. I wanted to get out of there and go home. I saw a lot of people badly and that made me sink more. The doctor and the physiotherapist saw that I was in a difficult situation and asked me if I wanted to speak with a psychologist. I had two conversations with her and she helped me a lot. He told me things as they are, of course, that I couldn't stop being me: happy, with my music, talking to everyone ... I started doing all that again. The next day I called my hairdresser to cut my hair and feel better about myself. The moments in the hospital were the worst of my entire life.
— And that has not had an easy life ...
— It has been very complicated, but before I had gone through things that I did not see as impossible like this. With the injury I asked myself: What if I have to quit? I love football, I am 30 years old, I feel good physically and want to show more. It killed me to think about not being able to play again. He wasn't ready for that, to quit and so on. I had been through something similar in my 20s when I first broke my knee, but then I recovered well.
— He did not tell others about his situation, why not worry?
— I only told people who were in Madrid, but I didn't tell my family (his mother, grandmother and brothers) and friends from Portugal. I knew they were going to worry a lot knowing that they operated on me a lot of times, that I was admitted for almost a month, that I lost many kilos and I got thinner… So I preferred not to say anything, but I think it was worse. Although now the important thing is that all this is past.
— And in those moments you were looking at the Casa do Gaiato tattoo on your twin?
— I lived in there for ten years, I got a tattoo when I left because it marked my life and it is always with me. During the injury, everything went through my head and I thought about the moments when I was there ... I went through a lot of pain, it cannot even be described in words. When you do physiotherapy and they try to bend your leg, they have to inject you with things so as not to feel it, but there it is ...
— He enjoyed his first minutes against Fuenlabrada and his first goal, against Las Palmas, had a very special dedication ... Tell me about 'doc' and Alberto.
— Doctor Beceiro, since I arrived at Rayo, has been very important. He has always supported me, he has been aware of me, if I am well at home, of weight ... He is a second father to me. In this injury he came every day to see me at the hospital in the morning. Those details mark you. It will always be in my life. How he insisted me not to throw in the towel! He was one of the few people who believed he would get to play again ... 444 444
— And the captain?
— When I got to the team we didn't talk much, we are very different, but we got injured at the same time and we met in the hospital. There a special bond was created and now I consider him an older brother: he takes care of me, he writes to me every day, he is aware of what I need ... He has always been by my side. We know what we go through, what we cry together, the pain we suffer ... I do not forget who is good for me and I want those people by my side. We were supportive of each other and I do not forget a detail that he had in the hospital. I was fatal, dying of pain, with a fever ... And suddenly her little children appeared with a cake they had made for me.
— Now you value the little details more?
— I'm enjoying the games, the training sessions… I'm really looking forward to it. I give more importance to the details and I'm not just talking about football. It is that today we are and tomorrow not ... We must make the most of and live life, with head and responsibility, but without fear. People believed that I was not going to return and I am playing, scoring, being important in the team ...
— You have been in the Ray in different stages, how is this being?
— We have a team that, at this time, should be first or second. There is a very top group, strong, united, with great players… We know what the goal is, we are not far behind and we have to continue working as we are doing. Do not lower your arms. I know perfectly well that we are going to get where we want, which is to climb. I completely trust this block.
— Is that goal the playoff?
— We have to focus on him because direct promotion is not impossible, but it is very difficult. We must try to get as high as possible and wait to see who we get in the playoff. I am certain that no team will want to play against Rayo. They know we are strong.
— Iraola confessed at a press conference that he always encourages him to shoot…
— It is one of the things that I have the strongest. If you don't shoot, you don't score. You have to try. I am daring, I like to risk and finish without problems. The coach gives me confidence and tells me to shoot as many times as possible without fear. Before, he didn't do it as much as now. I've been lucky for a few weeks and there's a lot of work behind me. I know that my colleagues need me and I want to be well. In the celebrations of my goals, they send me a message that you deserve it, we are with you ... 444 444
— The fans also love him and wonder what will happen to his future because the contract ends, how is the matter?
— Good. I talked to whoever had to talk about the club and they with me and my representative. Now it is a matter of reaching an agreement. I am open to listen to the Ray because I want to stay. I feel good here, at ease, happy. But it does not depend only on me ...
— What does the Ray mean to you?
— He has marked me. It is part of my life. Whenever I left I ended up coming back. I identify a lot with the club, with the fans, with the neighborhood ... It is very familiar.
— These days the debate on racism in football has reopened and you, who have passed through different leagues and countries, do you still perceive it? Have you been the victim of an episode?
— I never felt that about racism, but there is a lot. I don't know how there are people who still think like this. The world advances and things change. And those people are short-minded. Racism is a very ugly thing. And there are certain comments that are not even joking ...
Photos from as.com