Great match for the Balearic Islands, who opened the scoring and gave a recital for an hour. Benzema scored for the seventh consecutive game. Eibar did not raise his voice.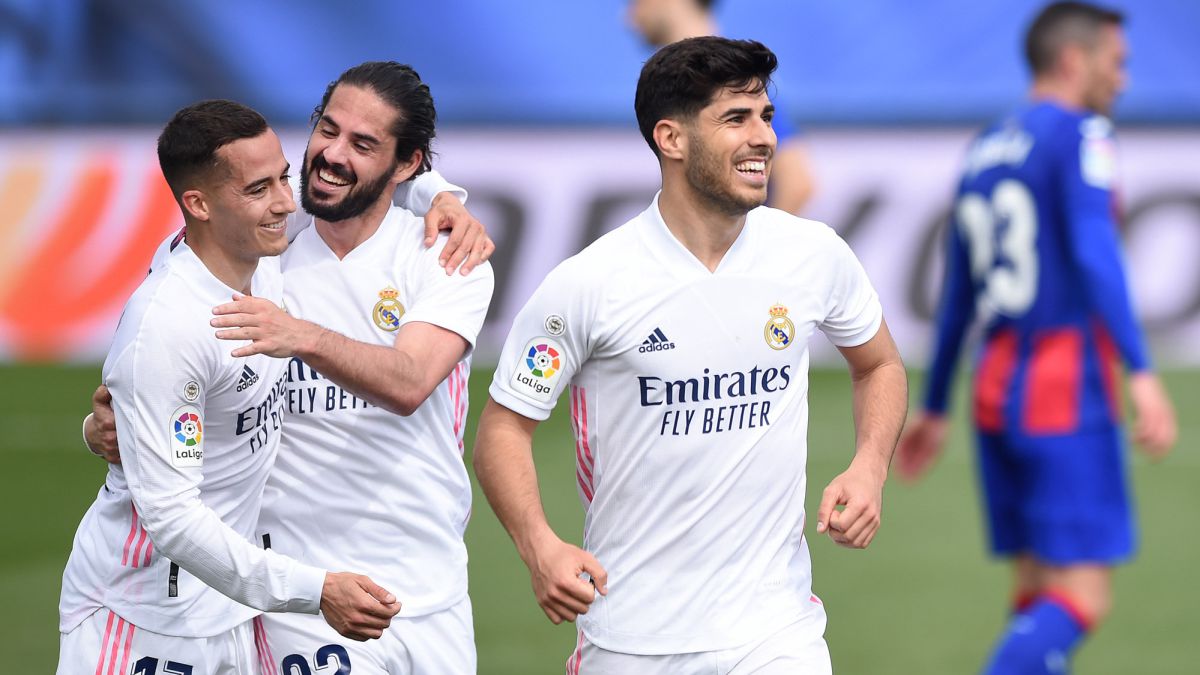 It was a flat stage, when the slopes appear, in which Asensio's honey left-hander marked the path. His recital, the best that the Balearic Islands are remembered for in time, lasted an hour and included the entire repertoire in a genius that hardly comes out of the lamp. Then a hailstorm fell in favor of Eibar and they did not take advantage of it. And Benzema put his signature to the simple white triumph. He has been scoring seven games in a row with this fierce version. Eibar was not Eibar and allowed Madrid to walk the red carpet.
Marcelo has long disappeared from high-end matches. Of the others he plays few (the last was on February 9) and he no longer goes out without an escort. It is difficult to imagine him in an eleven without the high protection factor of the three centers. One, Mendy, the one who sent him to the shoulder, pseudocentral. But as Madrid have joined the Alps and the Pyrenees in nine days and Ramos has broken his twin, Varane is forced to put him in an urn. And almost Nacho, whose four yellows did not allow any excess. Nor did Zidane risk Kroos, one of those who jumped out of the FIFA window for the benefit of his club. And that, with Valverde injured, opened a gap for Isco, the fifth midfielder out of five, the most notorious collapse of the squad. Putting the two together put Madrid in danger in the past. Not this time, because they were diligent and because the team did not skip the present due to the excess of the future.Neither Bryan Gil
Eibar is a team without false appearances. Squeeze up, extraordinarily advance his defense, send many balls to the area and do not allow himself to be self-conscious. But the lack of goal is the neurotoxin that paralyzes him. It exhausts to see it. He sweats and risks, but every now and then it costs him to lose five kilos. That is Eibar, although this time it was not. That and Bryan Gil, one of those wingers with castanets that, like Vinicius, loses its charm as the play progresses.
The thing, however, started strange. Eibar, due to lack of confidence, strength or both, did not press on someone else's field and Benzema missed one of those goals from his time as a cat, as a pet (from Cristiano, to be precise). Pozo gave him the ball and there, in front of Dmitrovic, he got stuck: he did not know where to hit the goal nor did he see Asensio, who was licking his lips without surveillance. Those things happened to Benzema when he hadn't levitated yet. Almost immediately they disallowed a goal for offside. Little has been corrected in this regard.
Zidane's plan, waiting for Eibar to look for him upstairs, was to delay Modric so that he could get him out of the labyrinth while Marcelo knew himself as a vice midfielder and only had eyes for attack. Thus, a one-way party remained, one of many in this Madrid of slow dominance and spaced occasions. Too widely spaced sometimes. A quarter of an hour after the Benzema moment (and a possible penalty to Casemiro), Asensio crashed a free-kick off the crossbar in a heeled position. It is surprising that with that left-handed man he still hasn't decided what he wants to be when he grows up. He improved the task shortly after by turning a bad Isco shot from the heel into a work of art. The piece will not reach museums because it was half a meter offside.
A third time was the charm. Casemiro lost and recovered the ball in the same tenth of a second and sent a deep pass to the Spaniard, which was cleaned with the outside control to Arbilla and resolved with a shot placed with incomparable elegance. Now we can only wait for that aesthetic to be accompanied by ethics, because there is no footballer in the squad with better attributes than him.Deluge and lace
The goal explained well the first part of Madrid, which although superior did not behave as its situation deserves. From now on, drawing is dying and it doesn't seem like it. For your comfort, Eibar, a team usually cut to the chase, attended only as a listener.
And what the Gipuzkoans had not changed was changed by meteorology. From one moment to the next the storm broke over Valdebebas. Torrential rain and a favorable gale for Eibar that got him into the game. It also usually happens to this Madrid, whose advantages are measured in millimeters. The first indication was a simple loan from Lucas Vázquez to Courtois. The ball surfed on the grass and the Belgian could only avoid suicide by putting his left foot within a hand of the goal line. And then the Mendilibar team felt at home.
This is how Zidane also understood it, who was making headlines (Kroos, Vinicius) and vitamins (Rodrygo, Arribas). A reaction with immediate effect. Vinicius' first action culminated in a precise cross that Benzema headed into the net. The set left some evidence: that the Frenchman is unstoppable (scoring seven matches in a row, his best streak ever), that the Brazilian is picking up his temper and that the disagreements between the two have come to an end. From impossible society to probable society. The rest only served so that Arribas, in the unusual left-lane square, continued to attract attention. End of the plain and beginning of the very high mountain.
Photos from as.com