Alien Sinner deprives Bautista of Miami final
The 19-year-old Italian rallied a set to the Spaniard, who was seeking his second final of a Masters 1,000 after knocking down Medvedev.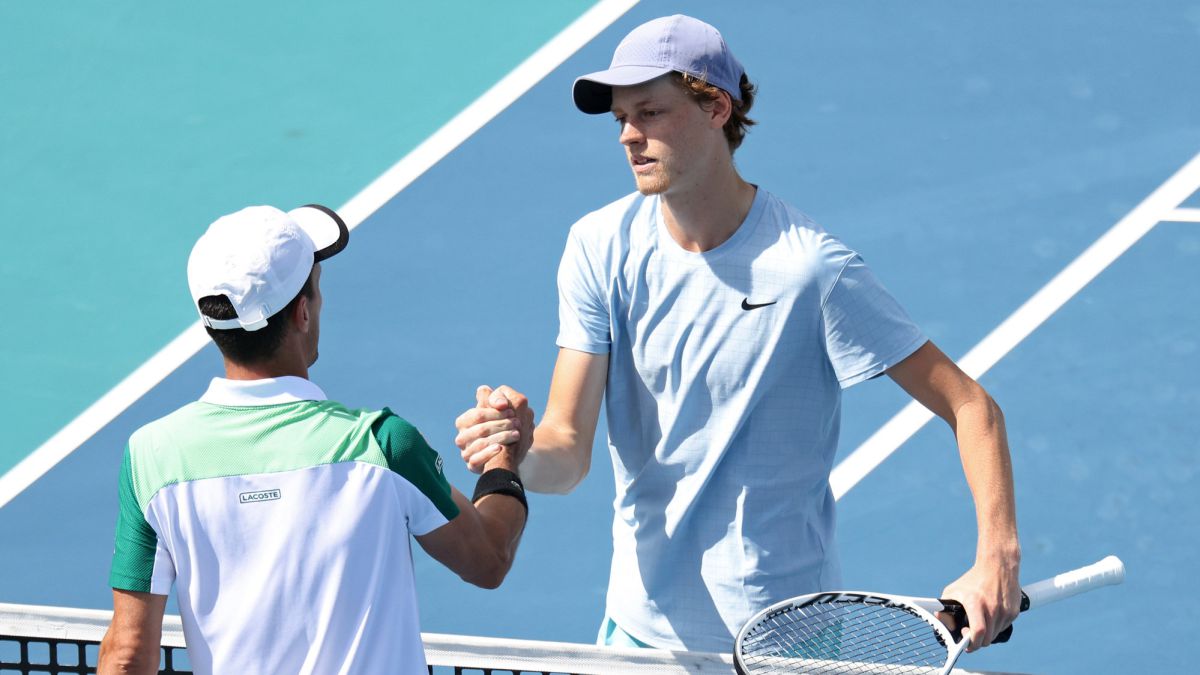 Like an alien from space, from the future, Jannik Sinner countered Roberto Bautista's veteran (32 years) with poise, resources and shots as if from a laser pistol to stand in the final of the Masters 1,000 in Miami with only 19 years. He defeated the Spanish, coming back a set, which says a lot about his coolness, by 5-7, 6-4 and 6-4 in 2:29. The Italian redhead is a danger.
Bautista, 12th in the world and who had the opportunity to return to the top ten with the title, had just defeated nothing more and nothing less than Daniil Medvedev, the world number two, with a brilliant game (6-4 and 6-2 ). But Sinner (31st), a ski champion in his youth like Novak Djokovic and who seems to slide on boards like him, was not intimidated. He started nervous, and delivered a break from the start, but immediately shook off the pressure to achieve a counterbreak (3-3) and announce that there would be a fight. The Spanish won it in the first set. The one from Castellón was contesting his fourth semi-final in a Masters 1,000 and in Shanghai 2016 he lost the title to Andy Murray. Djokovic, Nadal, Federer and Thiem did not drop this year at the Hard Rock Stadium and the opportunity looked unique. It was necessary to take advantage of it.GOING FOR A THIRD TITLE
But the transalpine did not deliver the towel ... in his third participation in a Masters 1,000. In addition, he already knew what it is to win Bautista, because he had achieved it on March 17 in Dubai in three rounds. It was time to suffer, then. Try to stop the time of a clock that runs in favor of the Italian. The Spanish did not take advantage of four break balls in the third set with 3-3 and opened a crack through which the tall Sinner (1.88) got into. He balanced the shock and, with his usual calm, announced that he was going for his third ATP final (he won the other two, Sofia 2020 and Melbourne-1 2021).
For something Nadal chose Sinner to pass the quarantine and sharpen his racket before the Australian Open. Learn by leaps and bounds. Also to row. Despite going a break against in the third set, he lifted it with three games in a row and headed for victory. The curse continues for Spanish tennis in Miami, without any ATP title despite the finals of Nadal (5), Ferrer, Moyá and Bruguera. The future is here. On Sunday (19:00, #Come on), the alien will go out to devour Andrey Rublev (7-5 and 7-6 to Korda) or Hubert Hurkacz (2-6, 6-3 and 6-4 to Tsitsipas). He is hungry.
Photos from as.com