"Not a shadow of a doubt about my possibilities and those of the motorcycle"
Maverick on his win: "I've only watched the race once. I didn't want to watch it too much because it's important not to get stuck in the past."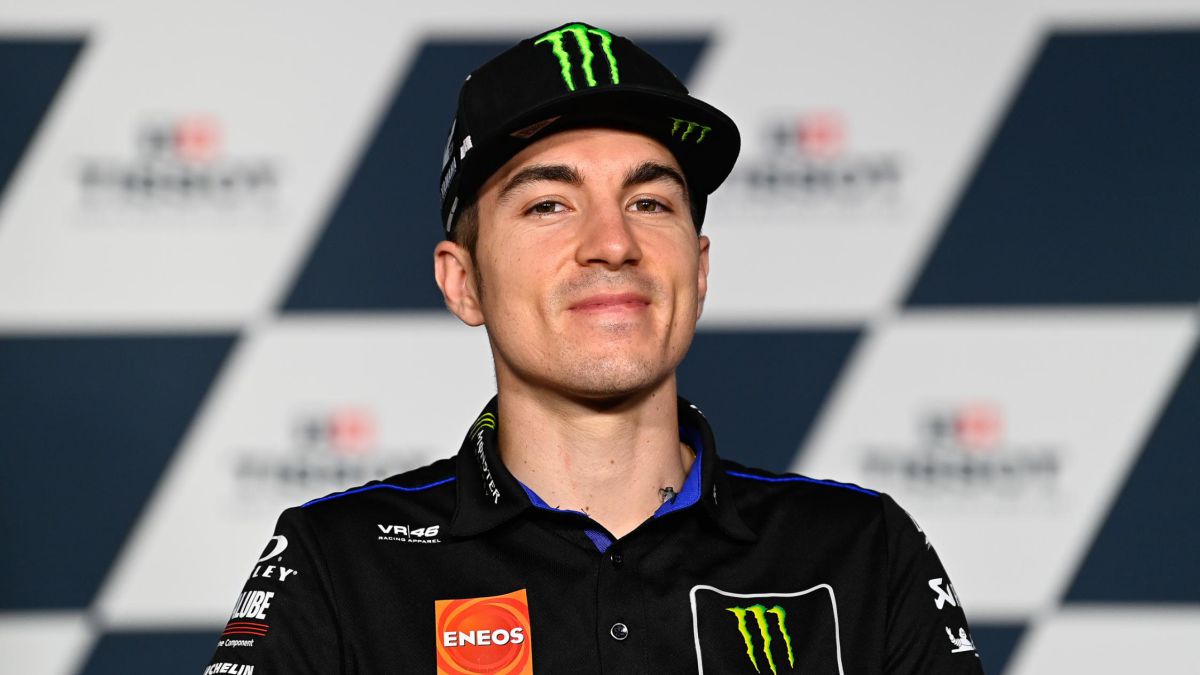 Maverick Viñales looks very calm and confident. The winner of last Sunday already knows what it is to lead in MotoGP and, although he has no doubts about his potential and that of his motorcycle, he is not confident because he won last Sunday at the Qatar GP. Now he wants to repeat at the Doha GP.
-Perfect performance last weekend?
-It is very difficult to reach perfection on all circuits. Basically we have to improve and do something different this weekend because not all weekends are the same, we have seen it on other weekends in the past when we had a double, so we have to be prepared, but we know we have a good potential and we will try to fix it if we can't go to the max.
-Who worries you the most this weekend?
-I believe that all drivers can go one step further and, in fact, we will try to go one step further. It is very important to improve day by day and I know that all the drivers, or at least the top ten, will try to be and be faster, so we will try to improve. What we can understand from the first race is that the demand on the use of the tires is very high and we have to know how to manage very well. That's going to be our weekend job.
-When they are in a group they are able to fight and last year it was difficult for them. What has changed?
-It is too early to talk because we have only ridden on one circuit and we have to know if the bike has the right potential and the perseverance to fight for a better goal. What we have seen is that the bike has worked very well first and that is important. There are some points where I cannot overtake, but there are some points where I am able to overtake and that is important. We have our strengths and weaknesses, and we have to be clear about where we can overtake and what our strengths are. Now it is too early as we have only ridden in Qatar and we will have to see how the bike behaves in Portimao to get a little clearer ideas.
-How many times have you watched Sunday's race? What have you learned from being a leader?
-I've only seen the race once. I didn't want to see it too much because this weekend is going to be completely different and we have to face it as a new race and it is important not to get stuck in the past. I've been in this situation quite a few times and it's something I like to deal with, because it's a pretty positive situation, it's a pressure that motivates you because it means you're doing well, so we'll see. Many things will change but not speed, which is the most important thing.
-You said you have to wait. Does it seem that there are doubts about the Yamaha?
-There are no doubts. You have to remain calm, without getting excited, because you have to work and surely there will be some circuits where we will have to run and go faster than normal, but I have no shadow of a doubt about my possibilities and those of the motorcycle, but We have to see things little by little and now we have to be focused on the second race.
-How important is it to know that you can win if you make a good start?
-I think the start was good to say the least, but our competitors were fantastic and we can't do more. Of course we have to improve or, at the very least, introduce some more improvement this weekend, but we can say that at least the front end device makes the difference because the Ducati have a better start than last year and yes it is possible we will try to introduce that improvement. I think Yamaha is working hard and will do it to have it available as soon as possible as it is something that obviously annoys me and that we need to have as soon as possible. That complicates the race for you and when you start in the front it is not that the race is easier, but when you are there you have to push the rear tire a lot to get up positions. We have an obligation to improve in this area.
-If you had to choose circuits for Crutchlow to come out as a 'wild card', what would they be?
-Catalonia because I always have difficulties there and since I am working hand in hand with Cal, I am sure we can work to understand some things faster.
-Have you been able to disconnect these days?
-After the race we have only been with the team, with very strict rules due to the pandemic but in the end you are calm and thinking about last weekend, in the positive. It is important to understand what you have done and what you should do, but this weekend will be completely different but we have the potential to be up.
-Can daytime sessions be used to understand the bike?
-It is very difficult to understand if the bike is going to be competitive on other circuits because for me Qatar is fantastic and there is a lot of traction. That's why we don't know, but of course we are confident that it will be the case, as we are very confident with the front tire and I hope it will be the same on the next circuits to maintain a good feeling. We remain calm, we know what we have and the potential we have and we are going to try to translate it into the circuit or those circuits where we were not fast enough last year.
-Do you think about the advantage that Marc Márquez already has?
-Nobody knows when Marc will return. Of course, it will be fantastic for everyone that he returns because it is important for the show, but in any case now we are concentrating on our things and we are going to try to be strong this weekend and be solid, but We all want everyone to beat the circuit.
-He looks very relaxed. What has changed for you with the departure of Valentino, do you feel more freedom?
-In general terms, my life has more stability, everything is positive and this is very important to understand. A part of my life is going very well and that helps me. I have the best person by my side and that is important to understand that I have someone at home who will take care of me and that has helped me, but I think that is not the only step. I think it is the consequence of many other things since last year was hard for me for many reasons, because of the Austrian race and those episodes that make you think a lot. After thinking everything, I have not altered anything. I want to be a world champion and it was important for me to find stability, first at home and then here in the races, and what we have done at Yamaha is have stability in the team and have full confidence in it. It is what we try to achieve, but sometimes it is difficult to stay focused and we are going to try to focus on it every weekend and, at the very least, have the opportunity to fight every weekend.
-You have not answered, does it change not having Valentino as a partner?
-No, not too much. In the end it is a box away. Valentino is an important part of Yamaha and he will be an important part of Yamaha so he hasn't changed much in this regard.
-What are the advantages and disadvantages of a race at night?
-It is different, these weekends are very special, they are night races and the temperature is not so different, we compete in races where it is very cold, but they do not change much with the lights, although these same lights and the tires work differently . It is a situation that makes this circuit unique and its results unique. It is a unique circuit and race, almost all the bikes work well and it is very special to race here.
Photos from as.com