Zaragoza starts the second phase with a clear victory
Important victory for the hands at Sassari's home, in a phase of the Champions League in which wins away from home are worth a lot.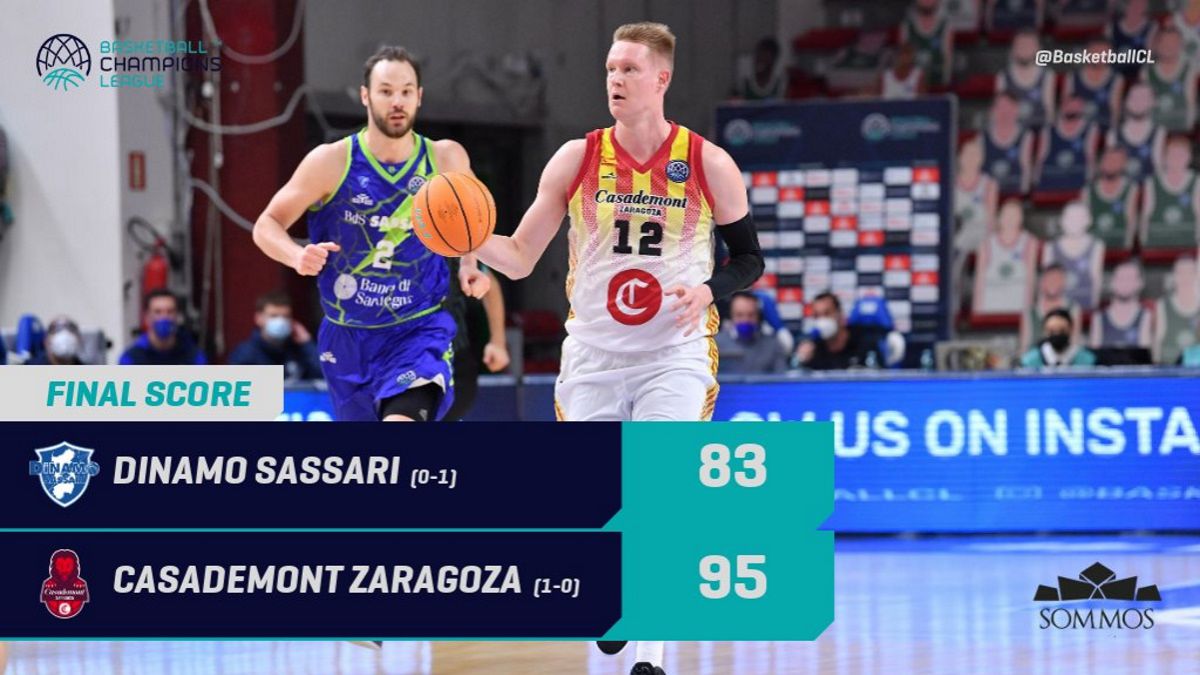 Casademont Zaragoza began the second phase of the Champions League, in which it is framed in group L, with a clear and important victory on the Dinamo Sassari court, by twelve points, while sending the message for the rest of teams that want to reach the Final between Eight. An Aragonese team that continues its good streak prevailed on Sardinian terrain, the first objective of this phase since with a short group, of only four teams, it is important to win away from home, and with a good difference, and to be unbeatable on own track.
And this was made possible by a choral game as evidenced by the fact that up to seven players reached ten or more rating credits. The team led by Argentine Sergio Hernández was solid in defense, something that has had a lot to do with the reaction that the team has shown in recent days in the Spanish competition and that was decisive for the victory over the Italian team, but also the success in the throws, especially in the triples, which was greater than fifty percent.
The Aragonese team started the match brilliantly thanks to an excellent defense at the back and to move the ball with discretion in and out and having a great percentage of success in the shot. For the locals, the defensive work of Casademont was made a wall, as shown by the five blocks (four from Hlinason) that they suffered in the first ten minutes and that led the team to 11 points of rent (6-17) with six minutes played. However, the Sardinians, led by the success in the triples of the French international Spissu and with a zonal defense, was little by little regaining ground until approaching 19-23 at the end of the first quarter.The second act, once the score was adjusted, was more even and with Sergio Hernández's team having more problems to score since he forgot to circulate the ball as he had done before, which caused the Italians to adjust the electronic to their smallest difference (34-35) in the 16th minute with a clear improvement from Miro Bilany thanks to his superiority in the offensive rebound. However, the "rojillo" team had enough courage not to be intimidated in a few minutes in which Jonathan Barreiro and Jacob Wiley managed to take off again to reach the refreshment time with seven points of advantage (40-47) .
The "Oveja" men maintained the tension and progressively increased the difference thanks to the success in the triples, which catapulted them to a 17 advantage at the end of the third quarter, a distance that they knew how to maintain without major problems in the last act although relaxation final allowed to slightly improve the local score.
Photos from as.com