What became of Maresca?: From Eindhoven's hero to Pep's 'shadow'
The Italian blew up the final that gave Sevilla the first Europa League. Now he is an important man in one of the best English academies.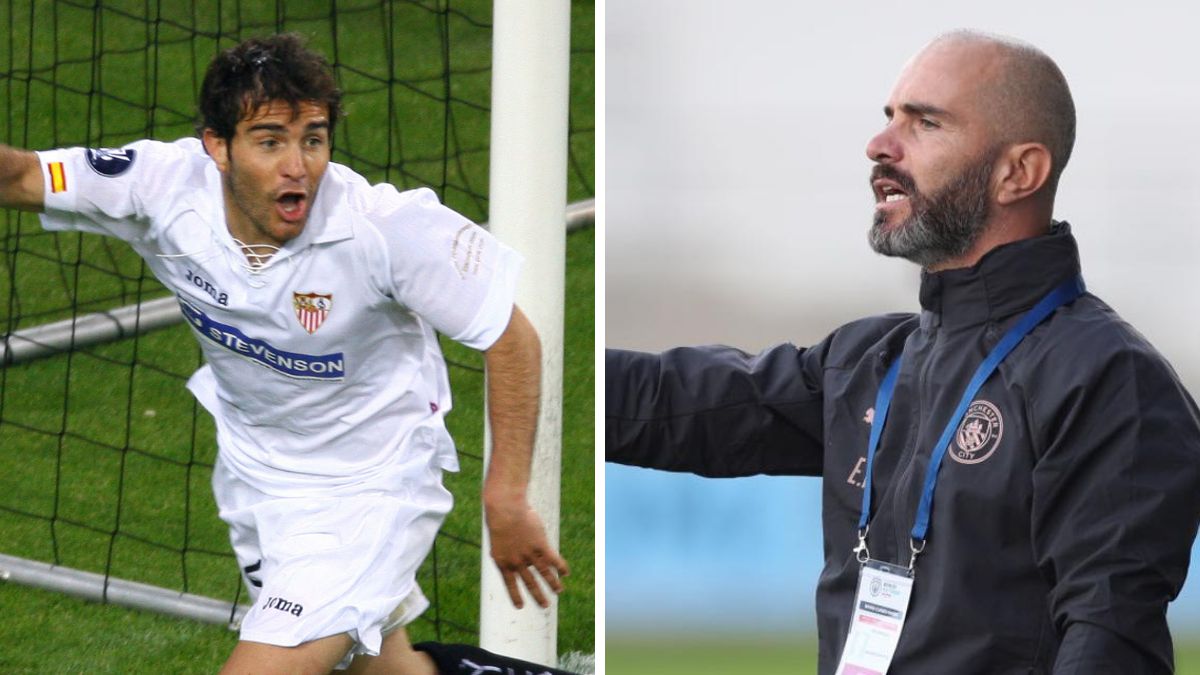 Enzo Maresca is probably one of the most famous neighbors of Pontecagnano Faiano, a town of just over 25,000 inhabitants in southern Italy, an hour from Naples. There it is one of the most remarkable places but in another place they also feel it as theirs. This could not be another place: Seville. In Calle Sevilla Fútbol Club, with 43,883 'inhabitants', Maresca continues to be one of its most beloved neighbors, although it has long since moved.
His career began in the quarry of Milan, to which he moved as a child, and from there he went to Cagliari although his professional debut ended up in England. The southerner did not renew with the Sardinian squad and went to West Bromwich Albion, to make his debut in the Championship, then First Division but Second Division.
At the age of 19, in the winter of 2000, he was released and Juventus took over his signing at zero cost. At that age he had to fight for a position with none other than Zidane, Davids, Conte or Tacchinardi. Difficult competition that made him leave on loan to Bologna, which he helped save from Serie B.
On 02/01, he would be the young reinforcement for the squad and added more than 1000 minutes with Juventus. 28 games and two goals, one of them in the derby against Torino in which Lippi gave him 14 minutes to seek a draw at Delle Alpi, albeit on the road. Enzo replaced Davids in 76 and in 89, he headed a Thuram cross flawlessly to make it 2-2. If the header was good, everyone remembers the goal for its celebration. The midfielder 'went crazy' and started running with his fingers making the horns of a bull to celebrate the equalizer. That derby was forever baptized as the "Derby delle 'corna'". The Maresca derby.
After that season, he chained starts at Piacenza and Fiorentina. In 2005, when his loan ended, Sevilla became interested in him. Those from Pizjuán had a turbulent summer with the departures of Ramos and Julio Baptista but Monchi knew how to reinforce them. The Italian arrived as a reinforcement for the middle and contribute part of the goal they lost with La Bestia. That summer Luis Fabiano, Kanouté, Dragutinovic, Escudé, Palop and Saviola also arrived. Few expected what was coming.
Enzo became important as soon as he arrived and ended his first season in style. Maresca was key to winning the first UEFA UEFA club match against Boro de Mendieta, Hasselbaink and Rochemback with the two goals that ended the trophy. For the first, he caught a soft rejection from Schwarzer. The second was an unstoppable left-handed shot. Bitten and tight. The anthem was unleashed on the public address system as Enzo, again, ran madly through the band without a shirt. The southerner won the award for best player of the game, which went to his home, but the financial sum associated with it was donated to the San Juan de Dios Hospital in Seville. A champion gesture. Until 2009, Enzo was an important part of one of the best Sevilla in history with two UEFA Cups, a Spanish Super Cup and a European Super Cup.
In August 2007 he experienced his worst moment as the entire Seville family. The death of Antonio Puerta touched everyone but him more if possible. Enzo was one of his closest friends in the defense (they sat right in the locker room) and, after his death, he got tattoos in his honor and even dressed the 16th in tribute. As in Malaga, no matter how much rival he was from those of Pizjuán. There was his return to Spanish football after a brief stint at Olympiacos and before deciding to end his career in Italy with Sampdoria, Palermo and, finally, Hellas Verona, with whom he retired in 2017.
Inspired by Pellegrini, he is the 'shadow' of Pep
"When you leave him, you have to be a coach," Pellegrini told Maresca when they shared a dressing room in Malaga, as he himself acknowledges today in an interview with Il Corriere dello Sport. The Italian listened to the Chilean, trained and began his career on the bench.
Maresca began his coaching career as second to Fluvio Fiorin at Ascoli. This was dismissed in November 2017. Then, he received the call from Vincenzo Montella to return to Pizjuán. Nobody better than him to unite a binomial that did not end up working. Caparrós, who arrived to finish the season, kept him on the staff until the end.
A few days later, Enzo would join his 'inspiring' Manuel Pellegrini as his right-hand man at West Ham. When the Chilean's stage at the London Olympics ended, his also ended. In unemployment, he took the opportunity to study and immersed himself in Guardiola's method. "Pellegrini was terminated at West Ham, I was second. I had free time and I tried to study Pep's football. Then, I received the call from City. There were doubts but they gave me a unique opportunity," he says.
Thus, Maresca has become the 'university professor' of the City academy. As the U23's first coach, he trains and trains the next candidates to reinforce the first squad such as the Spanish Adrián Bernabé, Felix Nmecha, who has already made his debut in the Champions League, or Liam Delap, son of the legendary Rory Delap and top scorer of the Enzo team
Sharing an office with Guardiola on a daily basis, he follows his method with interest and also with results. Both 'Citys' lead with advantage the two Premier League, the main one and the 2, for the sub-23 teams. Maresca and Pep fight to take a double at the Etihad Stadium.
Photos from as.com