Valencia Basket resolves against IDK in the last quarter
The San Sebastian team held out until the last quarter (21-12 of partial). Great meeting of Raquel Carrera (16 points) and Cristina Ouviña (13).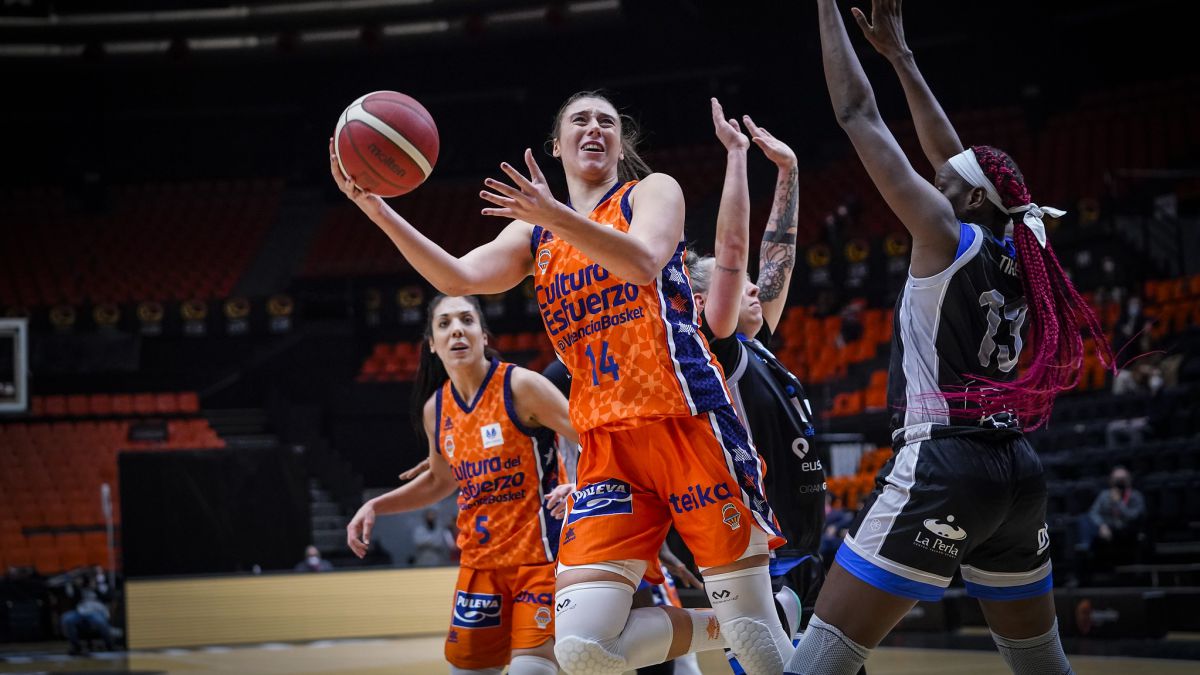 A brilliant offensive performance by Raquel Carrera in the final stretch of the match completed the good defensive work of Valencia Basket and allowed her to shake her nerves and defeat a fighter IDK Euskotren in the last quarterfinal match of the Queen's Cup to measure herself in the semifinals at Lointek Gernika.
Something gripped by responsibility, Valencia had a hard time starting and the shameless IDK, through Mariam Coulibaly, took command of the crash. It was difficult for the locals to have continuity in defense despite the revenues it gave him and Rubén Burgos had to remind him in a time out. That and the presence of Anna Gómez gave him the calm he was looking for.
Despite their lack of threat from the line of three, the Basque team endured the type with the penetrations of Laura García but also with Meiya Tirera. But, finally, the tenacity of Rebecca Allen and the courage of Queralt Casas allowed the hosts to turn the game around and reach the break with a small but valuable advantage (37-34, m.20) .
The pressure having been shaken off, Valencia shot into the third quarter, with Ouviña accelerating to full throttle. But he lacked tact to squeeze out that work and could barely extend his advantage against an IDK who held on to the game with a lot of skill, an excellent defense and Coulibaly's points (47-43, m.27) .
Finally, it was two 'secondary' such as Raquel Carrera and Leticia Romero who began to open the gap and Celeste Trahan-Davis who with two actions in a row began to make the IDK doubt (58-50, m. 30) .
With the San Sebastian team already out of breath and after losing Erauncetamurgil due to injury, Carrera again appeared to end the illusion of the IDK, which with faith also ran out of strength and took a more bulky defeat of the merits it made.
Photos from as.com