The Vildoza-Giedraitis society ends with Olympiacos
Vildoza, Fall and Giedraitis managed to get a new Baskon victory, the fifth in a row in the Euroleague. The top-8 dream lives on.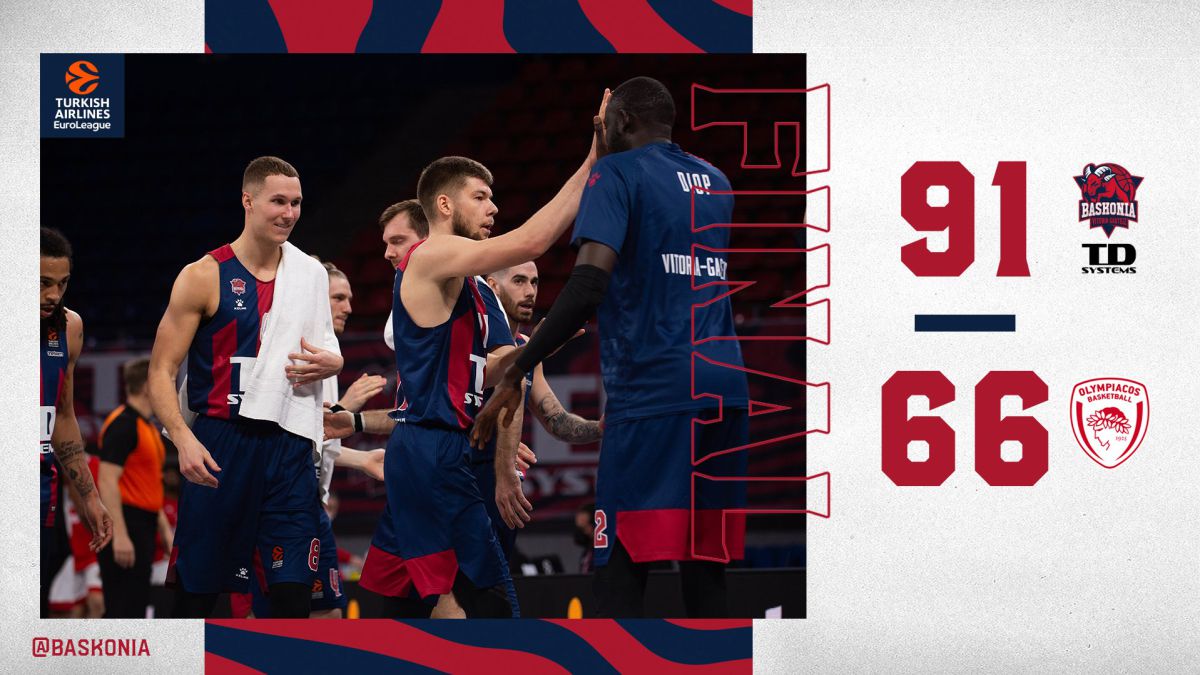 There was a time when the great Spanoulis made a difference and crushed rival teams. But, currently, it is for a few trots. His presence on the court only served to subtract and, in addition, he ended up injured. Hopefully I can return to Vitoria, with an audience, before retiring. Opposite, Vildoza, Fall and Giedraitis managed to get a new Baskonist triumph and break the balance that existed with a balance of 13/13. TD Systems was 31st up with 91-60 at minute 39.
Bartzokas was aware that Fall could set the dynamics of the first minutes so he placed Koufos in the starting five. But the Frenchman won the opening jump and obtained the first two points of the game with a shot to the board. In the first minute, all Koufos had achieved was a personal foul, but then he woke up and scored five points almost consecutively.
Sloukas (4 assists in the opening bars) began to spread the game and, thanks to the powerful Greek offensive rebound, Olympiacos reached 8 up at 13-21. Jean-Charles was the best in scoring in the first quarter, with 8 points and dream percentages. Baskonia, in the first 10 minutes, had a poor 0/6 in triples. But, between the end of the first period and the final stretch of the second, he managed to sign a favorable partial of 28-5.
The departure of Spanoulis dislodged things in the ranks of those from Piraeus. He is not by far that player who unbalanced things in every way, perhaps because his physique is no longer with him. Neither he nor Nikolaidis gave the level of Sloukas and Olympiacos bled out. Giedratis was the great gunner in the second installment, going into halftime with 16 points. Henry, by now, had 7 assists though he was also making ridiculous losses at key moments. Fall's third personal foul complicated the existence of Ivanovic who, far from giving Diop minutes, preferred to bet exclusively on Jekiri. And the African also responded well. 43-32 and everyone to the changing rooms.
The two teams signed a very close third quarter, with an exchange of baskets. TD Systems came to be 14 up with 57-43 (minute 25) but the Greek team signed a good set in favor and got dangerously close. The locals blatantly floated to McKissic, who was very failed and Baskonia maintained the differences around ten. Diop entered the court in the last minutes of the third period but committed a technique and Ivanovic decided to sit him down. He did not return to the court. The start of the fourth quarter was delayed for a few minutes due to problems with the clock and the scoreboard.
The initial part of the last quarter was 14-2 and, with 82-60, the game was already resolved. At that point, Olympiacos had 17% on 3s. Ivanovic decided to play with little ones at the beginning of the last installment and he did well because he gave speed to his possessions. Spanoulis was injured in the first minute of that quarter by bending the thumb on his left hand. It was when Vildoza started hitting triples and the Basque team really opened gaps in the clash. There was no debate as to the particular average since, in Athens, Baskonia had already won in the first round 76-90. Ivanovic's team continues on a good winning streak and does not lose face to the possibility of getting into the Top-8 although most of their rivals do not fail.

Photos from as.com