The fifth time is the charm
Uni Girona lifted its first Queen's Cup title in Valencia, the fifth for Laia Palau. The connection between Chelsea Gray (MVP) and Julia Reisingerova, key.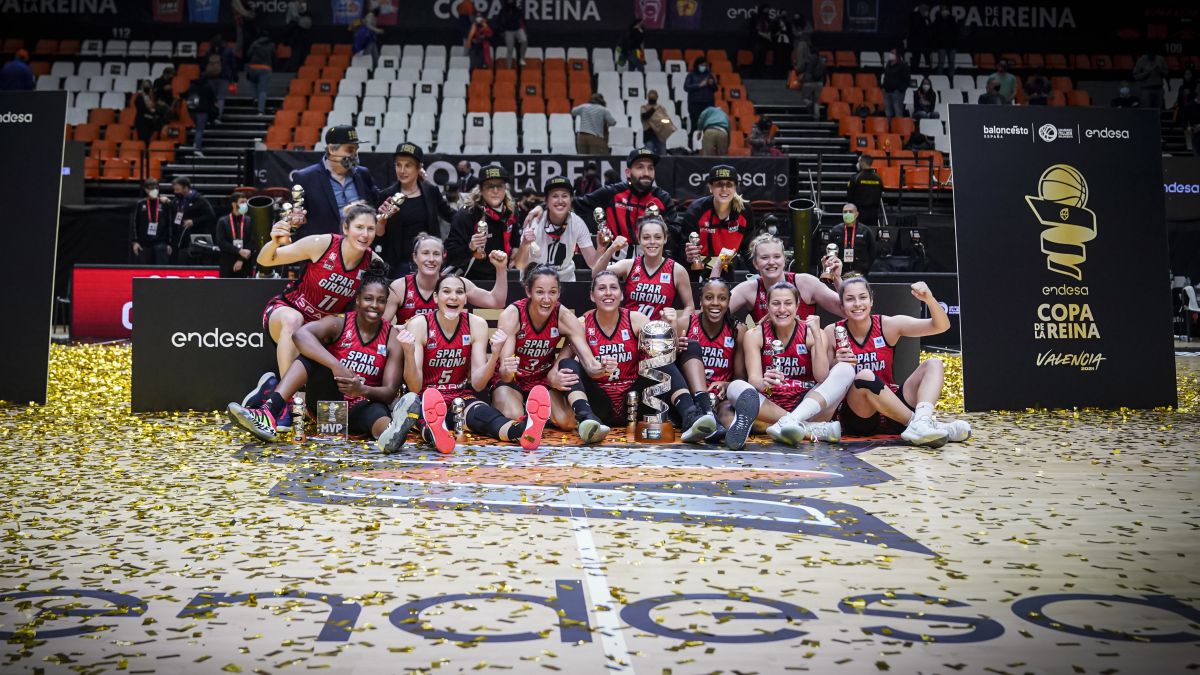 With Perfumerías Avenida out of the equation, someone was going to be opening in Valencia. And the fifth time was the charm for Uni Girona, who managed to lift their first Cup (two Leagues and two Super Cups were already shining in their showcases) after losing the last four in the final against the Salamanca team. Those of Alfred Julbe did not pay the extra effort on Saturday (they played an extension to eliminate Avenida) and dominated a game in which Valencia Basket, perhaps, paid for their inexperience. We must not forget that Rubén Burgos's, although they have gotten used to looking at everything from above and have occupied the gap left by Ros Casares in the Turia capital in 2012, have only been in the elite for three years and this was their first match. with a title at stake. Of course, his rise has been meteoric: quarter-finals in his first year, semifinals in the second and finalists in the latter.
The hosts began to command (2-8, min. 5), although Girona, with the incombustible Laia Palau at the controls, turned the game around early, with a partial 14-0 (16-8, min. 9 ). More than four minutes without scoring for the taronja, who in the blink of an eye saw ten down (28-18, min. 15), but never lowered their arms. Adding one by one (Juskaite scored six free throws in a row), Valencia returned to the game (28-26, wed. 18) and went to the break with a slight disadvantage (31-34) and with the idea that, in as soon as the shots began to enter, the party would smile at him.
Uni Girona usually comes out somewhat clueless in the changing rooms, but it did not happen in this final, although Laura Gil put hers ahead (34-35). The Catalan team did not get nervous. Chelsea Gray easily found Julia Reisingerova in the paint (13 points at the end, seven in that quarter) and the Catalan team got seven up (54-47) after the initial scare. In addition, he tied Valencia Basket short, which could barely run and got stuck in attack, against a zone, because the triples did not fit him either (3/15) .
Even so, he reached the final minutes with options, only four down (66-62) at 3:34, but he accelerated a little more than necessary in his possessions and a technique to Queralt Casas (at 1:19 and that was resolved with 71-62 in favor for Girona) ended the few options he had to release his record. Anyway, in Valencia they warn that they have come to stay. "We are Valencia Basket and we are going to play more finals", declared Anna Gómez, captain of the Taronja team, after losing the final.
A new giant for women's basketball that once again boasts good health and alternatives. Although Avenida has carried the weight throughout the season (24-0 in the Endesa Women's League and a streak of 41 consecutive victories), in Valencia we have witnessed an unprecedented Cup with an unprecedented champion: Uni Girona. Whoever follows her gets it.
Photos from as.com