The Euroleague puts the spotlight on racism in its latest documentary
Racism: #NotInOurWorld, is the latest chapter in the Table Talk series in which several players in the competition share their experiences about this scourge.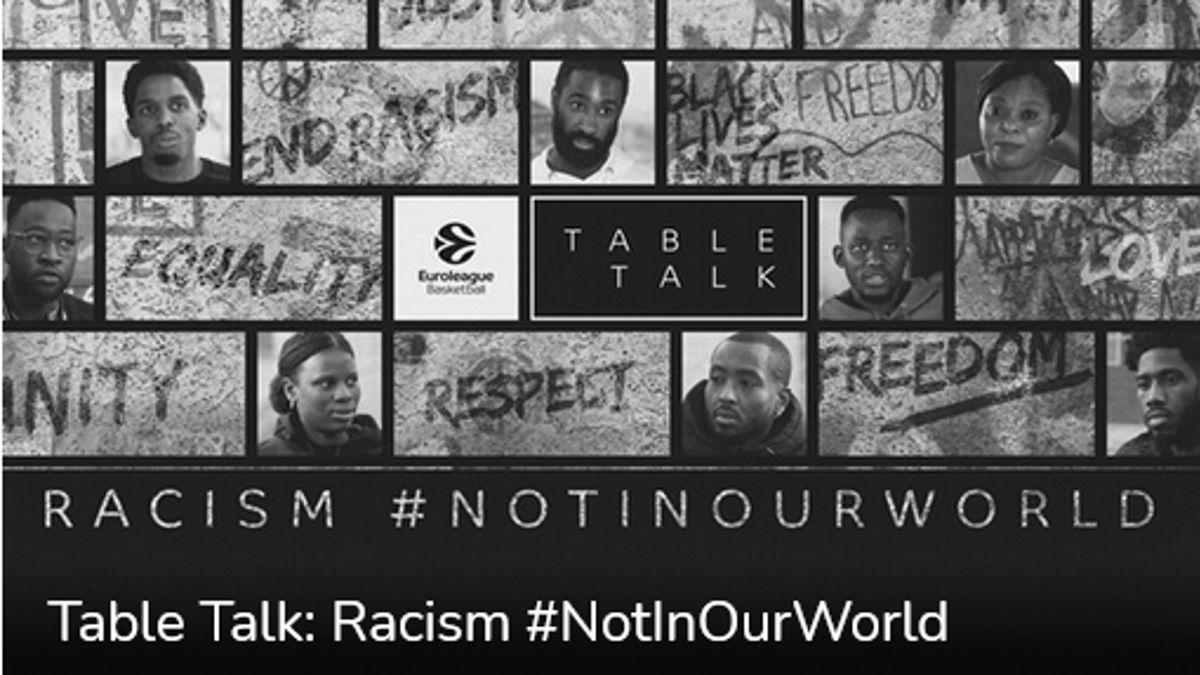 Racism is the subject of the latest Euroleague documentary Table Talk, produced in support of Not in Our World, Euroleague Basketball's joint awareness campaign with the Players Association. It reveals the prejudice and discrimination black basketball players face as they try to build their careers, and it also considers the broader social implications of this pressing issue. Several players in the competition speak frankly about their experiences, including Howard Sant-Roos of Panathinaikos, Shaquielle McKissic of Olympiacos and Ilimane Diop of TD Systems Baskonia.
Former Valencia player Larry Abia and Barcelona women's team player Magatte Niang also appear, and Abia recalls a particularly disturbing incident of racism when she was denied the opportunity to rent an apartment because of her skin color: "I remember we were looking for flats for that season. One day I went on a date and two older Spaniards came. They were the owners. I saw that they looked at me badly. I said 'Hello' and they turned around surprised, as if they had not seen me. The only other person there. Then they told me that the apartment was already rented. I replied 'It can't be. How can that be? I'm the first to come see it. How can it be rented now? husband say 'We won't rent it to him because he's from abroad. He's black.' "
Sant-Roos, who was born and raised in Cuba, explained in her sit-down talk with McKissic that she first saw racism when she moved to Italy as a teenager: "I didn't experience racism until I moved to Europe with my mother. I moved to Italy when I was 15. That was ... my first experience with racism ... And it was the first time I was kicked out of a place. I went to a hairdresser and the person who was supposed to be cutting my hair I was just sitting there, doing nothing. So I was next, because no one else was there. So I walked in and he said, 'In this salon, unfortunately, we don't cut this kind of hair, so you have to go.' And then He grabbed my arm and led me to the door. "The video also features a heartfelt conversation between dunk champion Marquie Smith and journalist Moha Gerehou, who gave a striking example of everyday racism rooted in lack of education: "Speaking of ignorance. I remember one time when I was in college, and One of my classmates asked me if we black people, when we went to the shower, if our skin cleared up. What kind of question is that? "
Diop was filmed having an emotional encounter with a Nigerian immigrant, Blessing, who lives in Vitoria and whose son is part of Baskonia's youth CSR and One Team program. Blessing explained that she always feels like a stranger in Europe. "There is racism everywhere ... there must be a difference between you and whites. We don't have opportunities like whites because this is their land so we can't be the same. They can't treat us like they treat themselves."
Photos from as.com