The derby, waiting for the '9'
Luis Suárez faces the derby hungry after five games without seeing the door. Benzema will test himself today with his teammates to see if he can make it to the game.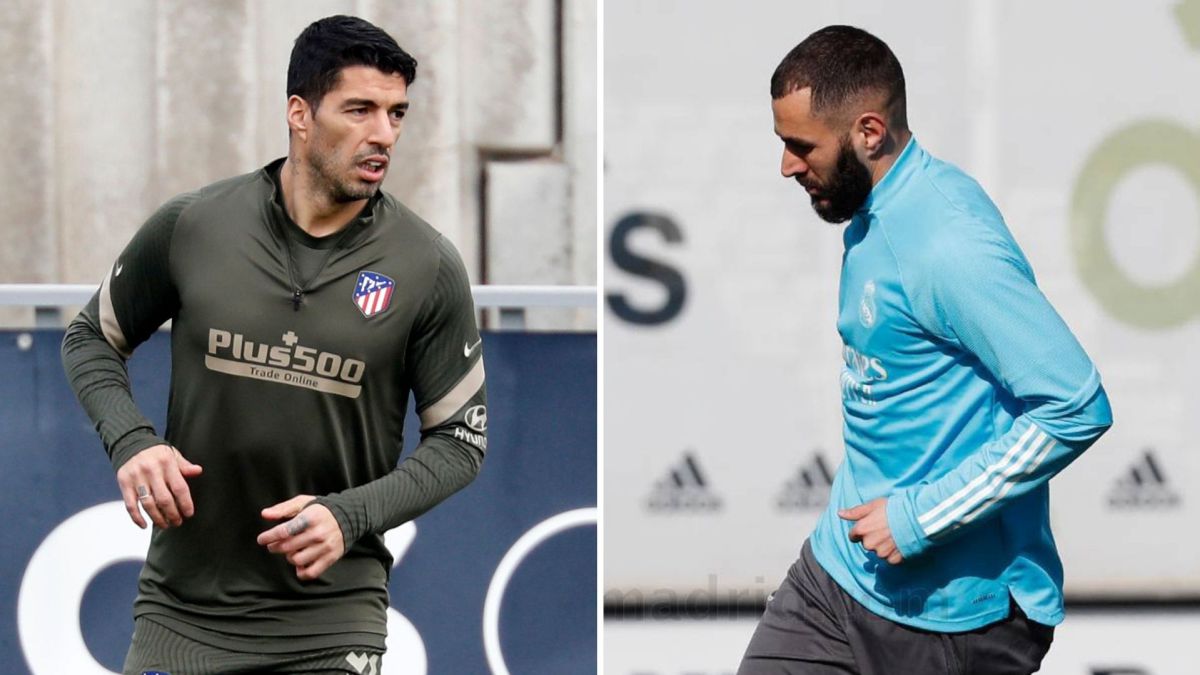 Duel of the Titans in the Metropolitan Wanda. Two of the most important forwards of the last decade meet again: Karim Benzema against Luis Suárez. The French and the Uruguayan, face to face for the second time since the latter wears the Atlético jersey. And for one thing or another, they are not going through their best moment. However, a large part of the options of their teams pass through their boots, which are played half the League.
Benzema, who is going through muscular problems, has put himself between eyebrows to be in the derby. He suffered a micro-rupture in the adductor against Valencia (February 14), which has left him out of two league games (Valladolid and Real Sociedad) and one in the Champions League (Atalanta). However, the derby is a final and he is willing to make an effort. Both on Wednesday and yesterday he mixed work in the gym with exercises on the field, all at a high intensity, with the idea of being able to test himself this Friday with the rest of his teammates. Of course, any annoyance could be final and leave it out.
Without him, Madrid would lose a large part of the offensive arguments to win the Metropolitan's victory. This season he is, by far, the team's top scorer: there are 17 in 28 games, eleven more than Casemiro (6), second. He has achieved them in 2,386 minutes, with an average of one goal every 140 '. To this we must add five assists. In the League he has been somewhat off the hook from the fight for Pichichi (he adds 12 goals, for Messi's 19). Of course, when it has been available it has never been more than three days without seeing the door. If he does not pass the test today, Zidane would lose a fundamental player and a leader. He is third captain after Ramos and Marcelo and, apart from goals, brings fluidity and quality to the team's football.
The subject of Suárez is not physical. In fact, since he recovered from the coronavirus, he has played practically everything (17 titles in a row, he only rotated in the Cup). His regret comes because he is going through a scoring slump. He has not seen the door for five games, when in the previous four he had scored seven goals. Six games without scoring is something that has not lived since 2018 and does not want to remember it. In total, he has celebrated 16 goals and two assists (all in the League) in the 2,020 minutes played between all competitions.
The Uruguayan arrives hungry to the derby, because he is insatiable and because Madrid motivates him especially. And he is good at them. With Barça he scored 11 goals in 15 Classics. This Sunday, Simeone is clear that Suárez will be the striker and is looking for him to accompany him (João, Llorente, Correa ...). Confidence is maximum, both in his punch and in his winning character. In the attacks, of course, will be one of the keys to the derby. In a Suárez that looks for the lost goal and a Benzema that works against the clock to arrive on time.

Photos from as.com