Sorribes, after being Top-50: "You gave me goose bumps"
The Spanish tennis player appreciated her reaction to Ons Jabeur and the fact that this victory allows her to reach the Top-50 of the WTA ranking for the first time.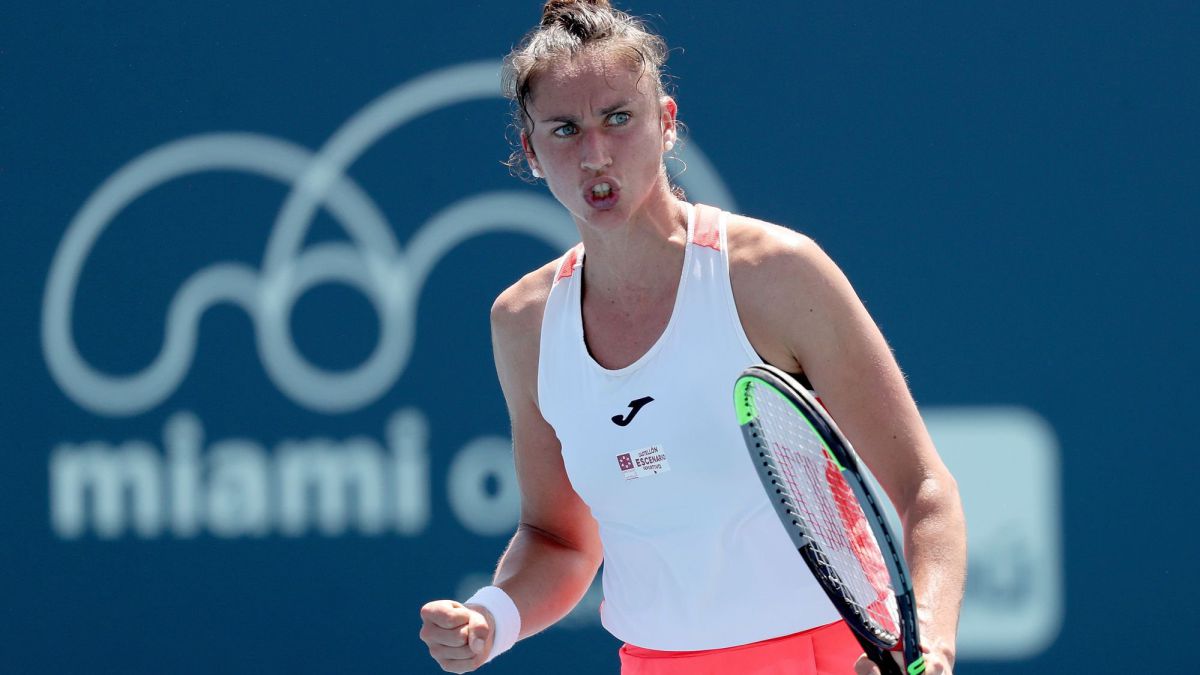 Sara Sorribes addressed the media after her victory against Ons Jabeur in the round of 16 of the WTA 1,000 tournament in Miami. The Spanish tennis player appreciated how she managed to turn the game around when it got complicated and also analyzed her impressions after reaching the Top-50 of the WTA ranking for the first time with this victory.
Game on the net: "On the net has been where I felt most comfortable. When I was very little I used to go online, so it is the area of the game in which I feel most comfortable. I have also played a lot minitenis and that's why I feel better playing in that area "
What happened in the second set? "First I tried to think about what I was not doing so well in the second set. I don't think I was doing it wrong, but the level was very even and you don't need to do anything wrong to be beaten 6-0. I wasn't playing Just as well as in the first set but I don't think she was doing it badly either. She is a great player and I was winning the court. I thought about trying to shoot a little longer, being more aggressive, losing the court less. "
High level in the game: "I don't know what the key was, I'm still impressed. I'm very happy, I don't know if today's was the best game of my life but it was one of the best, that's for sure. and I am playing the best tennis of my life. I have attacked more, I have climbed more to the net, I have felt more comfortable and I have felt very well physically. I am enjoying tennis and life and I hope to continue on this path for many weeks. I did not expect to get this far here. I am still the same Sara Sorribes, for me nothing has changed. I keep working and I think this is the way forward to face great players, I am very happy ".
Happiness on the court: "I am proud to play every day at my best level. Every day that I go out on the court it motivates me to play at my best level and thinking that I will be able to do it. I am happy to continue playing games and continue learning each day. For me that is the most important thing, it is the only way to continue growing ".
The role of Silvia Soler: "She is a great coach and also a great friend. She always tries to get you to learn, do better. She is helping me a lot, she asks me to calm down and also gives me a lot of energy and is very positive" .
First time Top-50 after one of the games of his life: "You gave me goosebumps, so thank you (laughs). I really think these were two of the best games I have played in my life In the end, to win against these types of players, you have to play very well and I have to do things very well to win them. I always say it, I don't get 200, I don't have a forehand that makes winners almost accidentally .... It means being there for a long time, trying to hit one ball after another well and waiting for your opportunity and trying to attack when you can and I think that's what I'm doing best, holding back well, shooting away, trying to get in when I can. About the Top -50, I did not know, I do not look at the ranking or anything but I am very happy. For me nothing changes, I hope and I want to think that I will continue doing the same things which is what I like the most and it makes me happy but yes It is something very nice, that I was excited to achieve and I am happy to have done it but I am happy. I want to keep improving and do more things ".
How was the reaction in the third set? "I knew that he could make me a donut because he is very talented, he plays very well, he makes drops from where he wants, he changes parallels where he wants ... and I knew it. I tried to think that it was not so bad even if I was not doing it well. I didn't need to be bad for me to beat me 6-0 because the level is very even and the people are very good. I just tried to do a little better, win the subway that I lost in the second set. I threw a meter back, I threw a meter shorter, she has entered a meter and from there it has gone one game after another and I could not get out, In the third I tried to do something different although it could fail at first. I had the luck of not doing it and I think that the first three games of the third set have been among the best of the match for my part and there has been the difference ".
Study of the rivals: "That is all the merit of my coach. I watch the games, I try to pay attention but she gives me the keys and I appreciate it a lot. I try to focus on what I have to do, which I think I already have. enough ".
Winning streak: "For me it's still the same. I keep going to train, to compete with the utmost enthusiasm every day. I just try to improve and do as well as I can. Not much has changed, but it's good to have a positive streak Because of the negatives it is difficult to get out but I think it is a day-to-day thing, to improve every day and in the end the games are falling.
Great results on hard court and the return to clay: "I think that what is going to lead me to achieve great results on clay is to continue playing as I am playing and to continue doing what I am doing. It is true that I feel more comfortable on clay. , which is the surface that I like the most, but it doesn't give me extra pressure or doing things well because I think that's a matter of work and level and that's what I try to do every day ".
Physical preparation for three-set matches: "There are many three-set matches, which are very difficult because in the end the level is very even. It is very difficult to maintain the level two sets in a row. Everything has to come out very smoothly. I like it I train, I like to take care of myself and I try to put the maximum intensity in all the workouts and it is the best way to get a good physique because I think that is where the physique takes hold and that is what I try to do. I do a lot of physical preparation at home but not I think I do nothing different from the rest of the tennis players. It all started very well in Mexico and then I have managed to manage the most important moments of the matches, I am improving and I think I have gained a little more level. I have been lucky that the streak be positive and hopefully I can keep it even longer. "

Photos from as.com