Simeone: "João Félix? I love the rebel player"
The Atlético coach was satisfied with the victory against Villarreal, although he indicated that there are many things to improve in the face of the derby against Madrid.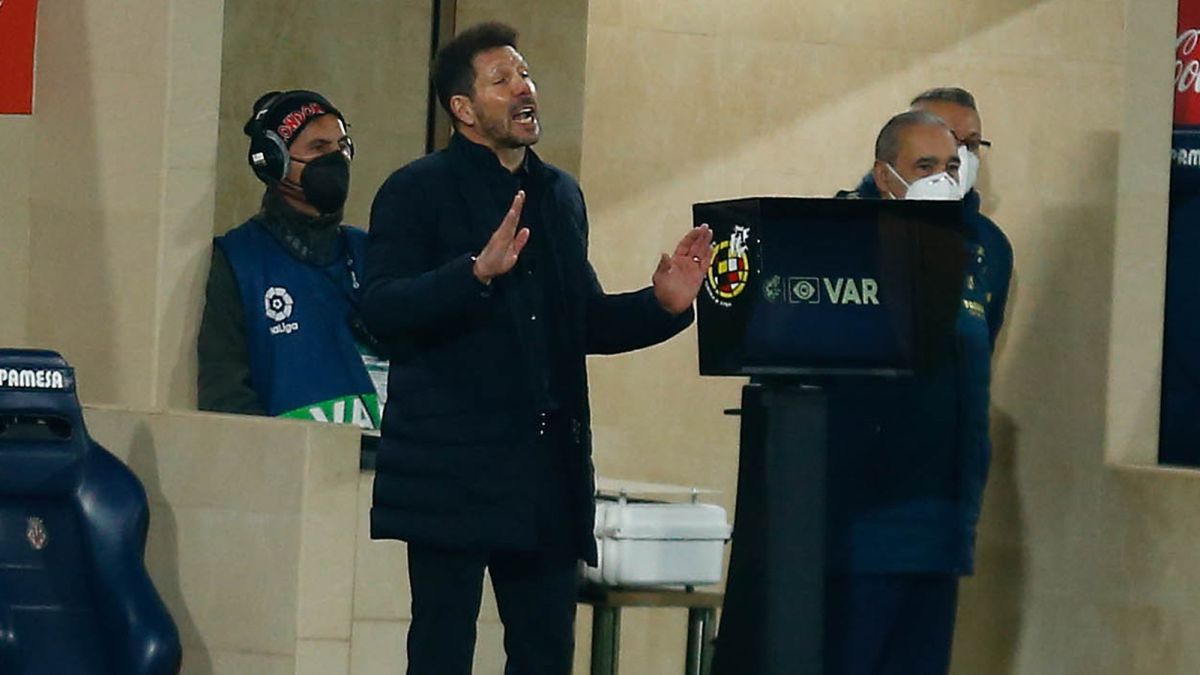 Diego Pablo Simeone attended the press after Atlético's victory by 0-2 against Villarreal, a victory to end the losing streak and to recover a clean sheet.
To whom has João Félix's gesture dedicated?
When you talk to João, ask him. When I can talk to him in training I can ask him and they will ask me later. Against Villarreal it always costs us a lot, they have great possession and danger. Today we suffer, after the second goal they had dangerous goal situations and it is a very important victory for the moment of the season.
It is vitamin before derby.
Above all, to follow the line we were leading. We drew against Celta in the last minutes and we could have won, in Levante we had situations to win the game, against Levante at home we had many chances to score in the second half and against Chelsea we lost when it seemed that the game was heading towards tie. It gives us room to improve a lot of things.
As a former player, what do you think of gestures like João's?
I love the rebellious player, who has pride and wants to change situations. He hadn't scored for a long time, the team needed him, the team needs him and he needs the team. When the team players are rebellious and proud, give it to me.
Has equaled Luis Aragonés in victories with Atlético.
You know what this game is like. From tomorrow we will start to live off what we do in the derby. It is an important victory, one does not stop to think about passing or not passing Luis, who is surely very happy about this moment of Atlético and we have a lot of things to improve and hopefully this week we can present a better version in the next party.
João was the only change in the eleven compared to Chelsea, was that what you were looking for?
I always seek to get the best out of each one, always.
Are you going to see Madrid tomorrow?
If I told you that I would not be lying to you. We watch soccer from Argentina, Italy, France… we always watch soccer. Tomorrow is a great game to watch, Madrid close the gap with us ... a beautiful game.
What do they need to improve?
We had passages in the first half where the system had to be varied. We went from 4-3-3, where we couldn't control their game between the lines, to 4-4-2, then to 5-4-1 where Llorente and Koke allow us to press higher. There we were more comfortable and in the end the anxiety, the pressure from Villarreal generated us that they also had the opportunity to score.
Previously he attended the Movistar LaLiga microphones
What feelings does this triumph leave him? 444 444
Every time we come here it is very difficult, they always play very well against us. They have been good, in the second half we placed ourselves better before their circulation, which looks for superiorities from within. With the goals we grew and we looked for the victory.
Villarreal have created more chances in the second half.
The team was more compact, with more people, but the rival, at 0-2, it is logical that they generate danger.
And finally a clean sheet ...
Yes, important, from being strong behind, we grow in the talent that the team has.
We see a vindictive João Félix. Do you know who he dedicated the goal to?
(Laughs) Ask him. He made a great goal. He entered very well, he responded to what the team needed and that is what we want from him. I love that the players rebel and are strong. We need it like this.
A necessary triumph ...
Important to stay on the line. The League is difficult, all teams are competitive, they play well and have more and more needs, they run looking for goals. It is being very competitive, when everyone thought that the League had split.
And now, Real Madrid.
We arrive with energy, enthusiasm and desire to improve. You have to recover from the effort.
Photos from as.com