Shermadini takes down VEF Riga
The Georgian center was huge (25 points and 9 rebounds for a PIR of 31) and well supported by Sasu Salin (17). Second triumph in the quarters for those of Vidorreta.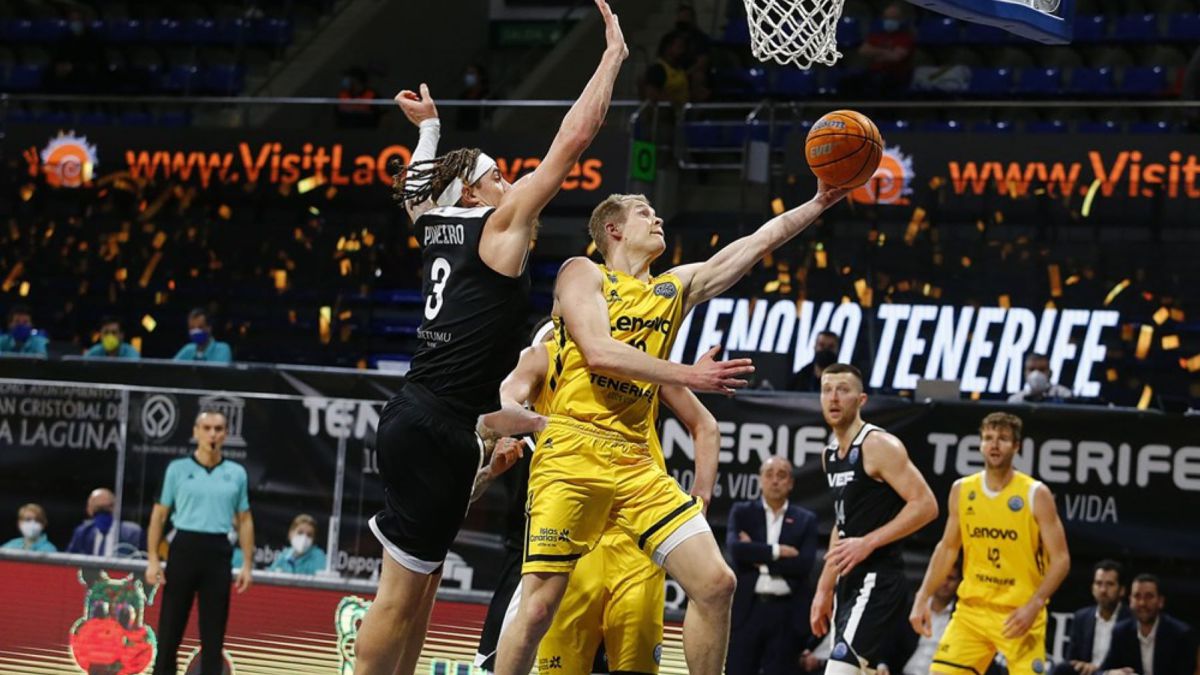 Lenovo Tenerife, led by Gio Shermadini and Sasu Salin, went ahead without excessive problems their match against VEF Riga (77-64), corresponding to the third day of the FIBA Champions League and played this Wednesday at the Santiago Sports pavilion Martin.
The more than 400 fans were able to enjoy a game of clear local color, a team that handled the crash as it wanted, but above all having the success that Shermadini and Salin had, two key players in the development of the clash.
The Tenerife team started the game using their weapons very well, starting with the inside game, where Gio Shermadini did not miss, and which was also joined by the success in the outside shot of Sasu Salin who was very fine in this regard.
Although VEF Riga initially scared 7-8 after two triple baskets from Allman, Lenovo Tenerife gradually took over the game. At 12-8, the Georgian center had already scored nine points almost without disheveled, and when there were no interior game options there was Sasu Salin to help.
At seven minutes the game already had a clear dominator (23-8) after an 11-0 run. Lenovo Tenerife maintained their offensive level, while VEF Riga was already beginning to have problems in their attack game.
At the end of the first quarter the scoreboard reflected a 28-17 with a visiting team where only Allman (6 points) and Piñeiro (7) scored.
The entry of point guard Zoriks in Riga gave his team a little more speed and managed to lower, at times, the difference in the score after scores by Kyser, well below the basket, and Piñeiro.
The Lenovo Tenerife, although it lowered its score, did improve in defense and knew and was able to maintain the differences in electronics in the second quarter and even reach a maximum income of fourteen points (39-25) in the 16th minute of the game.
After the break (46-33), VEF Riga came out with great momentum and with a good defensive work and that allowed them to lower the difference in the electronic and warn the home team that they would not lower their arms so easily.
But the Lenovo Tenerife had a very clear roadmap. Shermadini, the true dominator of the zone, would reach 20 points in the 24th minute (51-39) and two minutes later Salin scored the 17 (57-42) .
The island team would have a maximum difference of 21 points (63-42) before reaching the end of the third quarter, an advantage that seemed sufficient, but not definitive.
A 2-10 run for Riga at the start of the last quarter put the visiting team back into the game. Piñeiro, Zoriks and Allman scored important baskets, but Lenovo Tenerife had enough arguments to be able to control the crash again and not allow surprises in this important crash for the team.

Photos from as.com