The Almería striker is already training with the group after being between cotton wool due to muscle discomfort. Gomes avoid giving clues with two sessions behind closed doors.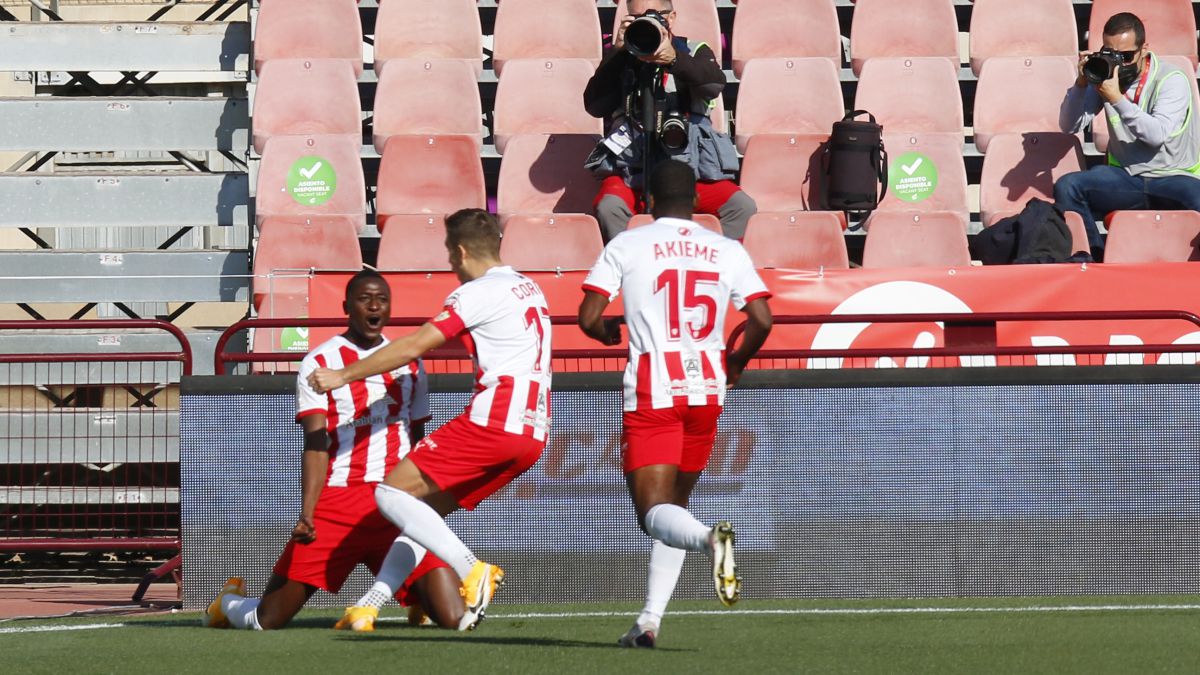 Umar Sadiq will be at full throttle for next Sunday's meeting (9:00 p.m.) in Montilivi. The Almería striker exercised yesterday on the sidelines of the group when he had muscle discomfort, José Gomes opting to prevent to avoid greater evils. However, the Nigerian striker has already rejoined today with his teammates and will be from the game in Girona.
Sadiq is Gomes's main asset for the league final. The former member of Partizan Belgrade is in good shape, having already reached thirteen goals in the domestic competition (in the Cup he made two) and aspires, with fifteen days to go, to surpass the 16 of Darwin Núñez, being also in the struggle for the top scorer (Djurdevic has 17, two more than Raúl de Tomás.
The Almería coach has chosen today to lock up his team in the main field of the Mediterranean Games Stadium. The Almeria team has exercised for more than two hours, focusing on tactical work and set pieces. If tomorrow the rojiblancos will train in the Annex, on Saturday Gomes will lock them up again, seeking to keep the cards, aware that the Girona coaching staff has spies both in the Board of Trustees and in the company in charge of taking care of the Mediterranean lawn.
In the Almeria booth there is a lot of desire for revenge after the first leg, in which Almería crashed against a Girona that ended with eight troops after its three direct reds and that took a point (0-0) from the Vega fiefdom from here. Francisco also beat Gomes in both Gerona and Almería in promoting promotion, just a few days after the Portuguese left the Marítimo and enrolled in the Almeria entity.
Photos from as.com