Rossi: "Continue or withdraw will depend on the results"
"If I am strong and can fight for podiums and victories, my motivation will be to continue another year. If not, no," says The Doctor at 42 years of age.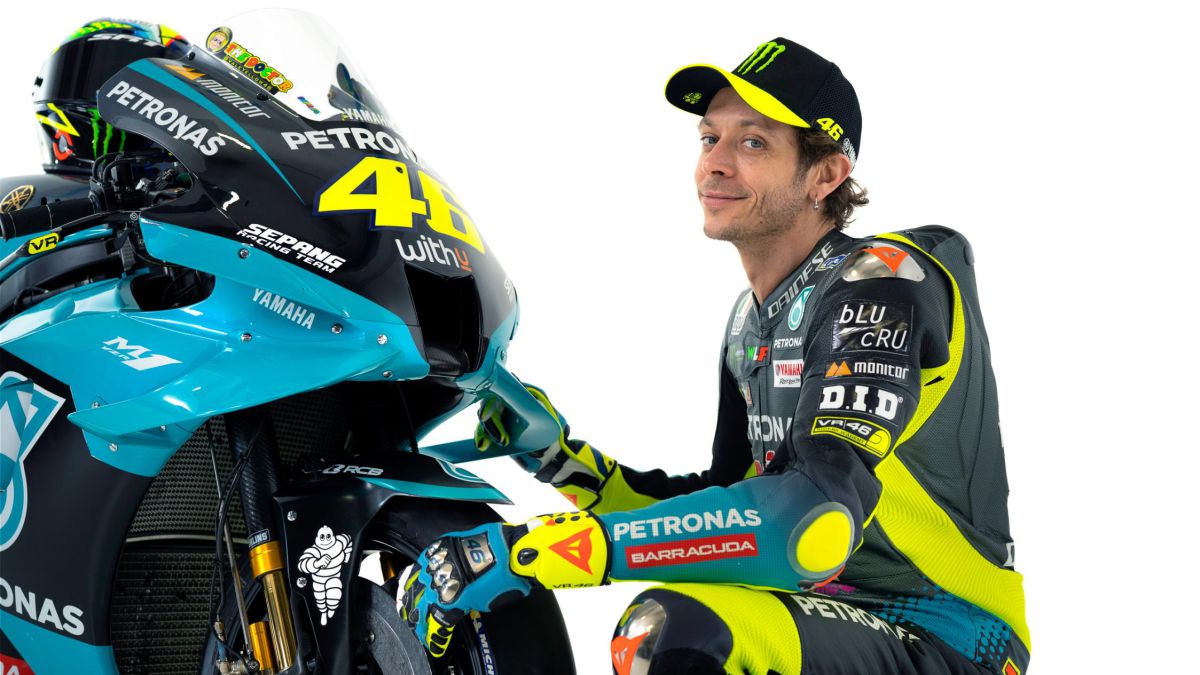 First appearance of Valentino Rossi before journalists as a pilot of Petronas SRT, the Yamaha satellite team in which he will continue to have black leg material for his M1. At 42 years old, he is the grandfather of the grill, but only symbolically, because he is seen with the desire and the illusion of always. Ah, what does not change is his lack of punctuality, but he gives so much play in his answers that he is forgiven.
-Do you expect to be more relaxed by being in a satellite team this time and that it can make you feel less pressure?
-I've been a factory pilot for a long, long time. I think from 2002 to 2020, 19 seasons in MotoGP. In the first two seasons, those of 500, he was in a similar situation, in a satellite team. It is true that it was 20 years ago and that it was 500, which is a different world, but at that moment I felt very comfortable. The way I see it, there will be fewer people around the bike and on the way to work it is different. You can think more about improvements for the race than for the development of the bike during the season. This can be good. I am happy with my technical situation, because I have full support from Yamaha and this team has shown in its first two seasons that they can win races and lead the riders to the top. It has a very high level. I can't wait for the time to start the season.
-26 seasons and comes to a new team. What do you expect from this year?
-26 years… It's a life, a long time. But I don't run to pass the time. This season is very important to me, because I come from the last seasons, 2019 and 2020, which were below what I expected, especially in terms of results. The results will be important and will be the key. I want to be competitive and stronger than in the last two seasons, fighting for podiums and winning races. Try to be competitive throughout the entire season. I hope that this season, even without the Covid problem being fixed, it is more normal than last year and that we race on the different circuits at the right time. The goal is to be strong and competitive from start to finish.
-When will you decide if it is your last year and what does your decision depend on?
-I will decide during the summer break, mid-season, and my decision will depend on the results. If I am strong and can fight for podiums and victories, my motivation will be to continue another year. If not, no. I'll decide in the summer.
-Have you thought about the time to make the decision and what can change your life?
-It is not an easy decision, but everything will depend on the results. If I can be competitive, fight for victories and podiums, I will continue for another year. But that's my idea. I have not yet spoken with the team or with Yamaha, as they tell me that I do not have the decision, it is possible. (Laughs) It will change my life a lot, but I'm not too worried. I have had a long career, I am happy. I have the energy to be able to do another season, but it will depend on the results. When you stop after 26 years of having this life, I'm sure something will change, but I want to continue being a pilot. I would like to compete in cars. Maybe it will change, but not too much… I hope. (Laughs) .
-Did you imagine having a new team at 42 years old?
-You never know what can happen in a long sports career. I think for me, right now, it's good to be on the Petronas team. Technical support is good and the team has shown that it can win races.
-Morbidelli said that friendship with you is more important than MotoGP. How do you see your manager, Gianluca, working for you and how can you influence that in the box?
- (laughs). I agree with Franco and happy with what he said. Real friendship between people is very important in my life. I always spend time and power to have good friends. It is something that has to be worked on and that is not easy. I have a very good friendship with Franco for a long time, we worked together to bring him to MotoGP and I am very happy to be his partner. It is an interesting situation that nobody expected. It will be hard to handle the fight, because your partner is the first opponent to beat. To fight and continue being friends we need a really good friendship. It won't be easy, but I think we will do it and be competitive in trying to win races.
-How has your preparation been? Is it harder than in previous years when you are 42 years old?
-This year the preparation has been more normal, because last year we had to stop at the beginning of March and for three months, and we did not know if we were going to return or when. It was a bit difficult to get to the first race at 100%. This year the situation and the dates are clearer, so I have been able to work more. When you get older, you need to work harder, especially with cardio: more work on the bike or go for a run more to try to improve your physical capacity. I feel good and in good condition, ready to go. But we have to wait for these tests, because we will have five days to shoot and after them we will have the clearest ideas.
-Are you ready to change your style by coming to a new team?
-I am open to everything. I understand that in a satellite team we have fewer people working around the bike, but you can focus more on Sunday's results. In a factory team you are part of a job to develop the bike, during the season and for the following season. That takes a long time. I can't wait to start working with the team, because this is my idea from the outside, not from the inside, and I think we have to understand the best way to work together, but I am open to everything.
-What memory do you have of Fausto Gresini?
-It is a very sad story that has left us all bad, because Fausto was in good shape at 60 years old and with this death from Covid everyone understands that he can die for this reason, even if he is well. I've known him since I was very young, when he was still a pilot. When Graziano (his father) was a pilot, I knew all the pilots, also Fausto. And then we were strong rivals, because we fought against from 125, then in 250cc in 1999 with Capirossi and also for the MotoGP title in 2003, 2004 and 2005, with Sete, and 2005 and 2006 with Melandri. Fausto was a strong point in the paddock for the Italians. He is similar to our Academy, because he has a Moto3 team and he makes young riders grow through Moto2 and even to MotoGP. In addition, our team is 15 kilometers from yours and we talked a lot. It's very sad not to have Fausto anymore.
-More relaxed by not having to develop the bike?
-I need to understand. It will be different. You can focus more on the weekend and the priority is not so much developing the bike. This is good for the results. We saw in the last few years that there were a lot of good results from the satellite pilots. Sometimes factory pilots have more trouble so this is good for me.
-How much can Crutchlow help Yamaha as a tester?
-I expect important support from Cal, because he is a MotoGP rider, who stopped last year. He's in good shape and has ridden the Honda for many years, so please give Yamaha some advice. I will speak with him after his first contact with the Yamaha.
-Morbidelli will ride the 2019 Yamaha and you will ride the 2020. Will you try both?
-No, because Yamaha decided that 2020 is for me, Maverick and Fabio and that Franco will continue with the 2019 bike. We need to understand if we can improve the bike or if 2019 is still very competitive. Be a bit harder to work on the team with two different bikes, because it can create a bit of confusion, but it's not a big difference and I won't try the old one.
-The Yamaha was not consistent all season and Lorenzo did not develop it. Can Crutchlow do something different to make it evolve?
-I think Cal can make a difference and help Yamaha a lot. I have a very good relationship with him and I am very happy to work with him. It will depend a lot on the motivation. Being a test rider is not easy and you have to find the motivation to push yourself to the limit to understand the bike without racing. It won't be easy for Cal, but I hope he finds the motivation. I know that he is in good shape and that he can make a difference.
-Is Oliveira a strong candidate for the title?
-I think that Oliveira, taking into account the evolution of the last season and being in the factory team, can be a tough contender for the title. I would put your name among the candidates.
Photos from as.com