Rossi debuts colors at age 42 as "a living legend"
Razlan Razali, Petronas SRT's main team, thus defined Valentino in the presentation of his team to announce his arrival at the Malaysian squad box.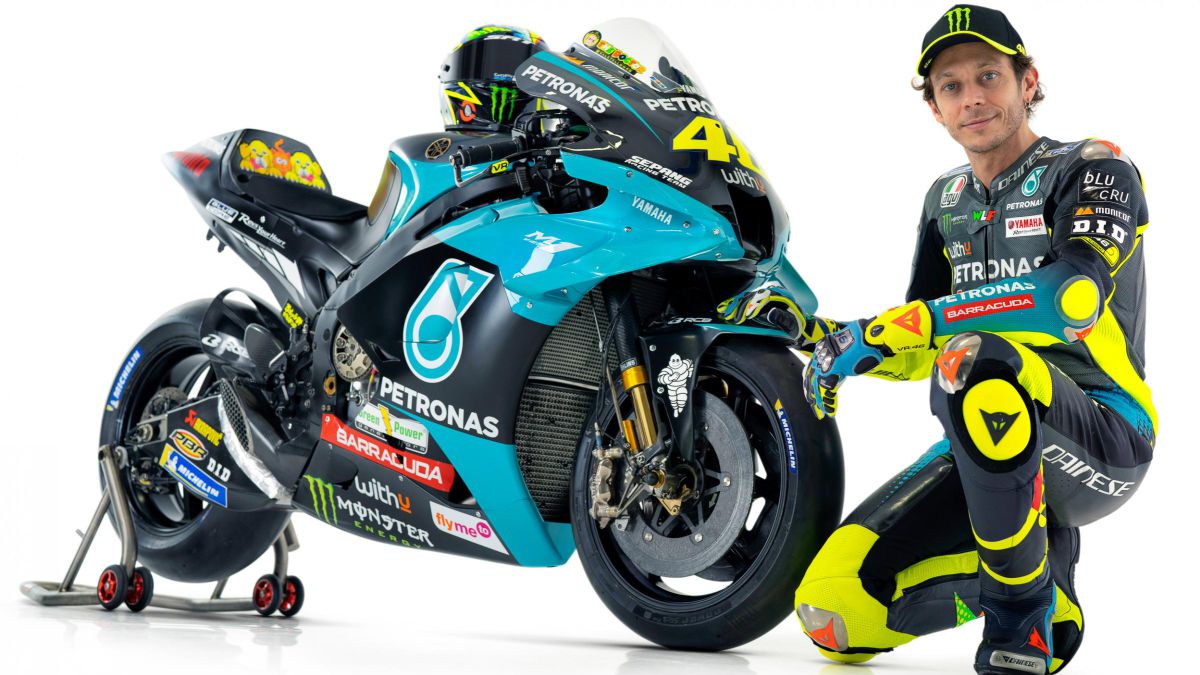 The Petronas Sepang Racing Team (SRT) is presented for the 2021 season with the incorporation into its MotoGP box of a young promise named Valentino Rossi, who at 42 years old will release colors with the illusion of the first time, back in 1996, in Malaysia precisely, the nationality of the satellite team at which time it arrives. He does so in search of his 200th podium in the queen class, his 116th victory and who knows if his 10th world title. Obviously, the young promise is a license or joke, because at this point, and with this record, The Doctor is "a living legend", as Razlan Razali, the main team of the Malaysian team, defined him to announce his arrival at a box that he will share with his friend Franco Morbidelli.
The characteristic fluor yellow of the 46 is once again present on his Yamaha and the truth is that it combines very well with black and matte green, the classic Petronas colors since his arrival in the championship in 2019. In that time they have achieved victories, podiums and poles by Morbidelli, who was runner-up last year, and Fabio Quartararo, who since this season has been a member of the official Yamaha team alongside Maverick Viñales. Rossi does not seem to care much about the step backwards taken, mainly because he knows that he will have official material for his M1, a motorcycle that he considers his, with good reason, because it was he who made it the winner.
Valentino's first appearance before the journalists will be on Wednesday, at 12:00 via Zoom, but he has already left his first words as a Petronas driver in the presentation video of his new team: "2021 is a great challenge for me. I am still at Yamaha, but in a new team and it is a team that has already shown that it is capable of doing great things, so my goal is to do the same with them this year ".
About his new look, he said: "I'm very happy with this new experience. I can't wait for the tests to come and start riding. The colors change and I like them. I like the new design, of the bike, of the helmet. and the monkey ".About the goal he sets, he is clear: "Fight for victories, podiums and a good position in the championship at the end of the year. I am very focused on giving my best."
Y from the team: "I am very proud to be part of the Yamaha Petronas Racing Team. It is a very young team, but in the last two years they have been very competitive and the bike will be the same, my Yamaha M1. It will be fun. And it is It is very interesting to be a couple of riders with Franco, because we get along very well and we train together with all kinds of motorcycles, and now we can also do it together with the MotoGP ".
The Petronas SRT will once again be present in all three categories. In Moto3 he will do it with Jhon McPhee and Darryn Binder. And in Moto2, with Jake Dixon and Xavi Vierge. The Spaniard is very excited: "I want to fight for the top positions in each race and for the championship. I have experience and I know the team perfectly. You have to avoid mistakes like those of last year that lead to injuries. You have to be more stable ".
Photos from as.com