Risk justifies the revolution in the goal of Leganés
He relieved Cuellar in Almería and completed the game with the most Lega saves of the season. Garitano: "It is my authority, I think I should do it."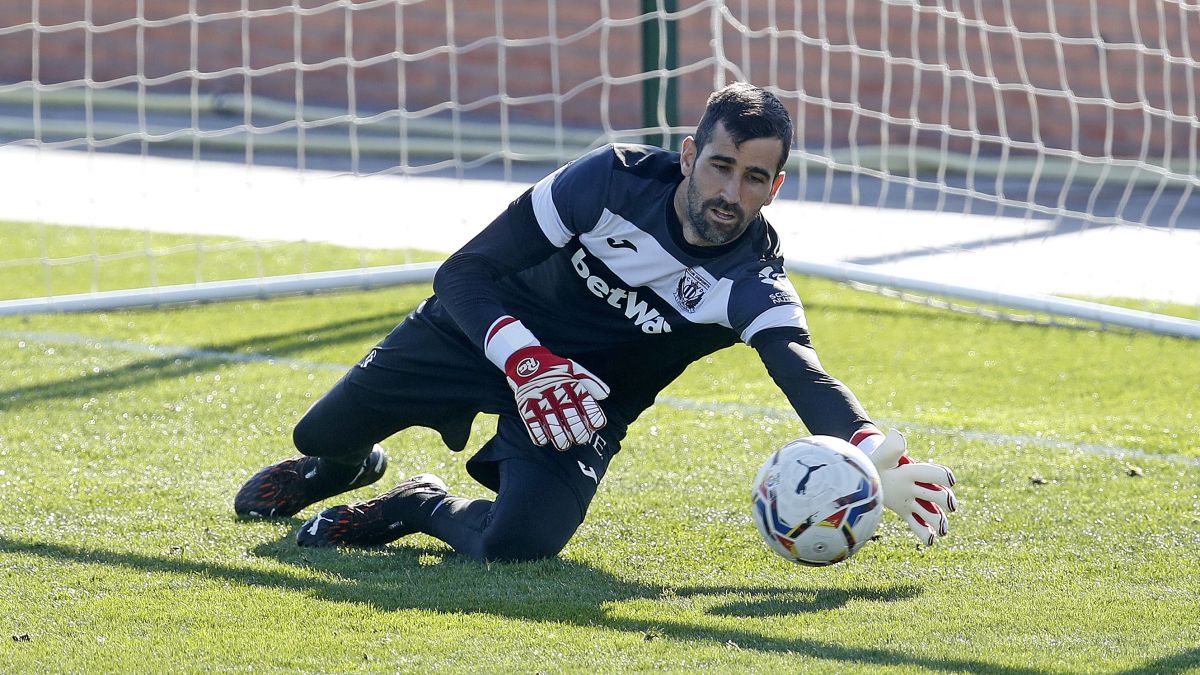 Reading the alignment of Leganés against Almería implied a capital surprise from the first name: Asier Riesgo. The veteran Gipuzkoan goalkeeper (born in Deva 37 years ago) completed a striking relay that turned his presence between clubs into an event. Asier Garitano decided that it was time to seat Iván, Pichu, Cuéllar after his bad performance against Fuenlabrada and the bad signals that the Extremaduran goalkeeper had been throwing. It was not easy.
Cuéllar is something more than the Leganés goalkeeper. First, because he is one of their captains. Second, because he is one of its most experienced members (408 professional matches contemplate him) and a starting goalkeeper without discussion for his coaches since he arrived in Butarque in 2017.
In fact, this Saturday was his first replacement in the League without injury, sanction or achievement of objectives. Only in the last two days of 2017-2018 did he leave his place to Champagne and Serantes after having sealed the permanence in First. Beyond these arguments, Pichu was untouchable.
It also happens that this is a player with deep roots in a locker room in which he is a leader due to his strong-willed, committed and carefree way of being. For his colleagues he is a reference. Values that, however, did not hide their bad moment in form.
A relay "from normality"
Hence this change that Garitano explained by drawing on his philosophy of life. "I understand this from normality and the decision-making that my position requires, I don't know if it requires me, but it gives me that power. I think I should do it. Asier [Risk] has been good as Pichu when it was his turn," he commented on a slow tone that concealed a message of authority. I am the coach. I make the decisions. Point.
Because in the relay the coach of Bergara also launched several messages. The first, that he does not marry anyone, no matter how veteran, reference or star of the team. Second, that he is willing to make relevant decisions at any time, even if it involves a goal relay against a direct rival and in his stadium. And finally, he made it clear that returns are key for him: if you are not at the level, play another.A hero named Riesgo
The fact is that the play turned out perfect because Asier Riesgo, the true protagonist of this whole affair, ended up being the best of the game. Already in minute one he saved Leganés from a Lazo goal in a clear ride from Almería. It was not the only one. So much so that Riesgo accumulated eleven saves, more than those made by Cuéllar or Diego Conde (the other goalkeeper) throughout the season.
None of those interventions as transcendental as the one that took Akieme (70 '), a close-range shot inside the area that was sung as a goal, but that he, Riesgo, sent for a corner.
So superb performance invites us to think that this former Real Sociedad, Eibar, Recreativo, Osasuna or Girona among others will continue in a goal in which, by the way, he had never played in the league. Until now his only testing ground had been the Cup, where he played against Ebro, Socuéllamos and Sevilla. With his tenure in Almería, Leganés has already used all his men in the regularity tournament. Although few with the significance of the ownership of Asier Riesgo by Iván Cuéllar.
Photos from as.com