"In Rayo it was hard, I wanted to go back to town"
Pedro Porro analyzes his great moment for AS. A key piece of the solid leader of the Portuguese league, he has been chosen three months in a row as the best defense in the competition.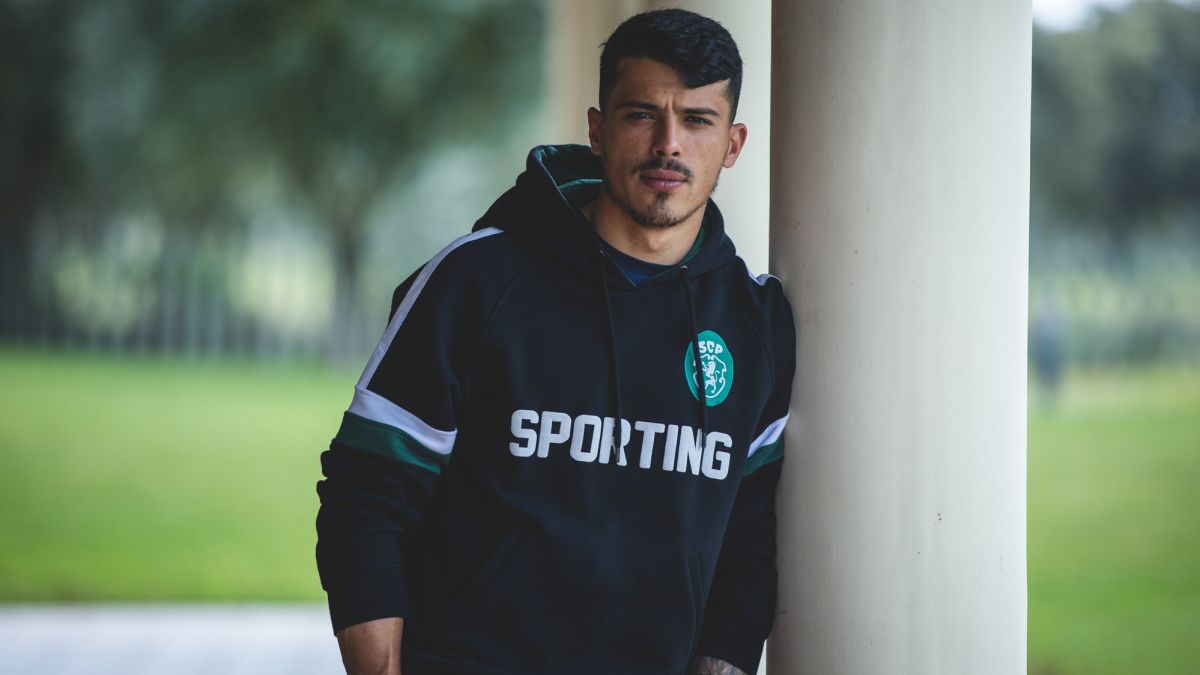 Pedro Porro (9-13-1999, Don Benito) has become one of the pillars of Sporting de Amorim. The Lisbon club is recovering after a period of depression and its fans dream of seeing their team win a league 19 years later. The lethargy of this great Portuguese is already too long, but the Spanish side has his feet on the ground. More than ever. It's what got him here, he insists.
Has been named best defender in the Portuguese league for three consecutive months.
I am very happy, since I arrived, from the first minute, they gave me a lot of confidence here and that can be seen on the field. This recognition is also collective, because without the help of my colleagues it would not be possible. Things are working out for me.
Not bad for someone who started as a forward and was until recently.
Since I was little I have been extreme, with the passage of time, I hardly know how, I have been getting further back. Today the sides are many converted from ends. I am extremely proud that I have been named the best defender of the month three times in a row.
He will have changed so much that even his model as a child in football will no longer be the same.
The truth is that as a child I paid attention to Iniesta a lot, it has nothing to do with what I started to do or what I do now, but I loved it. For me he is the benchmark of football, I saw on the field what no one could see. It was not only that. Also his humility. I come from street football and I felt identified.
At the age of 21 you have packed your bags to go to another country, but it is not something strange for you. Much younger, he left his native Don Benito to enroll in the Rayo quarry, it was a delicate moment.
I have very nice memories, but it is true that so young you are going to live in a sheltered apartment with other children and you do not have the same confidence as with your family. I wanted to go back to town. Day to day was very hard for someone so small. But I understood that if you want something a lot, it will cost you and you have to go through something like that.
Those efforts of his, his parents, his grandparents and uncles, who took him everywhere or even slept in the car to watch him play have been rewarded.
All that has had its reward, they accompanied me wherever I went. That time, in that match against Madrid with the Extremadura National Team, my grandfather, my uncle and my father slept in the car and the next day I was able to dedicate a goal to them. They are precious memories.
After shining in the Rayo quarry, he went to Girona. It is said that there were large interested teams such as Real Madrid or even from outside Spain. Why did you choose Girona?
There were many rumors of large teams. But I chose Girona because I spoke with Albert Syria, his youth football director, and he treated me great. They wanted to make a team to fight for the youth championship with Barcelona, they also had in mind that I would do the preseason with the first team and Eusebio immediately counted on me. I was surprised. That a 17-year-old boy assumed such a great position on that side was to be so. It is to thank Eusebio for the trust that he put in me, because it is not easy. I turned. They gave me confidence and when they give it to me, I don't think about it.
Eusebio was the one who changed his position on the field. End to Side.
That's right, he took me and told me he was going to play there. I did not care, in First as if I wanted to be central or goalkeeper. I took it as a once in a lifetime opportunity and you have to take advantage of it. In training they had to correct me a lot. I was playing extreme in the youth and the field was too small for me. In the Honor Division I made 15 goals. Eusebio put me on the lane, at the beginning it was difficult for me, I was higher than down, but with the passage of training I reconverted well to winger.
His first goal for Girona was against Madrid. The white team has always been good at it.
Yes, it was in the Cup, but in those last 20 minutes he put me higher. Madrid was good for me. We won a game 1-2 at the Bernabéu. With Valladolid, we tied ... 444 444
His evolution at Girona was spectacular. Rumors of teams like Atlético, Valencia appeared, but it was Manchester City who signed him. However, he has not played there. How have you taken it?
That City bought me impressed me, it's a great club. But I take it as that they wanted to see me evolve. What I'm doing at Sporting, which has given me a lot of confidence. I don't take it to mean that City has set me apart, I have to readjust well to professional football and I am doing so.
The assignment in Valladolid did not go quite as he would have liked. What did it taste like?
I started by playing everything. He was coming off a good moment with the national team, after playing against Israel and giving an assist. I started well with full confidence, but a back injury came and I no longer raised my head. I played very little and that confidence disappeared. But I work in silence and what I worked there I think is also serving me now.
Did you self-criticize?
It has to be done. It was a very bad year and it cannot be repeated. Injuries do not come alone. I think I was a little overwhelmed anyway. Soccer stuff. I did self-criticism, I noticed what I did wrong. I focused on what I did not have to focus on, I learned my lesson and to focus on the most immediate objective.
And Sporting appeared. What did Hugo Viana, the sports director, tell you to convince you?
My agent explained the interest to me and I really liked the project. The drawing they handled reminded me of my times at Girona and I didn't think about it. Viana gave me enormous confidence.
Sporting invested little money in the market, but a special chemistry has been created and the team is a firm leader. How did they do it? 444 444
It is the day to day. When you put together such a young team, there is always a good atmosphere, and there is a great bond that is transmitted to the game.
There is much talk in Portugal about the Rubén Amorim effect, the impact he has had as a coach and the future that awaits him. Why is Amorim special?
Because he has things very clear. He has given me enormous confidence.
Even makes him shoot free kicks. That goal against Famalicao went viral.
Not that I have a spectacular shot, but I do like to stay after training. In the U21 team, I stayed with Oyarzabal and Ceballos to rehearse. Little by little, based on training every week ... In the end, that great goal came out, it is proof that training rewards.
This season he has scored three goals, one of which gave Sporting the League Cup.
That move was discussed with Inacio. I told him that that ball could go there because he plays on foot changed. I live football like this, before games I imagine situations like that, and many times they happen.
The numbers speak of his offensive impact on the team. It is the second that shoots the most at goal and the one that sends the most centers. How do you need to improve?
Evidently in the defensive phase. I have a long way to go. I come from being an extreme, but in the last three years I have faced many of the best. Even in one-on-one they have not gone easy on me, because I am fast, but it is true that I have to improve defense. It's what is going to make me a great player. I had in mind when I got here to play with five. The pressure is something different from what, for example, I did in Girona. But tactically I haven't had to adjust much more. I adapt quickly, to playing with five behind or four. In the National Team we play with four. Here we have a lot of the ball and I can play higher, as I am fast I quickly recover the position.
If your season is good, that of Adam, another newcomer, is not less. What does it bring them?
Your experience has served us well. He is a great person and has a very important weight in the dressing room. He has many battles behind him and he knows what this is, it helps us a lot. I see him very happy at Sporting.
Feddal came from Betis and is another of those who is also claiming.
He's doing great football. He is another player with an incredible experience. Like me, he has adapted very well to Portuguese football and very quickly.
Pedro Porro, Angeliño, Jonny, Reguilón, Grimaldo, Morey ... The list of Spanish full-backs outside is wide. Why are they leaving?
They also bet more elsewhere. The truth is that I don't go in there. The same in another football we fit in more. What is clear is that we have quality. We are still more offensive. All of those are players with a long history. They are in big teams. The truth is, I don't pay attention to where I play but to do things well where I am.
At Sporting it has become one of the fans' favorites, not only because of its quality but also because of its intensity.
I have always been like this, with that race. When I enter the field I don't know anyone. Maybe they have seen something different in me. I have that personality, fight to the end.
And that the day of their presentation they complained about arriving in shorts ...
(laughs). He came from the beach, he had no other clothes. They are anecdotes that one day I will tell. If that is the case and the Sporting buys me, I will come much more elegant.
Sporting has not won a title for 19 years, now they are outstanding leaders. Do they look favorites already?
We fight day by day. All that is far away. Working as we do, we will achieve great things. I don't know what, but it will pay off.
How is the pressure of fighting for titles different from trying not to go down?
Not that different. With Girona I had to go down and the pressure is very screwed up. And that I did not play in the last ten games.
Sporting does not fail against the teams above. Two draws against Porto and victories against Benfica and Braga. The penultimate match of the league is against Benfica and there are many sportinguistas who dream of celebrating the title there.
We put the brakes on that. That is far away. We only think about winning the next game.
Why were you angry with Conceiçao's son in the game against Porto?
I already said so on social media. It's a set of the game where your head is hot, I was hot too. It is normal. They are things of a game, they stay there and nothing happens. I already said everything is fine. He on his side and I on mine and that's it.
He has signed a two-year loan at Sporting, but is owned by City. Sporting would like to keep it at the end of this first season. What is your wish?
Play the next game. I look no further. I am a boy who does not like to look to the future, because if it doesn't go well, I look bad. If things come later, then welcome.
But it would be nice, after this year, to listen to the music of the Champions League with Sporting.
(laughs). Sure, it would be beautiful, any player dreams of that. But first I will attend the next game and then we will see what happens this year or next.
During this time have you been in contact with Guardiola or another person from the City?
Yes, they have one person who takes care of all the loan players. He calls me and asks me how I am feeling. They are pending and I also like that, because you know that you have their support. I hope they are happy.
A summer of international competitions is also coming. The last U21 European Championship was lost due to injury, Spain was the champion, but there is also the absolute European Championship. What is your ambition?
I do not want to look further, I already made that mistake before. For doing it two years ago I was injured and I missed the European Championship. For saying that I have this and that. He arrived and I was injured, I have that thorn stuck. Whatever it is, it will be very good. Going with the U21 is great and with the Absolute, a dream come true since childhood. But I don't want to look further, because it already happened to me two years ago and it was not good for me.

Photos from as.com