The Real Madrid captain launched his message and now awaits a response from the club: he sees himself playing for several more years and wants Madrid to see him too.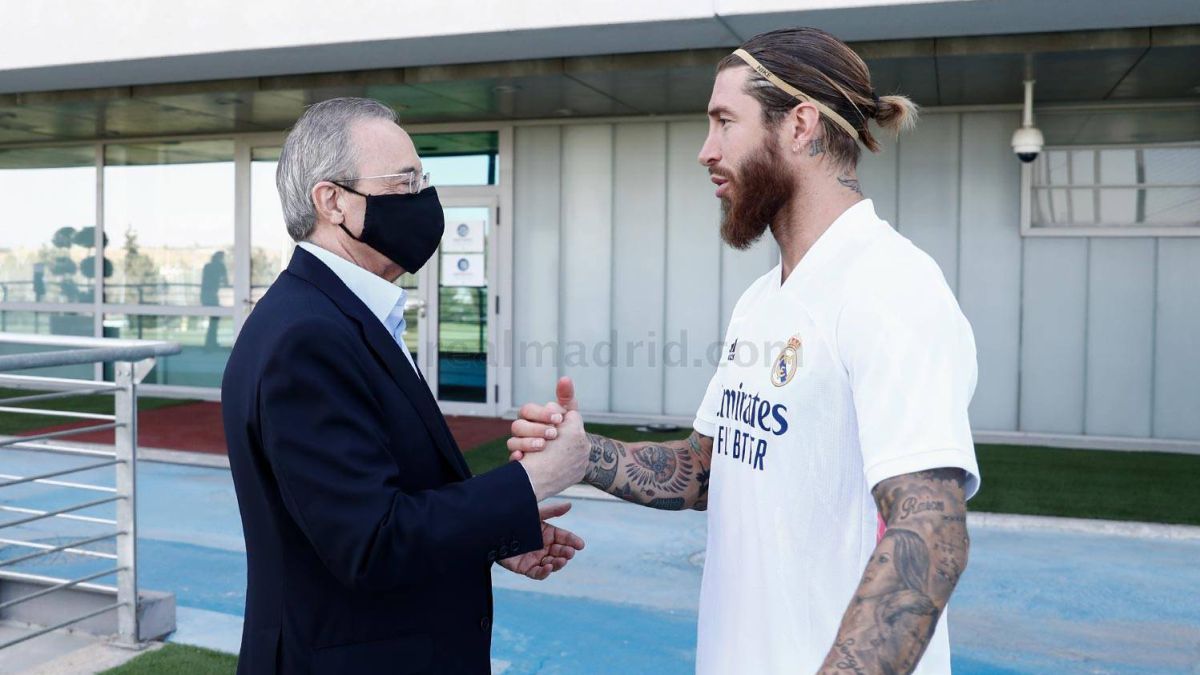 At the gates of Holy Week, Thursday March 11 was Palm Thursday; Sergio Ramos, who spent more than two hours explaining himself publicly, first at a press conference designed to promote the new season of his series for Amazon Prime Video, 'La Leyenda de Sergio Ramos'; and then in an interview with the 'youtuber' Ibai Llanos on his Twitch channel. With his renewal for Real Madrid at a standstill, Ramos showed his face and, although he did not delve too deeply into the matter, he did leave the message he wanted to project.
The organizers of the press conference organized by Amazon did not ask the media questions related to the renovation; in return, in the last shift he was transferred to the one in Beds if he had something to announce about his future, to which Ramos responded negatively, although with nuances that give clues to his thinking: "There is no news, I would like ... When there is, I'll be the first to tell. " Later, with Ibai Llanos, he maintained the speech: "Nobody has more concern that I do not have, but now I cannot say anything, because there is no news" .
That "I would like to" reveals his desire to close the renovation, something that has been delayed for temporary reasons: Ramos is 34 years old, it will be 35 as of March 30, and Real Madrid has a policy of renewing older people 30-year-old season by season, such as Modric (its extension has been agreed, although not signed or made official) .
Ramos does not agree with this view that footballers who are over 30 years old are already in decline; he feels fully, as he explained to Ibai: "Football has evolved for the better on the physical level. There are certain players who already took care of ourselves ten years ago. My 34 is the 28 of ten years ago. If you sow ten years ago years, now you pick up. Now I feel stronger, faster and more experienced. I see myself leaving football earlier for a mental issue than for a physical issue. I think I could reach the 2026 World Cup. "
Before, at Amazon's press conference, he had already launched several messages in this regard: "Santiago Bernabéu said that there are no young or old players; there are good and bad. I can perform three, four or five more years, if the body it supports me and the injuries respect me, I can be at the highest level, I work hard for it and my mentality will always be there "; "I always keep the hunger to win again. I do that year after year, I hope it lasts a long time"; "Winning a Classic has a special flavor. I hope I can continue enjoying it, it's magical"; "Soccer should always have the best, regardless of age"; "Hopefully I can continue to show my level for many more years, play more Classics" .The years of the contract and the money
Messages with a clear recipient: Florentino Pérez, whom Ramos pressures to reach an agreement. Real Madrid sources have leaked that the white offer is for two seasons, but Sergio Ramos's environment denies that news and admits only that what has been put on the table for now is to renew year after year. Money also has weight: Florentino wants Ramos to lower his salary by 10% to compensate for the losses caused by the coronavirus, as the rest of the workforce is being asked.
But the fundamental question is the duration of the contract and there Ramos has spoken clearly: he believes he has the rope to perform in the elite for at least another three seasons, and some more even if physical problems do not prevail with him. After months of silence (he had not responded to the media since the beginning of September 2020), the Sevillian has already put his cards on the table and now it is Madrid's turn to make a move. The news will also have an influence: Ramos returns after his knee operation and if he manages to be important in the attempt for Madrid to fight for the League and the Champions League, his shares will rise ... 444 444

Photos from as.com