Raiola: "With Guardiola I closed the book a long time ago"
Jonathan Barnett and Mino Raiola have given an interview to 'The Athletic' in which they discuss many current affairs: Pogba, Bale, Ibrahimovic, FIFA ...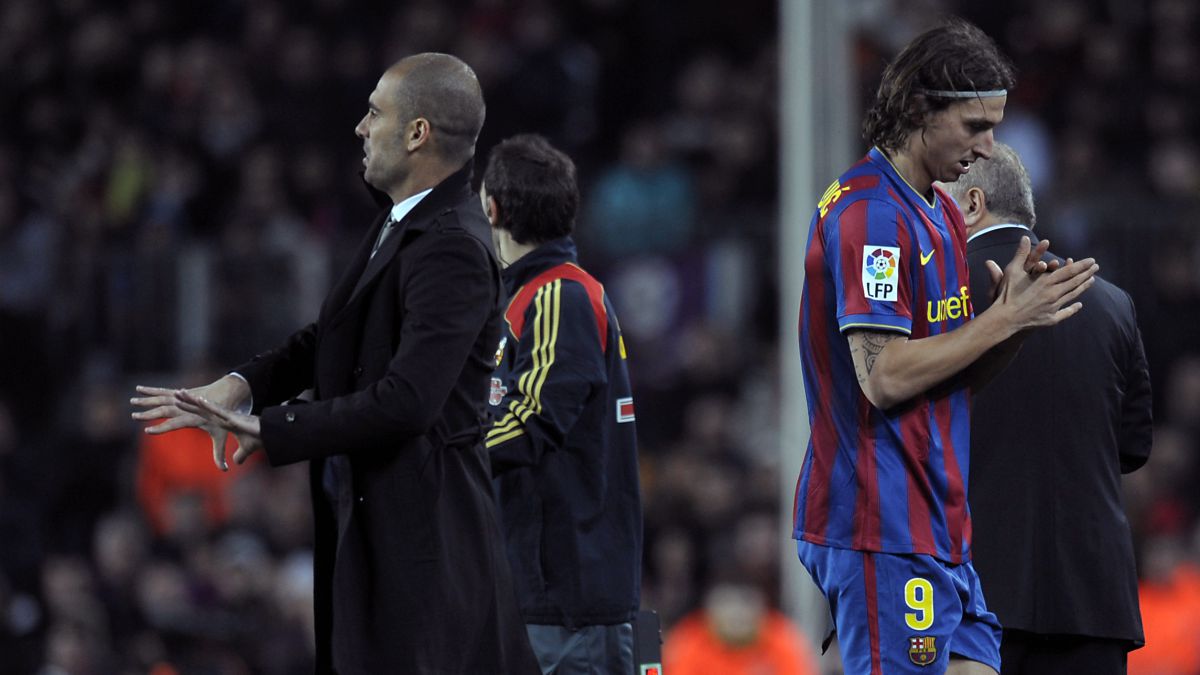 When the summer approaches and, therefore, the opening of the transfer window, the names of the players' agents gain almost as much prominence as those of their represented. And in that kind of setting, Mino Raiola and Jonathan Barnett are part of the main cast. "If we put together the best eleven of each agency, the one that would win is the public (...). It would be an event that would attract more people than the boxing world championships," says the Italian as an appetizer of the joint interview they have given to The Athletic. Bale, Grealish, Camavinga, Konaté, Mount or Sergiño Dest on the one hand, representing ICM / Stellar. Ibrahimovic, Haaland, Pogba, De Ligt, Donnarumma or Gravenberch on the other, under the wing of Mino.
Of course, the previous sentence was accompanied by a dart with a clear objective. "But we cannot do it under the FIFA banner, it would not be a FIFA event. If not, we would have to pay so many fees that we could not afford the event anymore," he adds. And it is that, in addition to talking about the work of a superagent, this meeting has a common thread, the fight of both protagonists against FIFA. Why?
It must be remembered that in the past they tried to implement new legislation that would limit the existing commissions in football. "FIFA does not understand that we are not children, we do not run small businesses," says Barnett. "The difference between Jonathan and me is that I think that FIFA should not exist (...). When there are scandals every year, it is not a coincidence, it is a pattern," adds Raiola. The reference is clear, the sanction to Sepp Blatter. "I cannot accept that an organization that has people in jail tries to regulate my life and my business," continues the Italian, much more blunt than Barnett. Although he receives support from him: "They talk about corruption and money laundering, but they do not even provide a couple of examples (...) The mountain of gold is slowly collapsing." However, as we said, after an introduction with FIFA as the main protagonist, they enter another subject ...
"I'm not here to be loved and liked by everyone. I'm here to be loved by my family and my players like me, I don't give a shit about the rest," says Raiola. "I do not think we are seen as criminals, people know that we are part of the industry," he completes. At the same time that he recognizes that the chapter with Guardiola, with whom he had his pluses and minuses in Ibrahimovic's stage at Barcelona, is part of the past: "My book with Guardiola is closed (...) Everyone knows what we think about each other (...) But he's a great coach. " As for the Swede, his star product over the years, he adds the following with a smile: "He must play three or four years for him. And then another eight where all the money goes to me. Therefore, at least up to 50 ".
Barnett shares a background, because at all times he defends that his only interest is his players and uses the example of Shaw, reviled by Mourinho in his day: "We had to rebuild his confidence, we were there with him. We didn't tell him, 'You have to leave United, you have to go because we have to make money. 'We didn't force him. He wanted to stay and that's what we did. And today he's a great player. "
Returning to the criminalization of the agent, Raiola says the following: "In England, because some former players get nervous when I talk about Pogba and United, they look at me as a criminal." His famous statements, in which he placed the midfielder outside Old Trafford, placed him in the eye of the hurricane of analysts and directed that particular pulse against them. The Frenchman, how could it be otherwise, re-enters the scene. "When Ferguson left, the owner of United told me that I was right (...) Ferguson did not believe in Pogba," he argues as a reason for having removed him from the club at zero cost in the direction of Turin. A round trip, as it returned converted into the most transfer in history. Although there the puzzle did not fit at first as expected, but he is congratulated that now Solskjaer and the club trust the world champion.
"I have had occasions where I achieved a record transfer and, after two months, the coach did not speak with the player. Not even the president of the club knew what was happening. What the hell? Sometimes it happens and you have to work with it", Explain. He does not give names, but the description fits in the return of Pogba to Manchester and his tension with José Mourinho. Although he is clear that the merit is to move players when they do not have a poster, so he does not get medals in cases like Paul's: "My five-year-old nephew could find him equipment" .
Barnett, for his part, defends the work of the agents as guarantors of the future of his footballers with another practical example: "In 1966, when England won the World Cup, eight or nine players had to sell their medal ... Now I assure you that neither would have to. " He also hopes that his agency will be one of the great agitators of the summer: "It will be tougher (due to the pandemic). But I hope to do three or four operations that will break many records. I hope they are carried out (...) We have probably the best young player in the world, Camavinga. We have Grealish, Konaté (very close to Liverpool) ... ".
And, of course, Gareth Bale, once torn between Tottenham and United when he was a promising youngster at Southampton. Old Trafford was more attractive, but Bale ended up at Spurs: "We turned down offers for a lot of money because at that time it was not important. It's his career and the sense of opportunity matters. And that's what we do with all players. the money will come. " And it came in the form of a titanic transfer to Madrid years later ... 444 444

Photos from as.com