Puig: "Honda would do anything for Marc Márquez"
"In addition to his ability to ride a motorcycle, he is also intelligent. He wants to have a team like a family," says the Catalan about the eighth champion.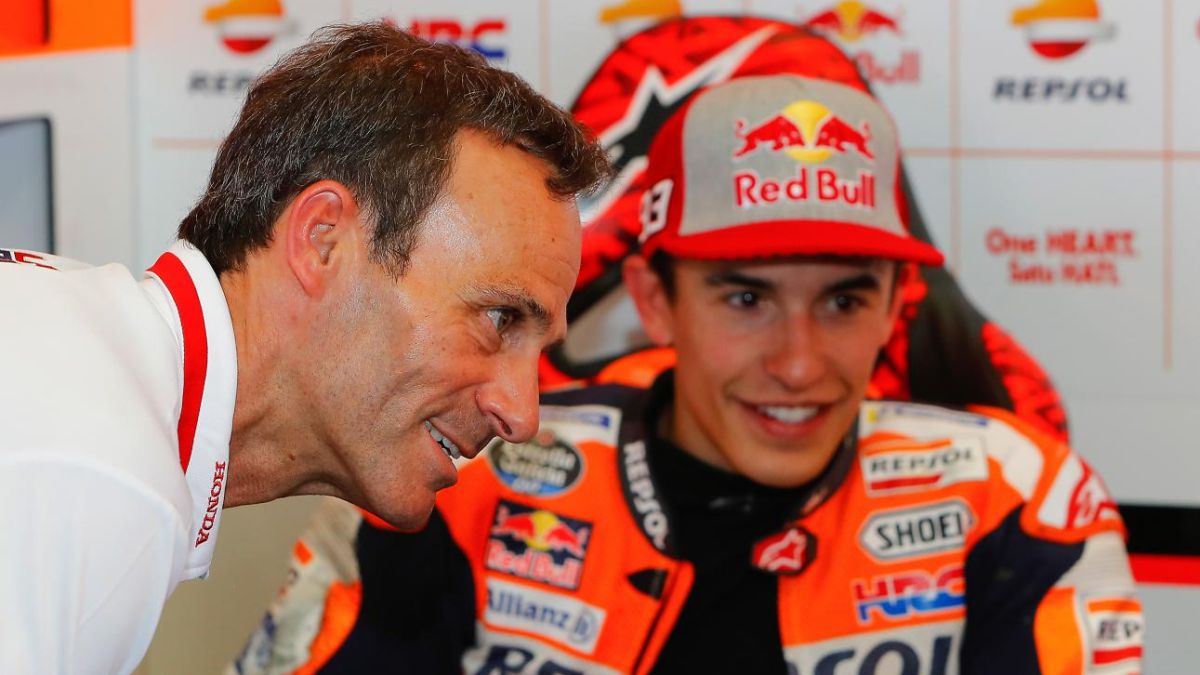 July 8, 1995 is a date that Alberto Puig can never forget. The then rider of the Fortuna Honda Pons team left by ears in the middle of qualifying session of the French GP 1995 after putting sixth gear, instead of fifth gear, in the Dunlop corner of the legendary Le Mans track and losing control of the front of your Honda NSR.
A very hard blow, first against the asphalt and later against a guardrail, at 260 kilometers per hour that caused a fracture of the tibia and fibula. A very serious injury, which two years later and countless trips between Spain and the United States later ended his sporting career in the MotoGP World Championship, which Puig recalled in an interview in 'Motorsport Magazine'.
The doctors put a tibia from a cow to save the leg
"Everything in the leg was destroyed, the nerves were cut, the ankle and all the toes are fused. I lost all the muscle and then the tibia got infected ", affirms the first Spaniard able to win in Jerez de la Frontera in the queen class before confessing that the extent of the bone disease was of such magnitude that they had to remove this bone and put a cow one:" They had to remove the It was lukewarm and I was grafted from a cow. My leg is from a cow, it's crazy! They operated on me twice and finally I understood that I could no longer be competitive because my leg only worked like a stick. "
The one from Barcelona assures that once he retired from the competition he had to change his character to be able to instill in the young talents that he formed a fighting mentality: "I had to completely change my character. Those boys did not know anything, so instead of saving everything what I knew to me, I gave it to them. Doing that gives you a chance to forget about yourself and still you get a great reward when you see these guys win. I was going to train with them, because for the kids to respect you They must say 'fuck this guy is old and he's injured, but he's trying so hard', this is what I always tried to give them. They must have the mentality of a guy who goes to work at six in the morning in a factory. Being a rider sometimes you have to be an idiot. You just have to race the bike and if you think too much you delay all the processes, the lap time never comes. Of course I was frustrated, but my natural character doesn't allow me to show what I'm sorry ".
Marc Márquez is very familiar with his team at the Repsol Honda
Finally, Alberto Puig admits how easy it is to work with Marc Márquez, since in addition to being very fast on the asphalt, he always tries to create a family atmosphere in the Repsol Honda garage : "I decided to keep going, but always thinking that I should try to continue in the racing environment. I accepted the job of Repsol Honda team manager because I understood that I could do it. I know this world and I have a great network of contacts because I have been here all my life. My focus has always been to be serious, talk to people, and as a team manager, try to be selfish with your team. Whatever is good for the team, I try to achieve it. I think this is a principle that you should To have. With Marc Márquez everything is from another planet. Obviously, from a competition point of view, he's an animal. When he puts on his helmet and goes out on the track you know something is going to happen, something special. You know when you talk to him. no he's playing, but he's very, very easy to work with, because he's never become a superstar. In addition to his ability to ride a motorcycle, he is also intelligent. This is important. You want to have a team like a family and you know how to create an atmosphere in your team. Ask any of his team and they would do anything for him. "

Photos from as.com