Porzingis assumes command after Spurs squeeze Doncic
The good defense on Luka Doncic was not, however, on Kristaps Porzingis. The Latvian was the key that Dallas looked for to win this game.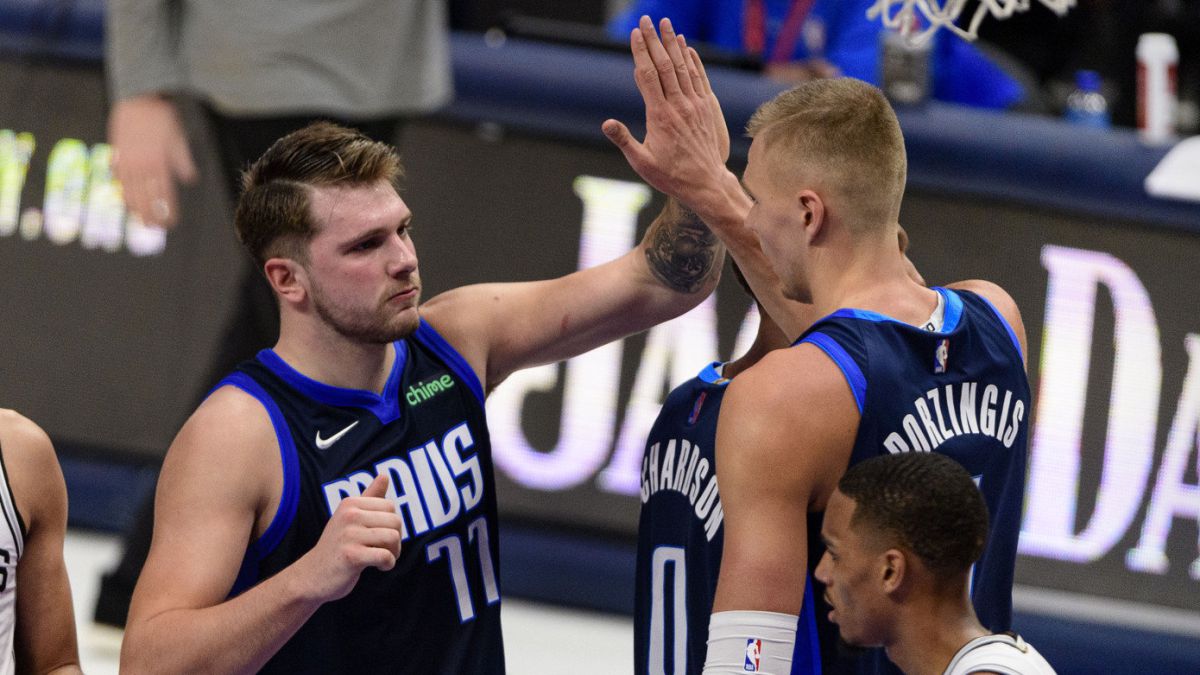 The Spurs could not beat the Mavericks in the Texas game with which the NBA returned to action after the short midseason hiatus. The visitors in Dallas were getting smaller in the second half and were overwhelmed by a rival who found solutions to get ahead. Fourth victory in a row for Carlisle's, who are already close to the top of the division and make the cross to an opponent they are very close to.
The sterile triple-double of Luka Doncic (22 + 12 + 12) after returning from the All-Star, where he went with the second gear engaged as a Ferrari, has several readings. One is clear: that is not why you are going to win, even if you approach the historical top-10 in the field or no matter how bulky your number of rebounds is. It can be inflated. In his case, in the third quarter nothing was decided when he got it. It was a not good game for the Slovenian, on which they worked conscientiously to disarm his entire team. Popovich put Dejounte Murray, who did not need to have a good game in attack to be important for his team, on the Slovenian. Less than 50% shooting for him in his stat. Murray would have left him at 1/9 on 3-pointers, a facet he's still not making enough progress in, if it weren't for superlative players like Doncic looking for space when it seems like they're already drowning. A lavish dribble to step back, throw a triple and score it was what sentenced this contest and the Mavs did it with 1:41 left.
The veteran San Antonio coach stressed that the night was twisted in the area, losing the battle there, and for this Kristaps Porzingis had a good fault. The Latvian was Doncic's best crutch and even the one who pulled the car at the worst moment. He went from low to high, making shots and dominating when he did not see LaMarcus Aldridge in front and finished as the best player of the night. He's really starting to play well, and only then will these Mavericks have the option of throwing up knockouts in the playoffs if they get to them when May rolls around.
The first minutes were a beautiful exchange of baskets, with rhythm and good passing. It was practically two scoring errors on Patty Mills, who hit two triples, that made the difference at the end of the opening quarter. Porzingis was being punished on the one hand and Cauley-Stein being sought out on the other, but without both tendencies being particularly important. The battle in the zone would end up being, but in the second half.
Lonnie Walker made the beat go up. The two coaches, the best in the NBA, remained with a short rotation until the end and before the break it was tried that the physical factor was also something remarkable, with the Spurs wanting to run to reach a more comfortable distance, but there they held up well. Dallas
The almost immaculate game of DeMar DeRozan would end up joining Porzingis, the man on whom the Mavericks leaned to get a victory that he knows very well. The difference in physique and quality with those who defended the Baltic center was worth it, drying the production of San Antonio close to the hoops, so that even the locals could finish one night calm to get the second half of the season on track with everything open.

Photos from as.com