Portugal questions Cristiano
The Juventus forward worsens the percentage of Bruno Fernandes and Rúben Neves with three goals in more than 70 free kicks.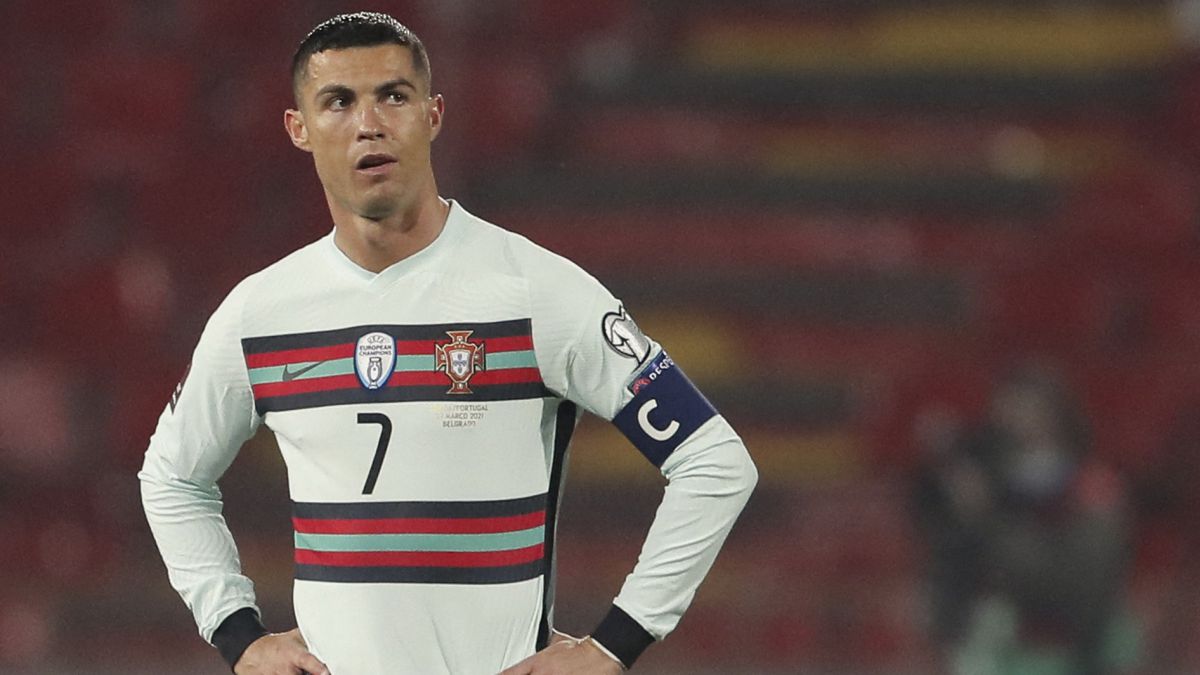 The Portuguese media begin to question Cristiano's foul performance. The newspaper Público wonders if Cristiano should take free throws for the national team? Giving as an answer that the numbers suggest that they are not, it also questions why a player with a low scoring rate has the honor of being the main free-throw shooter?
The '7' of Juventus and the Portuguese team is the master of fouls. His releases are far from the danger they created in another era. Cristiano has scored three free-kick goals in the more than 70 shots he has made since the 2018/19 season. A bad figure when compared to the eight goals scored by Bruno Fernandes or the five by Sérgio Oliveira, the last with Porto to eliminate Juventus in the Champions League.
The effectiveness of the Portuguese star since that season is a 1.51% correct with a goal in 66 shots with Vecchia Signora, according to Transfermarkt and FBREF. His only direct free kick goal for Juve in Serie A came against Torino in July 2020 after more than 40 attempts. The two goals with Portugal make him improve the figure. Numbers that, in efficiency and according to OPTA, Rúben Neves beat with 10.5%, two goals in 19 shots, Bruno Fernandes with 9.6%, five goals in 56 shots without adding the attempts in Copa and Sérgio Oliveira with a 11.8% efficiency, two goals in 17 shots, without being present in the five major leagues and having scored three more goals between Porto in the Champions League and PAOK in the Greek league.
In Italy, Tuttosport wonders about Cristiano's downturn in fouls. Carlo Pinsoglio, Juve's third goalkeeper, assured the Italian newspaper: "Cristiano always shoots free throws in training sessions and always scores. I don't know why he doesn't score in games, perhaps due to bad luck."
The arrival of the former Real Madrid player in Turin has changed the hierarchy in Vecchia Signora, going from being the manager Pjanic to Cristiano, as Dybala told La Gazzetta dello Sport: "Pjanic and I had a pact: on the left he hit, I hit on the right. I wrote to Pjanic and said 'I'm sorry, but I don't think you're going to take free throws this season.' "
When the Madeira player dressed as a bianconero, he became the first free-kick taker. Cristiano's numbers are below the study carried out by Soccerment in 2019 and in which it is indicated that a direct free kick has a 6% chance of being a goal approaching one for every 17 shots. The specialized portal has analyzed the specialists in this discipline who, at least, have thrown ten fouls and have scored three goals. Thus, Cristiano is far from the top positions. Between 2014 and 2019 their percentage was less than 5%, while Messi is close to 10% effectiveness and close to 20% are James Rodríguez, Maddison, Di Maria, Aspas, Mata, Griezmann, Coutinho, Pjanic and Dybala.
Photos from as.com