Pol: "I would have signed to be seven tenths on the second day"
"If the fall has to come to seek the limit, then let it come, but it shouldn't come too soon since that takes away a confidence that later costs a lot to recover," he says.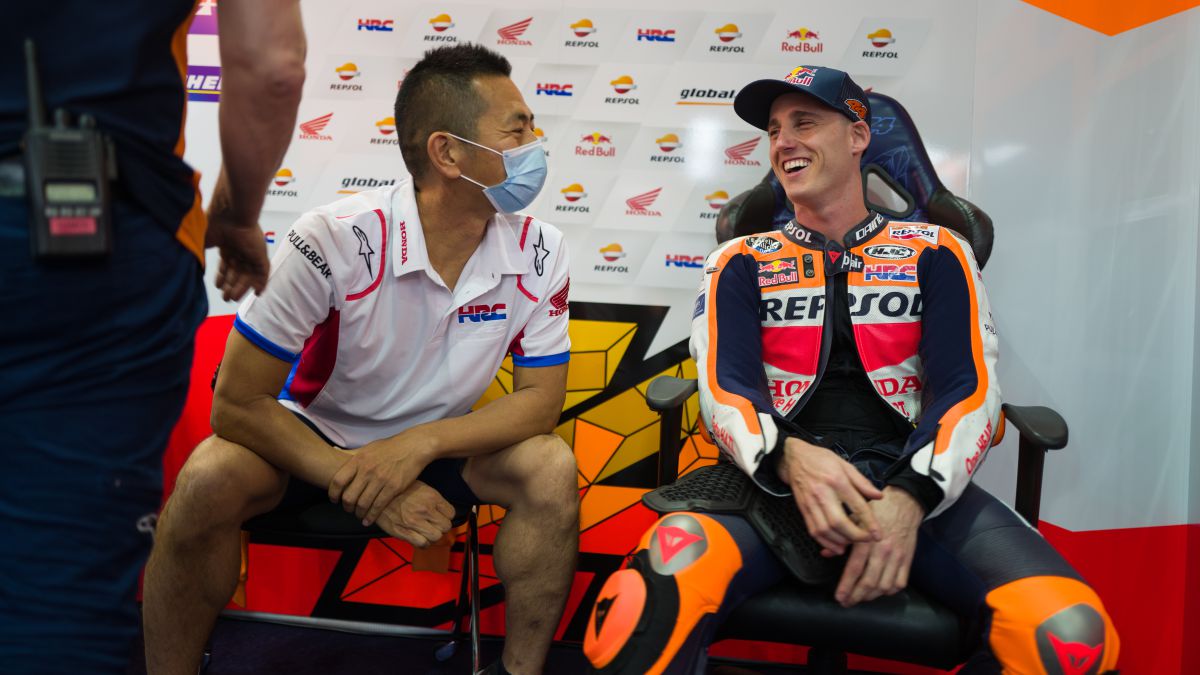 Pol Espargaró looks happy. The brand new signing of Repsol Honda has taken a step forward on the back of the RC213V and was seven tenths behind the lead on the second day of testing in Qatar, which is a half-second improvement over the previous day. Also, so far he has not kissed the ground with the Honda ...
-Has improved the times. Yesterday it was the fourth Honda and today it only has Bradl ahead. With three more days to go, do you think it will be enough to get to the first race well?
-With the issue of the fastest lap and being first, second or fourth Honda in test, it is not very important because that practically does not matter. There are riders who put a tire on the end. There are riders who, when the tire falls, also lose confidence to do a fast lap and that doesn't mean they can't do it. The general classification, in one lap, does not matter much to me. We have also seen that the improvement is 1.2 seconds and yesterday's improvement is not 1.2 because we have cut much more than what the first ones have done and that is why we have much more to improve. Well, also, it is that Stefan is rolling fast and is giving us very important information for all of us and is putting the objective in a pretty good limit, because it is among the first five if I am not mistaken and that is a pass to be able to compare the data. If we had another day tomorrow, we would improve in the same way that we have done and little by little we are adapting since being seven tenths on the second day with practically 115 laps of the circuit would have signed it, without any doubt. And the pace is even better than that of the fastest lap since to do a fast lap you need to know very well all the limits of the bike and that is what I still lack. That is why I am happy and positive.
-How can it benefit having five days of testing in Qatar for the first two races and then how can it harm the long one by having only run in Qatar?
-Training in Qatar and being the first training session works like a joke for me, because at Honda they already warned me that this is not the best circuit for the factory. Especially in the tests, which always take a little harder for them to get up to speed, although later in the end the Hondas are obviously at the top. They told me it cost a little bit and the same thing happens to me driving. It costs me more on this circuit than, for example, in Jerez, because of the laps I have done. It's a circuit that doesn't suit me because of the long corners with fast cornering, so for both Honda and me riding here and doing a lot of laps is important. And the most important thing is to improve at the points where you have the most problems and this is one of them. Even so, the progression is very good and I am not stagnating, I do not feel limited at the moment. I have not had falls for now and therefore the margin is still high and we will continue to push until the falls arrive, because they are going to arrive.
-Have you spoken to Marc?
-I have not spoken with Marc. Since the presentation I have not spoken with him, but I suppose he will be following all this and talking with the engineers.
-How is working with Alberto Puig?
-I like working with Alberto. It is direct, it is clear, there are no doubts and apart that is what I think we all need with so few days of testing, that things are clear and direct. That is what I took with me from KTM, that things were said very directly and sometimes with a bad host, but that in many moments, when there are nerves or when things have to be fast, that helps.
-What has improved compared to the first day?
-Today I have improved a lot, much more than the others in comparison and that is very important since the time is starting to be a decent time. Seven tenths behind the first in a lap without practically knowing the bike, only in two days it is very positive and in pace I think we are not far from the first, and that is also positive. Little by little we go through without making mistakes or falls and that is something very positive so as not to take a step back from the work done and we are all very happy.
-Have you touched the fall?
-No. Well I have to say that to be honest that's good, I have not had any 'lock' or the address has been closed at any time, without any moment of danger. I do not know if it is good or bad and if it will come suddenly and I will realize it, but the fact is that it seems that we still have margin and also looking at Bradl I think there is room for improvement since he is three or four tenths of second ahead, which is not much these days, but it has to be done.
-Is there a possibility of finding the limit without falling?
-Yes. It is true that other motorcycles like the one that Fabio carries, when you look for the limit you do not find it in a fall but when you go long or the direction closes a bit, but it is very salvageable and then it is more difficult, and I say it from experience , because there I did not fall too much and even when I was very to the limit I always noticed that there was a certain margin. Here it is very different, at least what I have seen from outside and also in the team I was in before coming here. This type of motorcycle is a motorcycle that has to go always, in all the laps, if not at the limit, it will touch the limit so that the time runs out and that means that when you are tired or when you go a little long, it is undoubted that the fall arrives or at least the direction closes. We see that Marc has that gift or know-how that can save a lot from falls and that is something we have to learn, but without a hard time it was very important to me that if the fall has to reach the limit, then let it come, but what? do not arrive too soon as that takes away a confidence that you later have a hard time recovering. At the moment the sensations are very good, I am riding fast and even so the fall has not arrived and seeing Bradl means that there is still a lot of room for improvement and that is what I will look for in the next three days, because there I will have to search much more for the limit.
Photos from as.com