Pol: "The Honda is complicated, but what motorcycle is not"
Regarding his 17th place to start: "I demand the maximum of myself and I hope to finish the test at the level of the rest of the Honda".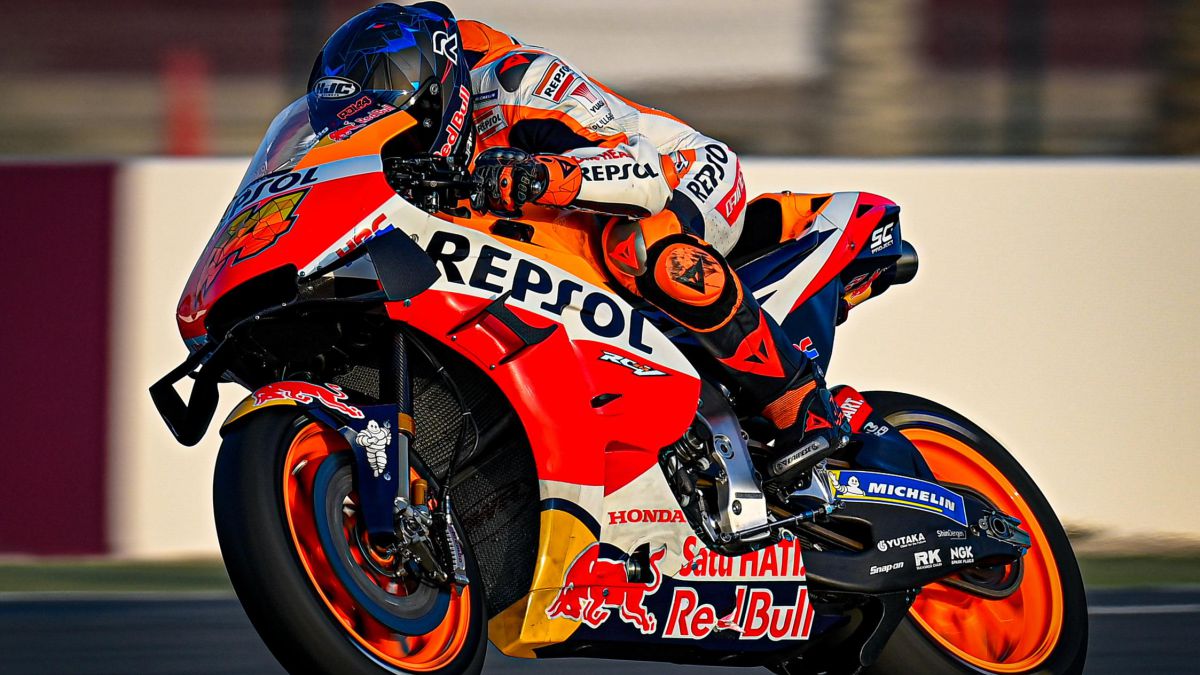 First day at the office for Pol Espargaró with his new colors, those of the Repsol Honda team, and that is a dream come true for him. He started it by placing 17th in the times table on the first day of testing in Qatar, 1,191 behind the best time precisely set by his brother Aleix and nine tenths behind the best Honda, which was that of his boxing partner, Bradl. He knows that he will go more and he is seen to be happy with the work carried out.
-General balance of this first day and say if being one second away was what you expected.
-We were the first to practically go out on the track and I have done more laps than anyone. We have run out of tires because we have limited tires, but I wanted to go out soon in case we had to make a change or we had a fault to be able to complete all the possible laps with the tires, and we have done so. I think I have gone to my limit today, but of course without knowing much about the bike it is difficult to get the most out of it, for example, Stefan or Alex or Taka, so tomorrow will be a better day for me. I am still in the process of learning about the entire front end of the bike. I want to learn more and I think finishing one second behind the first and less than one second behind the best Honda is not bad at all on the first day. Still, I demand the maximum of myself and I hope to finish the test at the level of the rest of the Honda and that is why I said that I want to work to the maximum. I have a huge paperwork with all the information that I have to improve for tomorrow and the head will be working tonight to be ready for tomorrow.
-Does it bite you that the first was your brother with the Aprilia?
-No, nothing happens, as long as he is behind in the grand prize, he may win all the tests he wants.
-Has your first day been better or worse than imagined?
-Well, for now I'm getting used to the idea. Nor have I had too much time dressed as Repsol Honda on circuits, so I am still learning how everything works and honestly, and I am not deceiving you with that, I had not made my expectations because seeing Marc who wins and other riders that it has cost them more. Freshman year, it was impossible to think that he was going to be at the top or the bottom. I preferred to arrive here a bit neutral, without any expectations created to see what would happen and the first day I think it has been very positive but I still have a lot to improve, without a doubt, but especially with the front end and with the new tire. I practically did the same fast time with 18 laps on the tires and I know that I lack that confidence that I do not have, those laps of confidence that I lack compared to others and I think that tomorrow, after today's test, it will be a better day in sensations compared to today.
-Is the Honda really that difficult compared to the KTM?
-It is a complicated motorcycle, without a doubt, but what motorcycle is not complicated in MotoGP? They are prototypes to which you have to adapt as quickly as possible and counting on the fact that the others are young riders with a lot of talent, so all motorcycles are complicated. I believe that nowadays that a motorcycle is more complicated than another depends on the riding style of the rider who is riding it, since for me a motorcycle that requires much more cornering than a Honda is perhaps more complicated. Today the riding styles are very marked and the styles or the DNA of the motorcycles are also very marked, so if you fit the bike that you have, it is less complicated for you or you see it less complicated than other riders who do not fit.
-What did you think the minute before leaving?
-When the door was closed and it was opening, everything comes together, the doubts with the desire, with having been standing for so long ... It is a very great cocktail of emotions that in the end when you release the clutch it passes you everything and you are focused and today, also, I had a lot of work to learn all the buttons, how the bike worked, rolling that fast. Hopefully tomorrow will be a calmer day and I can focus a little more on riding and getting that time that has not gone out today.
-How different does this engine work?
-When I said about the front end I did not mean that it is complicated or delicate, but that I have to learn it. It is a new front end of a motorcycle and the most complicated thing for all motorcycles, not only for the Honda, in general, is when you have to brake and with what power you have to use the brakes and what the motorcycle can hold in As for the pressure to know how fast the bike is capable of going around the corner, the changes in direction ... I say that the front end is more complicated because it is where you have more problems when pressing and more risks to fall. It is easier when you open the throttle, it is simpler and the front end only notice the limits when the steering is closed and that requires a little more time unless you are a kamikaze and you go to look for the limit on the first day, which is not It is what we wanted. This engine works very differently. I cannot make a comparison with the KTM because the engines are very different, they deliver power in a very different way both at low and high revs and it is very difficult to compare the power, because they give it differently. Knowing if you go faster or not at these speeds, going to 310 or 290 is hyper complicated. We do not carry a meter on the speed bike. It is very difficult and I cannot do it.
-And at low revs does the engine work?
-Just today we have been working on it, to have a better feeling when I touch the gas. Without a doubt, the bike that I come from has a different power delivery, it does not mean that it is better or worse, it is just different and together with the Honda power delivery I am trying to find a compromise that makes me feel comfortable. All of this is still too early. We have made very small changes to make me feel more comfortable but we have really tried not to change a lot of things, not to implement anything on the bike to help me hold on. Everything has been very free, to get to know the bike one hundred percent, which was what I needed the most today.
Photos from as.com