"The only thing that comes close to Kobe in LA is the Virgin Mary"
Patrick Green talks to AS about his documentary, which reviews Kobe's legacy through the murals that filled the streets after his passing.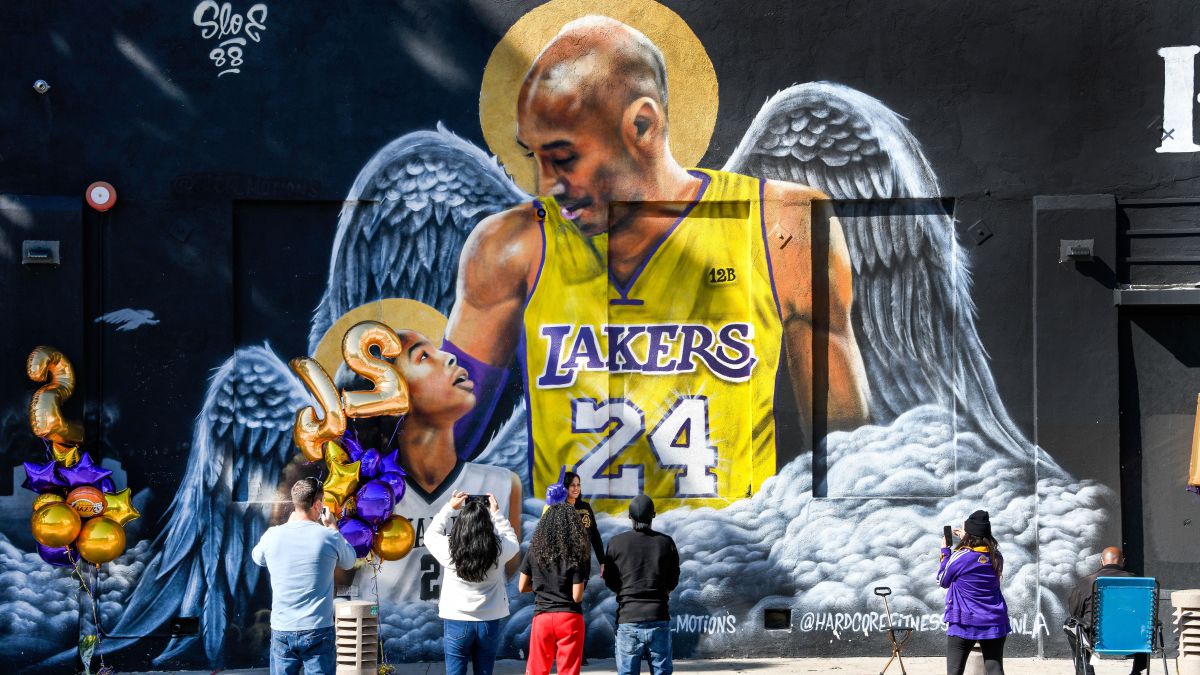 "If Superman dies, who are we left to admire?" The question is asked by filmmaker Patrick Green in a moment of Sincerely Los Angeles, his particular letter to Kobe Bryant; a kind of tribute, a guide on how to make the pain of grief productive and, why not, a time capsule that will inevitably end up containing the bitterness and fright with which we live in 2020 and the ways that we have found to, simply, go ahead. 2020, the year of the great pandemic of our time and the year of the death of Kobe Bryant, his daughter Gianna (aged 13) and seven other people. It was a January 26 helicopter accident in Calabasas (California) .
Sincerely Los Angeles is Kobe without Kobe, life after the benchmark in a city, Los Angeles, which at its true core is very different from what the neon dreams of Hollywood have turned into an endless entertainment industry. Los Angeles is a tough and authentic land, the city of the Lakers and finally that of Kobe, who was born in Philadelphia and raised in Italy but became immortal in California. This is not a documentary about Kobe Bryant but about what and who Kobe was to us. In this case, for the people of Los Angeles, finally its people. And, it is the common thread, about the spontaneous appearance of murals throughout LA, a silent clamor of homage, a way to remember and move forward halfway between mourning and tribute. Why the mural format, why in those neighborhoods so far from Hollywood, why in streets where people want to see Kobe as soon as they get up or just before going to bed.
These are the answers that Patrick Green is looking for, first sports journalist and now documentary filmmaker who has already worked with street art (For Your Consideration, which revolves around the subversive statue of Harvey Weinstein that ended up viralizing his bitter social criticism) and sports (Bundini, a review of the complex life of Ali's trainer, Drew Brown). In Sincerely Los Angeles, both realities, sports and street art, come together in a space occupied by Katen Jensen, Rev Carl, Slot One, Gabe Gault, Vela, Downtown Daniel, Melary Meza-Dierks ... all those who turned LA into a great canvas on which to paint Kobe and Gianna. First calling out to him, then as a tear of pure pain and finally in a slow process of collective healing. Catharsis.
Dear Basketball (dear basketball) was the love poem with which Kobe retired from professional basketball, an epistle that came to life to win the 2018 Oscar for best animated short. Sincerely LA (sincerely, Los Angeles) is the answer that basketball sends through Patrick Green and the voice of those who have regrouped around that game and the figure of Kobe. A handful of good memories at an extremely difficult time. The warm certainty that, finally, there are others like you out there. Also in 2020 and in, surely, the worst moment for an entire generation.
From his celebration in Game 7 against the Celtics in 2010, which was his fifth and final ring, to his innermost depths. Angel wings, the same ones that, unattainable for the earthly senses, so many times made him fly; or outlines blurred, like that magnetic energy with which it levitated. And that it infected. When the Achilles tendon was dying and he managed to stay on his feet, he took the free throws in front of the Warriors and transform them to bring the playoffs closer. When the ball, after flying from his hands, pierced the rim in the legendary alley oop with Saquille O'Neal, against the Blazers. Or when, on so many occasions, his gaze met Gianna's (Gigi for Patrick, who mentions her with an almost paternal love), with thousands of spotlights pointing but with an intimacy that welcomed anyone who wanted to shelter. All this is collected by the murals on the 481 walls that make it even more eternal. In more than 30 countries. Also in Spain, from Barcelona to Malaga, via Madrid and Valencia, according to Kobemural.com, a platform that locates works and links its artists with the rest of the world.
Patrick Green remembers every moment with the vivid part of the one who has witnessed them in the first person. He grew up with the Showtime Lakers, vibrating with every Magic Johnson impossible pass; but he matured alongside Kobe, with parallel gaits in his chronology. And he was imbued with their values. The same ones that, at times, the quarantine withered and needed watering. Like his teammates: James T Armstrong, Brian Nguyen and Eric DiMatteo. "Being locked up in Los Angeles is almost like a death sentence. We needed to work together again," recalls the director of the bitter fuel that started this project.
Patrick conceived this documentary while touring Los Angeles when the pandemic was raging and looking for toilet paper and takeout food. Kobe Bryant had just died and he had just become a father. The vision of the murals of Kobe and Gianna, from his car, made him see that a city that, like almost all, had to close in on itself, was wanting to open up again, to return. Like him and his team. Everything that followed Kobe's death was, in a way, a beautiful metaphor. His connection to Los Angeles and its people, the people of the Lakers, a good way to understand that basketball is much more than just a game. From all this, from a journey from darkness to light through the loss of a gigantic collective referent, Sincerely Los Angeles speaks. And Patrick Green talked about all this with AS.
"The murals helped people overcome the pain"
The true starting point of this story is his admiration for Kobe Bryant, his memories as a fan of him and his Lakers ...
Yes, there are so many ... And I think that's the way it is for many of us, for those of us who saw him grow. I'm a little older than him, but when Kobe came to Los Angeles I was still in college, so we grew, practically, in parallel. Many people come to Los Angeles with big dreams: to succeed, to become stars… And I think he came here being arrogant, like everyone else: when we are young we think we know everything. Then we saw how he believed himself to be a champion as Shaquille O'Neal's little brother. And then when Shaq left, he fought back, he came back to the top, he became the Black Mamba ...
Up to 60 points from his last game.
We saw how he aged, how the injuries came and his movements became slower… but he ended up understanding the game much better. Many of our memories run parallel to his life, moments in the lives of many people are linked to Kobe's achievements. His last game, the 60-point game, I saw with my cousin, with whom I grew up as if we were brothers, and it was almost as if we were reliving our childhood by watching him do his classic moves. It was a wonderful experience. It is not normal for an athlete to come to a city and stay for so long, which is why there are very few people like Kobe in any city in the world and in any sport.You've already cited that Mamba Mentality mentality that Kobe embraced in the darkest moments of his career. What does it mean to you and, by extension, what do you think it has come to mean for the City of Los Angeles?
is a great question. All of us, including us while making a documentary, must ask ourselves what the Mamba Mentality is. Throughout. I think it is something that will last even longer than his accomplishments in basketball. For me, as a filmmaker, as an artist ... every day you have a page, a blank wall to work on, with which to improve yourself. You invest effort, you work… we cannot waste time, you have to have a vision of what you want to do, even if you are the only one who believes in it. You do it and you become a better version of whatever you do: the best version of yourself.
The other point is also very interesting. The city of Los Angeles is well known for Hollywood, the star system and everything else, but in reality it is a city of workers, a blue collar town. There is a lot of working population, Latino population, black ... there are a lot of blue collar people who love Kobe and what they adored about him was his work ethic. I spoke to a family who saved money to have a Kobe mural in their backyard because they had so many memories attached to it. And do you know what they told me? That the mural is the first thing they see when they get up to go to work, at 5 in the morning, and the last thing they see before going to bed. It's hard to load the truck at that time, you are tired, you lack strength… But there is Kobe, and there is his greatness, what he represents for the people. It has become a symbol of hard work, dedication and passion for what you do.
In fact, many people who have not visited Los Angeles do not know that other side, the essence of a tougher and more authentic city than its name suggests. And the stars of Hollywood may be in the front row of the Staples Center, but the Lakers fans are actually made up of all those other people, let's say that real LA that Kobe connected so well with… 444 444
Yes, it is. Part of the beauty of these murals is that they are in the parts of the city where fans who don't go to Lakers games live. Industrial areas, working class ... Neighborhoods of people who watch their Lakers on television because they can't afford to go to games. Kobe, after twenty seasons on the team, was part of that family. The greatness of these murals is that they are located in parts of the city that usually do not have museums; but they are street art, so anyone can enjoy them. Any citizen who passes in front of them during work, during lunch ... Everyone can see these murals in different parts of Los Angeles, places that most of that other front-row audience would never step on, unless they go to see the murals specifically. That's the beauty of the murals in our documentary and street art, and I think Kobe is a perfect fit for this movement.
Before this Sincerely Los Angeles, you had made documentaries about sports and street art, but now you have combined both realities.
Yes. One of my previous documentaries was about a street play by Plastic Jesus, which caused an earthquake in public opinion with his statue criticizing Harvey Weinstein in the middle of the Oscars week. In Los Angeles you see them everywhere when you grow up, it is the world capital of murals. Street art is part of our culture, something that had already started with graffiti, and there has always been room for murals, as in the 1960s and 1970s during the Chicano Movement. Later, when the 1984 Olympics, murals flourished throughout the city, most recently with the Black Lives Matter movement and everything that spawned the assassination of George Floyd…
So I come from there but I also started in sports. I was a journalist for Eleven Sports and my previous documentary was Bundini, about Muhammad Ali's coach. He has a life that many people do not know and I love stories like that, which tell about people who are in the background but who are an essential part of what happens. In that sense, the murals are a combination of two things: love and sport. Really, Sincerely Los Angeles is not a documentary about Kobe Bryant, it is about his legacy and how he inspired a city that is tough, that is still very sad about his loss ... Then came the pandemic, which made a horrible year harder than it had started with his death. In a way, I am the perfect person to combine street art and sport, I have experience in both worlds.
He had the idea to make the documentary in the middle of the pandemic, when he saw the murals while he was walking around Los Angeles looking for toilet paper, take-out food ... Sincerely Los Angeles, surely inevitably, a time capsule sensation: everyone who sees it will evoke 2020, like deja vu.
Yes. The documentary, as I was saying, is about Kobe's legacy, about the artists and small business owners who commissioned and funded the murals. It's about the Lakers and Kobe fans helping each other get through the pain. Everyone comes together in these murals and rebuilds the city, so that the legacy of Kobe and Gigi will live forever on its walls.
When you record during the pandemic, you see people with masks, everything that this situation has entailed ... all this will remain in the memory and we cannot hide from it. 2020, really, was the year of how do we turn tragedy into triumph? How do we overcome things that seem insurmountable? A lot of times, it's about looking at each other and I think murals are a great way to do that.
And a unique way to grieve…
Many of its creators worked for free, they just wanted to do something as artists for Kobe and Gigi; and all this makes a community be created, that people help each other. We have so many images of people leaving candles and flowers on the murals… That is the beginning of the process, when you begin to channel the pain. Recently, we have returned to the streets to record, and we have found a still gloomy atmosphere but also a better mood. People have been learning to deal with pain, and the murals have helped in the process. The loss of Kobe and Gianna will forever remain in our hearts, but the murals help. As in any death, people do not return, but there are ways to feel them closer: the murals help to do so.
Why are murals so capable of showing pain and, at the same time, transmitting respect and admiration? When we produced our newspapers in the days after Kobe died, I remember that we would select a lot of mural photographs, almost unconsciously, so it may not be so much a Los Angeles phenomenon as it is global.
Murals have great power. Many of the people who appear in them are literally heroes to us, even superheroes. They have an incredible texture. When you look at some of those dedicated to Kobe, you have to look him in the eye, that's always the first thing I do. I check to see if I feel that connection, like I'm coming back to life. You know he is no longer here, but when I look at these images, I see that there is still part of him within them.
I spoke for the documentary with Arash Markazi, a journalist who followed Kobe for ESPN for ten years and who did the last interview with him for the Los Angeles Times. We took him to Boyle Heights and he saw the mural there, a very realistic one of Kobe and Gigi looking at each other. And he went back to the past. He returned to the 2009 Final against the Orlando Magic, when Kobe won his first title without Shaquille. He was at those games and he started to remember it as we talked. He felt again everything he felt at that moment, it was like a mirror in which he looked at himself and saw everything the same: Kobe, dressed as a champion and with a T-shirt over his shoulder, looking and smiling at Gianna ...
That's precious.
When I spoke with Daniel, the artist who did it, he told me that the eyes were the last thing he drew; since if I felt that the eyes transmitted, the mural was going to be good. It was the most important thing, what would make people's feelings emerge. After winning the championship, Arash and Kobe met at the hotel at two in the morning, and he was still wearing the championship jersey with the other slung over his shoulder. He, as a journalist, could not resist taking a photo, and it shows Kobe, with the shirts, with Vanessa and the two girls when they were little. Arash returned there. They are moments that lead to other moments. By talking to him, I too moved to that Final. I went back to when I was watching them with my father, or to the knockout games against the Phoenix Suns, for example, with that now mythical moment of Kobe clutching his shirt celebrating a win. An image that many murals have captured. They are great memories that you relive, the moment itself and everything that surrounded it, and that is one of the great beauties of art. And yes, Los Angeles is the capital of murals, but there are also wonderful murals in Spain, Italy, China ... There are beautiful murals of Kobe Bryant everywhere, his figure transcends all cultures.
As much as LA is the capital of murals ... do you remember something of such magnitude as this?
No. It's funny (laughs). Surely, the only person who can approach him is the Virgin Mary. There are virgins all over town. People like to bring their deceased closer to the Virgin, because they know that no one is going to touch her. The irony is that, now, among artists, the Kobe Bryant rules have appeared: no one can touch these murals either. Everyone respects him, and that shows the power that Kobe has over the city; it is untouchable for everyone, transcendent.
What do you want people to feel when they watch the documentary? What would you like to hear to feel that you have achieved exactly what you wanted to achieve?
When you do audiovisual work, you expect people to feel it in a certain way. And it is exciting when it is like this. I think the message is that very different people, from different cultures, classes and countries, big or small cities, loved Kobe. Even the ones from the Clippers. His two big stars, Kawhi Leonard and Paul George, also grew up being big fans of Kobe.
is a message of unity.
I hope people, after watching the documentary, get inspired. I wanted to make an inspiring movie, despite COVID and so much tragedy. Find a way to triumph over that tragedy. I think it is something really difficult if you face it alone. Few people are capable of initiating a change of such magnitude. A situation like this is overcome with a shared feeling, being part of a neighborhood, of a big family ... I think the most beautiful thing is that Kobe continues to unite people, even after his death. So I really would like people to be inspired, to keep their Mamba Mentality and to keep trying to become the best version of themselves in whatever it is that they want to do. Everyone can apply it in their life.
How did you feel throughout the process of making Sincelery Los Angeles?
This year has been very hard. Also for me, of course. I have been a father, I have a one-year-old son who has had to spend the first months of his life in quarantine. My wife and I work from home, as much of the population has, and being locked up in Los Angeles is almost like a death sentence. We are so used to spending so much time outdoors… It was very hard, and I think that, with all this, I became more sensitive. It's dangerous to think negative things, because then you just link one after another. From there came the need to make a movie that was inspiring: to go out with my team again and meet these people who felt like us, who were trapped by sadness. They made me feel like they were still trying to be better, I fell in love with the city again and came back to appreciate how wonderful it is to be connected with the people. When I came back out, I saw that there are a lot of great people, a lot of resilient, compassionate and strong-willed people. And that many were connected by love for Kobe. I have lived great stories, I have discovered things about Kobe that I did not know, we have met people who worked on the murals as if they had someone guiding them. Everything that has happened has been so genuine, with so much passion…
Why do sports and documentaries go so well? It is a subgenre that has given us extraordinary products.
Fully. Sports are like Greek tragedies. You have the rise of people who come from below, who become champions, who can fall and rise again. They are a movie unto themselves. The power of sport is that it is universal. People not only outperform their opponents, they outdo themselves, and those are the stories they like.
Many times, when you are obsessed with being the best at something, you neglect the rest. It is very enriching to hear stories about how Kobe grew up, how he channeled the hunger of youth, his conceited profile, and kept it already in a healthier way through the Mamba Mentality: he learned that there were things in life beyond becoming the best on the basketball courts. That it was also about sharing his knowledge with other players, about becoming the best parent… it was about many more things that transcended the courts, and he dedicated himself to it. If he even won an Oscar! He ended up being one of those people capable of channeling all that energy in different ways. We have other examples of very great athletes who, off the slopes, did not reach that much. Kobe could have remained a sports genius, but he went further. He had many concerns, he is one of those people who come up, if anything, once a generation. This also leads to one of the saddest parts, that of wondering what Kobe would be doing now, what projects would he be promoting. And not just him, what was Gigi doing now? You sit and lose yourself in an immensity of possibilities about all that they had to give us and the world. It's very hard to think about it.We assume you've seen The Last Dance, the Michael Jordan superdocumentary that hit the scene last spring.
It's wonderful (laughs). I mean yeah! It was great to relive all those moments, and more with Jordan himself as the narrator. There have been so many things around him ... I think one of the keys, or at least it's my favorite part, is in that iPad that accompanies him throughout the series. Thus, it is not just him remembering things, it is him seeing them and us seeing the most visceral reactions he has about his own life. It might just show the story from their perspective, but I loved it. I like stories like this, that look back at the past. If someone decides to make such a documentary about Kobe Bryant it will be just as wonderful as The Last Dance, I'm sure.
But Sincerely Los Angeles is something else…
Yes, talk more about the people of Los Angeles, about Kobe's legacy. Sure, Kobe would have a place in a format like The Last Dance, but Sincerely focuses on people and everything that Kobe means to them.
Have you had a greater impact in Los Angeles than Kobe Bryant did?
I think, for the current generation, no. I grew up with the Showtime Lakers and Magic Johnson, while Kobe grew up alongside me as a little brother. And Magic also had and has great power, it is also a social phenomenon. But sportingly they represent different things. Magic was, of course, the talent, that Showtime; Kobe, for his part, represents effort, hard work.
Magic himself said it: 'I think Kobe is the best laker ever.' And if Magic says that ... I don't think he's saying it to be nice, he really does. The Lakers have a wonderful tradition, they have been so great for so many years ... and not only that, there is so much drama around them, so many stories ... Yes, I think Kobe is the person with the greatest impact in Los Angeles in recent years, is one of the hearts of the city.
What is your favorite story that you have discovered behind the murals and their artists?
There are so many… I don't want to highlight one. In general, I find incredible the stories of people who save money to get a mural, to personalize it; be it for your business, for your home ... That means a lot. It is always having him close, it is moving. Wanting it to be one of the first things you see every day says a lot. There are many great stories behind the murals. We have chosen not only the best technically, but also the best stories. Because, for me, it's about the people. There is something underlying all the ones we've chosen that connects with who Kobe was. It has been a challenge, but we have come across all of its facets, how its legacy has influenced people, how it has changed their lives ...
Photos from as.com